Where the Midterm Race Stands Days Before U.S. Vote: Election Countdown
(Bloomberg) -- The biggest political test of Donald Trump's presidency comes Tuesday in House and Senate elections that will determine whether his Republican Party keeps control of Congress for the next two years.
Democrats hope to retake at least one chamber of Congress, and polls show they have a shot at winning the 23 seats needed to flip the House. The 2018 electoral map gives Republicans an advantage in holding to the Senate. In addition to all 435 House seats and 35 Senate seats on the ballot, there are 36 races for governor.
Trump is spending the final days before the election on a whirlwind tour through a half-dozen states where he and his aides are counting on his presence to swing votes toward GOP candidates in key Senate and gubernatorial races. His stops include Florida, Montana, Georgia, Tennessee, Ohio, Indiana and Missouri.
The closing days of the campaign have been marked by Trump's increasingly strident rhetoric on immigration. The president has escalated the intensity of his attacks against both immigrants and Democrats as he seeks to turn out his base supporters to vote for his congressional allies.
To follow coverage of results on Election Night, Bloomberg News will be mapping real-time results.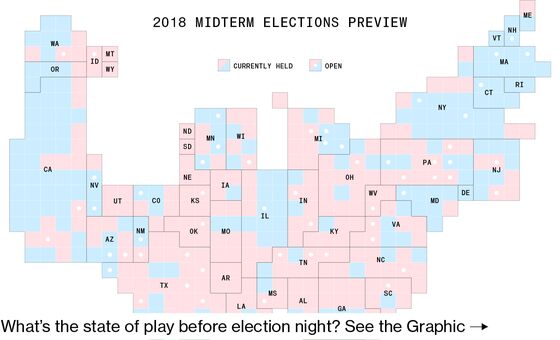 And to catch up on any pre-election coverage you might have missed, here are some highlights of Bloomberg reporting on the campaign's final days:
Up Is Down as Candidates Twist Positions for the Midterm Finale
Scrapping for every vote in intensely competitive races, candidates are shading, twisting and recasting their own records and those of their opponents, aligning with causes popular in their district or state and distancing themselves from stances that aren't. It's a common tactic for candidates, but it's reached unusual levels this year.
A Democratic Senator's Plan to Hold on Deep in Trump Territory
Most Democrats on the election ballot are hoping a blue wave of progressive support will help sweep them to power -- but not Senator Joe Manchin of West Virginia, who has built a political brand as a moderate and pragmatist that's allowed him to navigate the state's strong tilt to the right over the last 20 years. It's also given him a bit of a shield against President Donald Trump.