Where's Ortega? Nicaraguans Haven't Seen the President for Weeks
(Bloomberg) -- As the global economy crashes and the coronavirus pandemic spreads throughout the Americas, Nicaraguans are wondering where their president could be.
The public haven't seen President Daniel Ortega, 74, since a March 12 video conference in which he spoke to other Central American heads of state about the response to the virus.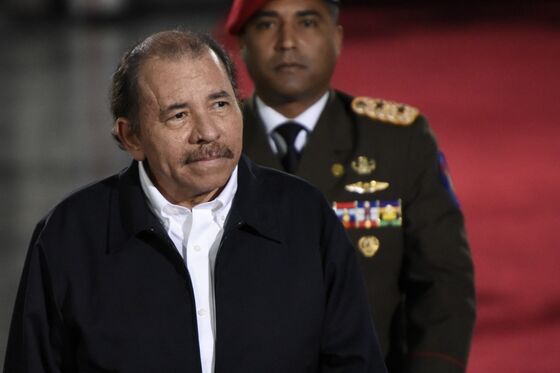 He was absent from a funeral ceremony last week honoring Sandinista congressman Jacinto Suarez, a companion with whom he shared a jail cell in the 1970s as they sought to overthrow U.S.-backed dictator Anastasio Somoza.
Nicaragua is suffering a power vacuum at a time when it needs decisive action to curb the spread of the virus, said opposition leader Juan Sebastian Chamorro.
"People expect the state to respond to the need for information," Chamorro told local newspaper Confidencial. "What we are seeing here is a total absence."
Ortega has disappeared in the past for weeks at a time, then reappeared without acknowledging his absence. He is a fierce critic of the U.S., which he has repeatedly accused of trying to overthrow him.
The government didn't immediately reply to an email sent to the office of Vice President Rosario Murillo, who handles government communications.
Murillo, who is also Ortega's wife, has continued to hold daily broadcasts at noon and has encouraged people to enjoy Easter week activities and participate in pro-government marches, despite the virus.
The country held its annual summer marathon on Saturday and the national baseball season has continued uninterrupted, with other sporting events like the national boxing tournament attracting groups of spectators.
The country has reported six confirmed cases of Covid-19 with one death. Nicaragua's economy shrank 5% last year, according to the IMF, the second straight year of contraction, as the government cracks down on opponents.