When Merkel Talks, an Old Russian Ally Listens
(Bloomberg) -- Serbian President Aleksandar Vucic is determined to go down in history as the man who reconciled ethnic and territorial differences in a region synonymous with war. And that means allegiances are getting stretched.
Russia's biggest ally in the Balkans says he won't cross German Chancellor Angela Merkel, however hard that sometimes might be. "We need to show fairness and loyalty," Vucic said in an interview at his presidential palace in Belgrade on Thursday. Talking to Merkel "was not an easy conversation," he said. "But I'll never say anything against her."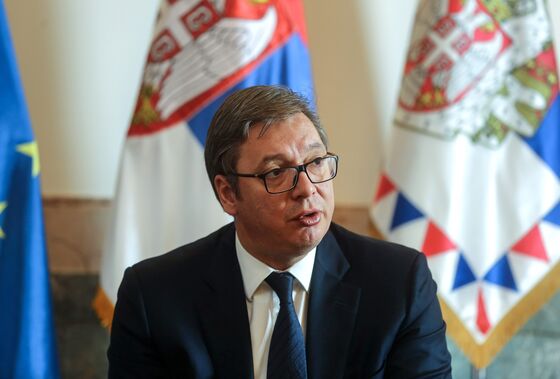 The carrot of European Union membership juxtaposed with Russia's keenness to maintain influence are testing traditional ties in the Balkans, at best a region held together by fragile international agreements and the balance of global powers, at worst a hotchpotch of blood-and-soil grievances.
Vucic, 48, is at the center of that tug-of-war between east and west and key to how the immediate future plays out amid warnings from the EU and Germany over the potentially explosive consequences should the region's leaders not be kept on board.
European Commission President Jean-Claude Juncker said on Oct. 5 on the eve of elections in Bosnia that the EU needed to raise the prospects of the region joining the bloc or risk sleepwalking into violent conflict. In the event, Bosnian Serb nationalist Milorad Dodik, an ally of Vucic, emerged as the most powerful leader in the country. Both men want to redraw borders to bring Serbs closer together, though Vucic has publicly defended Bosnian integrity set out in the Dayton peace accords of 1995.
For his part, Vucic needs to reconcile with Kosovo, a predominantly Albanian state that declared independence in 2008, a decade after NATO forces drove out warring Serb soldiers from its territory. It's a prerequisite of Serbia joining the EU, along with reforming the judiciary and fighting corruption.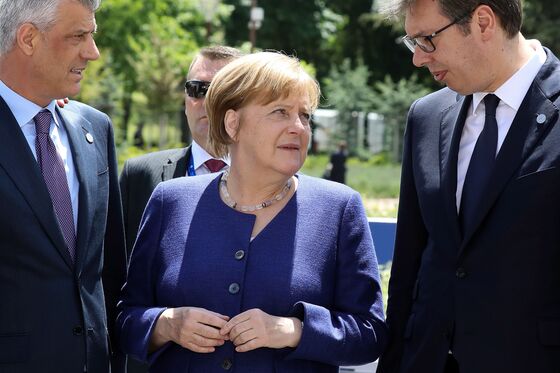 Vucic and his Kosovar counterpart, Hashim Thaci, appeared to near a deal this summer. But a mere mention that it may include a land swap in the region, where Europe's bloodiest fighting since World War II took place, led to a push back from the international community and resurrected fears of another conflict in the volatile region. Merkel's government likened it to opening Pandora's Box.
The U.S. under Donald Trump, though, appears more receptive to upending agreements it brokered. Vucic said Washington has altered its position toward Belgrade.
"The U.S. administration is more open to listening to our side as well," he said. Previously officials were telling Serbia it needed to recognize Kosovo, he said. "Now we can discuss something with Americans. That's the change. They have opened doors, and that's good."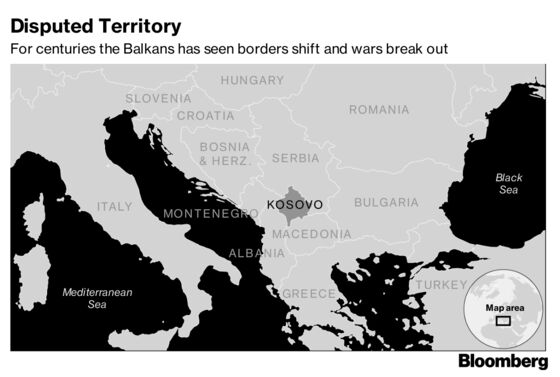 Serbia, through culture and religion, traditionally forms part of Russia's sphere, though the EU is by far the biggest investor the country of 7 million.
Russia and China, which have sided with Serbia in its refusal to recognize Kosovo, now publicly vow to support any stance that the Balkan nation takes. Yet Russia is wary of supporting any the deal that could speed up Serbia's EU membership and further reduce its already dwindling footprint in the Balkans. China may be more supportive as it sees its investments in the region as its way into Europe.
While talks with Kosovo have stalled, Vucic expects to meet Thaci in Brussels again this year. A trip in September failed to even get them to sit down together. Serbia has repeatedly said it won't give Kosovo an outright recognition.
The two men also face opposition at home. Kosovo's prime minister has repeatedly warned that ceding any piece of territory could reignite a war. Vucic, a former Information Minister for the late strongman Slobodan Milosevic, has the political mandate after becoming president last year following a three-year stint as prime minister and he has the backing of the current premier. But recognition of Kosovo still carries risks among voters, some cabinet members and the Serbian Orthodox Church, which has strong links to Russia.
"Some people don't like me because of my past, some people hate me because of some irrational reasons, some people hate me because of rational reasons," he said in the hour-long discussion. Yet the "resolution of the problem between Serbs and Albanians is something that will change this region entirely," he said. "Our region will be a machine of growth for the entire EU, and it doesn't matter if it is going to be a part of the EU or at the entrance."
When it comes to the contents of any potential deal, Vucic declined to give details, though admitted it would be a tough compromise.
"I will do my best to get closer to a solution, because that's something that will save Serbia in the future, save many lives," he said. Even as its citizens are getting more skeptical EU membership will ever happen, it's the only way forward he said – and that means he listens to Merkel. "I even said that to Russia today," he said. "We want to belong to that type of society."