This Shrinking Economy With Low Inflation Is Stuck on Rates
A shrinking economy and inflation at the lowest level in 14 years would in most countries entice a central bank to cut interest rates. Not in Namibia.
The southern African nation's statistics office said on Thursday gross domestic product shrank for a fourth straight quarter and consumer prices rose at the slowest pace since 2005.
That's exacerbated a dilemma for the country's decision makers and may, again, raise questions about its policy of pegging the Namibian dollar to the currency of its neighbor, South Africa. The region's economic heavyweight has kept interest rates relatively high because of fiscal and credit-rating risks.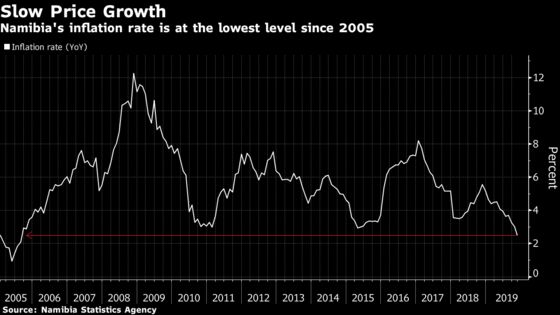 Should the world's biggest marine-diamond producer cut its rate to less than South Africa, investors could shift funds to benefit from higher returns, making it difficult for Namibia to retain its reserves while defending the currency peg. The central bank kept its key rate rate at 6.5% this month after the South African Reserve Bank did the same in November. The rates have only been misaligned once since 2015.
The arid nation's economy is forecast to shrink for the third straight year in 2019 and has partly been dragged down by anemic growth in South Africa and power shortages in that country have spilled over into Namibia, which imports electricity. The rand is one of the most-volatile currencies, making planning tough using the pegged Namibian dollar.
Related News
Namibia Holds Key Interest Rate to Maintain Currency Peg
Hage Geingob, who was re-elected as Namibia's president last month, quashed debate earlier this year on the peg. Given the close trade ties to its larger neighbor, Namibia won't drop the currency link "unless something very drastic happens," he said.
Most of Namibia's trade is with South Africa and its companies, such as banks FirstRand Ltd. and Nedbank Group Ltd., are also listed on the Windhoek exchange. Moody's Investors Service said last week the currency peg supports policy effectiveness in Namibia because it promotes stable price competitiveness with South Africa and contributes to moderate inflation by preventing sharp swings in the cost of goods imported from the bigger economy.
Namibia, a country bigger than France by land area but with a population of just 2.6 million people, is part of a currency union with other smaller regional nations Lesotho and Eswatini, the monarchy formerly known as Swaziland.