What to Expect on Day Two of Moon and Kim's Historic Pyongyang Summit
(Bloomberg) -- The leaders of North and South Korea sat down for talks during the second day of a landmark summit in Pyongyang designed to improve relations between the neighbors and advance denuclearization talks with the U.S.
North Korea's Kim Jong Un and South Korean President Moon Jae-in began a second closed-door meeting at 10 a.m. on Wednesday, which will be followed by a joint press conference, Moon spokesperson Yoon Young-chan told reporters in Seoul. He declined to say if Moon was close to reaching a breakthrough on stalled nuclear talks between Kim and U.S. President Donald Trump.
In Pyongyang on Tuesday, Kim and Moon paraded through the streets in a shared limo shortly after Moon touched down. They later spoke for two hours at the headquarters of the Workers' Party of Korea, and attended an evening banquet featuring North Korea's string orchestra that lasted until nearly 11 p.m.
"As we have built trust with President Moon Jae-in, we will take faster steps toward opening the peaceful and prosperous future of Korean peninsula," Kim said at the opening of the banquet, according to pool reports. Moon noted the need to discuss his nuclear program, saying: "The complete denuclearization on Korean peninsula and establishing peace is also an important agenda."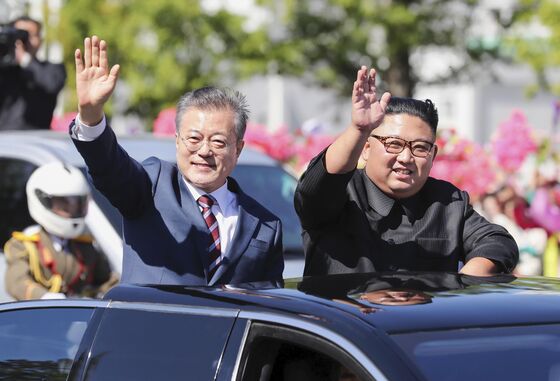 Here's what to watch on Wednesday:
Kim's Comments on Nuclear Program
A key element to a successful summit is whether Kim gives any clarity about the future of his nuclear program. In order to make headway on inter-Korean relations, Moon needs to persuade Kim to commit to something that goes beyond his vague April promise to denuclearize the Korean peninsula.
That includes Kim agreeing on specifics to end his regime's nuclear program, including welcoming international inspectors and giving a list of its nuclear facilities to the U.S. If he succeeds, Moon will solidify his reputation as chief negotiator between the U.S. and Pyongyang.
The Contents of Any Joint Agreement
On Tuesday, Moon's spokesman told reporters to "wait and see" if the two leaders will issue a joint statement. The presidential office hinted before his visit that any agreement could include language on measures to reduce military tension on the heavily guarded inter-Korean border.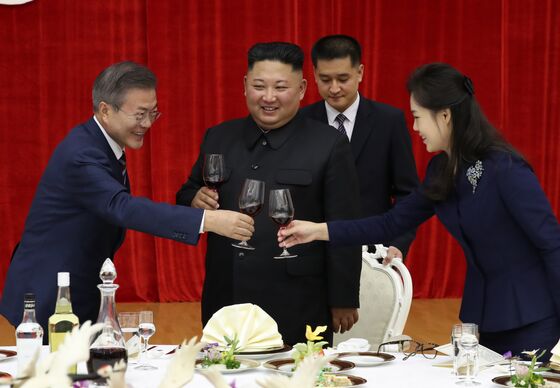 It is also likely that an accord would have new details on implementing proposals laid out in the so-called Panmunjom declaration, which the two men signed at their first meeting in April. During the banquet, Kim expressed his interest in discussing implementation of the declaration with Moon.
The pact includes a commitment to connect road and rail networks in the countries as a "first step" towards restarting economic cooperation. It also includes pledges to work toward "complete denuclearization" and establish a "permanent and solid peace regime on the Korean Peninsula."
Any Business Deals, Particularly With Samsung
This week also marks the first visit to Pyongyang of Samsung Electronics Co.'s Vice Chairman, Jay Y. Lee, who is accompanying Moon's contingent along with other heads of large South Korean conglomerates.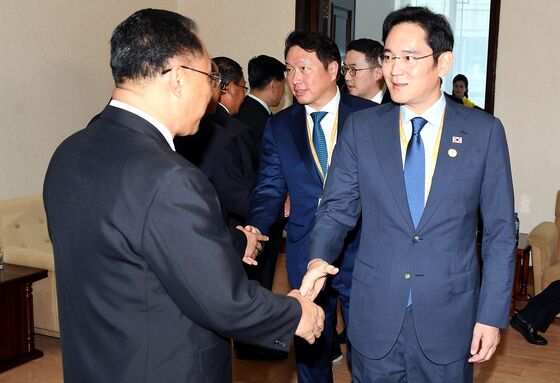 Seoul wanted the executives to come, Moon's office said, as the two Koreas look ahead toward potential business collaboration should sanctions on North Korea be lifted.
The unprecedented visit by some of South Korea's wealthiest and most powerful individuals may provide North Korea further incentive to open its economy. And it's one of Lee's most prominent outings since his release from prison in February after serving time for bribery, part of the corruption scandal that brought down Moon's predecessor Park Geun-hye.
Executives from Samsung, Hyundai Motor Co., LG Electronics Inc., and SK Holdings Co. -- along with the heads of South Korean state power and railroad companies -- met Tuesday with the North Korean vice premier in charge of the country's economy.
Later on Wednesday, Moon is also scheduled to tour the Mansudae Art Studio, which produces propaganda artwork for the Kim regime, and then watch iconic mass games along with 150,000 North Korean spectators.