What Those Ribbons Mean on Chest of Impeachment Witness Vindman
(Bloomberg) -- Television viewers got an eyeful of military history and tradition via Tuesday's opening witness in the House impeachment hearing into President Donald Trump.
With a chestful of ribbons and badges on his Army uniform, Lieutenant Colonel Alexander Vindman showed off awards signifying years of service -- and the shedding of blood -- for the U.S. Here's what some of them mean: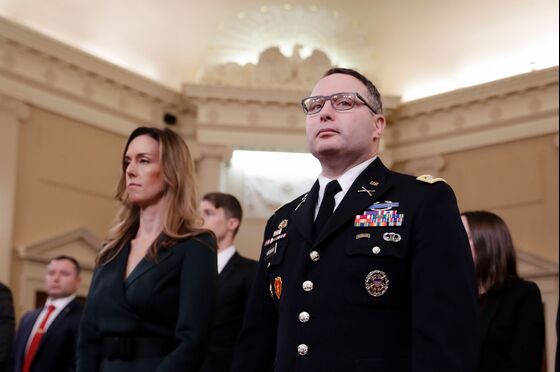 * Prominent among Vindman's medals is a narrow badge featuring the image of an 18th-century muzzle-loading rifle, the Combat Infantry Badge. The Army's Human Resources Command notes that wearers must "actively participate" in ground combat to earn it. Dwight Eisenhower, the supreme allied commander in Europe during World War II, never received one: He didn't see direct combat, and it was limited to those in ranks of colonel and below.
* The purple-and-white ribbon denotes the Purple Heart, given to "members of the armed services of the U.S. who are wounded by an instrument of war in the hands of the enemy and posthumously to the next of kin in the name of those who are killed in action of die of wounds received in action," according to the Military Order of the Purple Heart.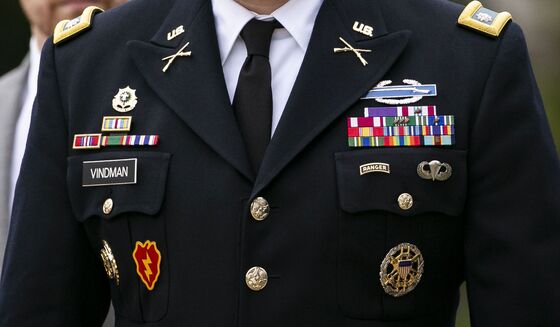 * Vindman's uniform badges also show that he qualified as an Army Ranger -- "one of the toughest schools in the Army," military-affairs website Task & Purpose wrote -- and as a parachutist.
* Task & Purpose reported that his other awards include the Defense Meritorious Service Medal, twice; the Meritorious Service Medal; Army Commendation Medal (four times), Army Achievement Medal (three times), National Defense Service Medal; four ribbons for overseas service.
Military regulations specify the order in which medals and ribbons are worn. The placement on a wearer's chest is a nod to years of Army practice -- unit awards on the right side, personal decorations on the left.
"Medals and other insignia are worn on the left breast because it was the shield side of the Crusaders, and, furthermore, because it was near the loyal heart that the knight placed his badge of honor and fealty to his king," Major James A. Moss wrote in the fifth edition of the "Officers' Manual" published in 1917.
Military protocol also specifies when it is appropriate to wear full dress uniform. According to the Army, for an event such as congressional testimony when "an invitation calls for business attire, the appropriate Army uniform is the service or dress uniform."