What Surgery? Ginsburg Churns Out Opinions in High Court Return
(Bloomberg) -- If cancer surgery slowed Justice Ruth Bader Ginsburg down, she's hiding it well.
Ginsburg, 85, issued two of the U.S. Supreme Court's three opinions Monday, including one in a case argued while she was at home recuperating from the Dec. 21 surgery to remove cancerous growths from her left lung.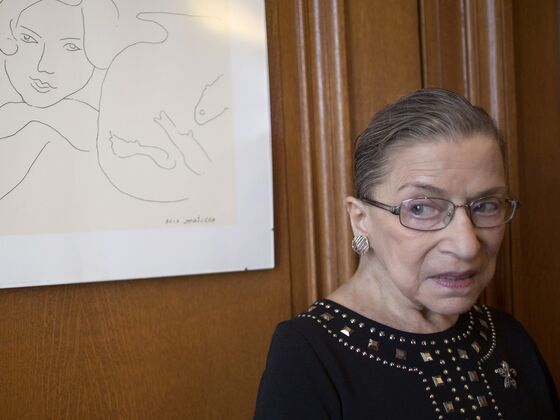 Since her return to the bench Feb. 19, the court's most visible liberal has written three of its nine opinions in cases that were argued before the justices.
Ginsburg summarized her opinions from the bench Monday, starting with a 7-2 ruling for the railroad industry in a tax dispute. She said that when an injured worker sues and is awarded missed wages, the money counts as "compensation" under a federal law that governs the industry. That means the employee is responsible for paying some of the taxes.
"Congress did not exclude personal injury damages from 'compensation,'" Ginsburg told the assembled crowd.
Ginsburg then turned to her opinion for a unanimous court in a clash over the timing of some copyright-infringement suits, a case argued without her on Jan. 8. Chief Justice John Roberts said at the time that Ginsburg would participate based on the briefs and argument transcripts.
In saying that suits can't be filed until the Copyright Office registers a copyright, Ginsburg observed that the office can take months to process an application.
"So infringement may continue for some time before a copyright owner can stop it," she said. "Delays, in large part, are the result of Copyright Office staffing and budgetary shortages that Congress can alleviate, but courts cannot fix."
Ginsburg has long been one of the Supreme Court's fastest opinion-writers. She also wrote the court's first opinion of its nine-month term, on Nov. 6.
Ginsburg, who turns 86 on March 15, has said on several occasions she will stay in the job as long as she can do it "full steam."