What's Next for Commerzbank After Top Leadership Quits? 
(Bloomberg) -- Commerzbank AG has been thrust into the most turmoil since the financial crisis by a shareholder revolt that's toppled the leadership of Germany's second-largest listed lender.
In an unusual move, Chief Executive Officer Martin Zielke and Chairman Stefan Schmittmann simultaneously announced on Friday evening their plans to quit. That followed blistering criticism from investors led by Cerberus Capital Management over management's failure to steer the bank back to profitability.
Bailed out by German taxpayers after the 2008 credit crunch and hammered by the low interest rates that followed, Commerzbank has rebooted its strategy multiple times without delivering attractive shareholder returns. The latest update could have seen 7,000 job cuts, which enraged labor unions represented on the supervisory board while still not convincing some investors.
Here are some of the key questions for determining Commerzbank's future:
1. Who's going to be the next CEO?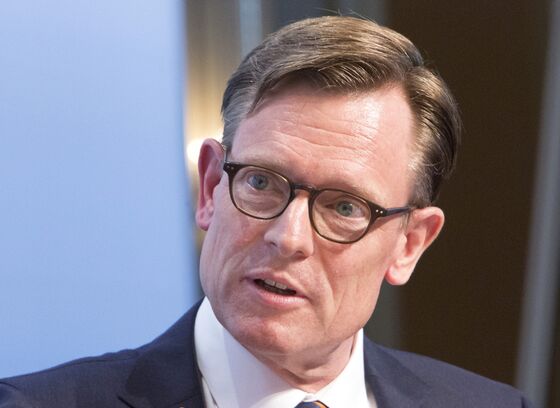 Roland Boekhout, who oversees the corporate clients unit, is emerging as the lead candidate to replace Zielke, but the bank is also vetting finance chief Bettina Orlopp, according to people familiar with the matter. The supervisory board may decide on a candidate as soon as Wednesday, although it could also postpone a vote while it tries to line up additional external candidates, one of the people said. Cerberus signaled that a new chairman should be appointed first, followed by a formal CEO succession process. The board's nomination committee recommended that Zielke's contract be terminated by the end of the year.
2. Who's going to be chairman and who else will join the supervisory board?
Board member Nicholas Teller could take over at least on a temporary basis, the people said. Teller is a member of the risk and nomination committees and had previously worked at Commerzbank for more than two-and-a-half decades. Deputy Chairman Uwe Tschaege, who's a labor representative, will automatically assume the position if no one has been chosen by the time Schmittmann departs next month. A court will appoint a new member to fill the vacancy on the board, which will then name a successor, Schmittmann said in a transcript of a internal video message seen by Bloomberg. The bank's big shareholders want a chairman who has a better grasp of digitalization, the people said.
3. How many jobs is Commerzbank going to cut?
Zielke had been considering eliminating more than 7,000 jobs on top of about 4,000 announced last year, according to people familiar with the matter. His exit will probably trigger deeper cost cuts, according to analysts at Bloomberg Intelligence, who say Commerzbank may have to double existing headcount reduction plans. Four years ago, Zielke announced a plan to shed a net 7,300 positions, but ended up with a reduction of just 3,600. The lender currently has a workforce of about 40,000. The German government, which still owns a stake in Commerzbank, and Cerberus want a CEO capable of implementing stringent cost cuts. They regard Zielke's failure to achieve that as his biggest deficiency.
4. What else will the new restructuring do?
Digital technology will probably be key to the bank's revamp. Zielke's latest update also called for the shuttering of about 400 branches, according to people familiar with the matter. Commerzbank had shied from making major cuts to its branch network like those by competitors including Deutsche Bank AG, yet cost pressure made it impossible to stick to that position. The shutdown to contain the spread of the coronavirus has also shown banks across Europe that their clients don't need as many in-person meetings with their bankers. Commerzbank, which has 445 foreign branches, is considering trimming its international operations. It may also sell units or assets in the corporate bank, according to Bloomberg Intelligence.
5. What do Cerberus and the government want?
A higher share price. Germany would have to see Commerzbank stock surge in order to get back the money taxpayers pumped into the bank over a decade ago. The shares have also declined since Cerberus took a stake in 2017 as part of a bet that Europe's battered lenders stood to bounce back when interest rates rise, an ever more distant prospect. One answer could be a takeover by a different bank, though that could be difficult in the short term. Merger talks with Deutsche Bank broke down last year, and lenders in other countries say Europe's fragmented banking market is a hindrance to consolidation. Deals may become more likely once there's more clarity on the losses banks face on loans that sour during the pandemic, according to UBS Group AG analysts.
6. What's the role of the unions?
Worker representatives are powerful in Germany. They hold half the seats on the supervisory board of most listed companies, so they can weigh in on picks for top executives and the strategy they carry out. The labor side's opposition to a tie-up with Deutsche Bank was one reason that deal failed. Late last month, staff representatives vowed to "vehemently" fight Zielke's job cuts until after the bank's digital transformation is complete. That suggests Commerzbank's next leadership team will be in the middle of the same tug-of-war between investors and labor groups as Zielke and Schmittmann.