West Africa Backs French Military Presence Amid Protests
(Bloomberg) -- The leaders of five West African countries publicly declared their backing for France's military deployment in the region amid a spate of deadly attacks by Islamist extremists and escalating anti-French sentiment.
Mali, Niger, Burkina Faso, Mauritania and Chad also said they'd boost cooperation to fight terrorism in a joint statement following a summit on Monday in Pau, southern France.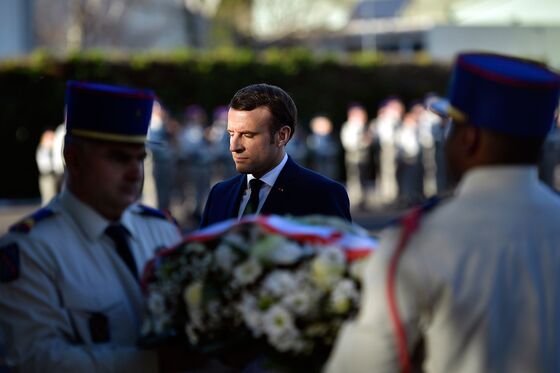 President Emmanuel Macron called for the meeting last month after 13 French soldiers were killed when their two helicopters collided in Mali, just as they were swooping in to support troops battling Islamist militants.
It was one the worst losses of life for France's military in decades and came as violence by al-Qaeda and Islamic State fighters grows and spills across borders. The surge in attacks has stoked anti-French protests, with many locals wondering why the extremist threat has risen despite the manpower and resources France has invested.
Macron, after the crash, said he wanted explicit confirmation that the African leaders support the deployment of his troops.
Earlier this week, U.S. General Mark Milley, chairman of the Joint Chiefs of Staff, said the Pentagon's resources for Africa and the Middle East could be reduced, according to Agence France Presse.
U.S. commitment is crucial for France and Macron said he hoped he could convince President Donald Trump to keep an anti-terrorism military force in west Africa, linking terrorism there to the situation in Libya, where Islamic State is trying to regroup as rival administrations battle for influence.
Read more: Niger Jihadist Raid Shows Speed of Islamic State Expansion
The leaders of the five West African countries also said they want U.S. support to continue, and called for a larger international presence in the region, an arid area on the southern fringe of the Sahara. They'll meet again with Macron at a summit in June 2020 in Nouakchott, Mauritania, according to the statement.
Macron pledged to add 220 soldiers to France's force battling extremists in the Sahel and hunting down their commanders, which already counts about 4,500.