Welcome to Scotland? No Love Lost in Trump's Ancestral Home
(Bloomberg) -- It's not the kind of greeting Scotland's tourist brochures advertise, let alone for world leaders.
As President Donald Trump took a short holiday at one of the two golf resorts he owns in the country, protesters in Glasgow demonstrated against his visit and police estimated 9,000 assembled in Edinburgh, the capital, on Saturday.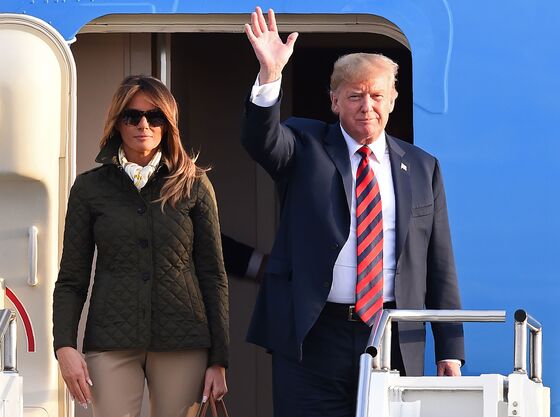 When Trump and his wife, Melania, arrived at Prestwick Airport, near his Turnberry resort, on Friday evening, they were greeted by David Mundell, British Prime Minister Theresa May's minister for Scotland.
Neither Scottish First Minister Nicola Sturgeon nor any of her government will be meeting him. The semi-autonomous administration even asked the U.K. to reimburse the cost of policing the visit.
Trump's stopover is a private visit sandwiched between this week's NATO summit in Brussels and talks with May and then a meeting with Russian President Vladimir Putin in Helsinki on Monday. The reception -- or lack of it -- shows how Scotland has soured on Trump, even after he's poured millions of dollars into the country where his mother was born, and as May tries to build bridges despite the president's criticism of her policies.
Trump's meetings with May on Friday were overshadowed by scathing comments about her Brexit plan in an interview with the Sun newspaper. May sought to limit the political fallout after Trump attacked a blueprint for leaving the European Union she had just delivered to Parliament. He said it looked like hopes of a trade deal with the U.S. were over.
At a news conference, he said he'd apologized to her and assured her that a trade accord was still on track. He said May is "doing a terrific job."
As Trump was arriving in Scotland, a few thousand protesters gathered in Glasgow's central George Square. There were "Dump Trump" placards and at least one that said "We Shall Over Comb." A man dressed in brown held a home-made sign saying "Zen Monks Against Trump."
The American president wasn't without some support. Three men in one corner of the square held a banner with the words "Scots for Trump" in large letters. They were protected by more than a dozen police officers, four on horses, as some protesters taunted them.
In Edinburgh, demonstrators organized by a group called Scotland United Against Trump marched through the city and gathered in a park around a 20-foot-high helium-filled balloon depicting Trump as a baby in a diaper, which had highlighted protests in London. The balloon traveled north overnight by train after requests from Scottish groups.
The atmosphere was jovial on an unusually warm Scottish summer day, as families mingled with pensioners and activists while a helicopter flew overhead. Organizers called for a "Carnival of Resistance against Trump," with games including "Toss the welly at Trump."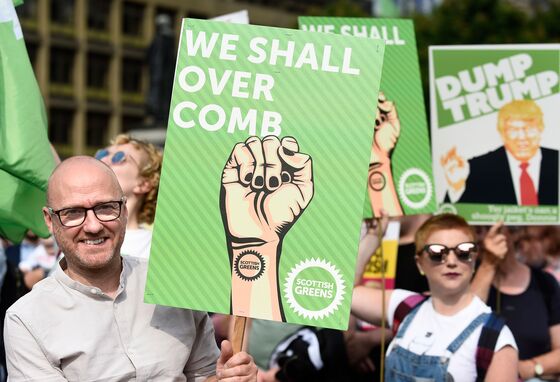 The political mood is more hostile toward Trump in Scotland, which is run by a party pushing for independence from the U.K. Originally the relationship blossomed when Trump was a property investor building a golf resort and the nationalists were seeking to make rich friends. But it turned into a public falling out, first over the country's pursuit of green energy and then over Trump's anti-immigrant rhetoric while running for president.
Scotland's offshore wind farms threatened to spoil views from the Turnberry golf course, Trump said, so he took legal action. He also had problems purchasing the land from locals and with environmental activists, the subject of a 2011 documentary called "You've Been Trumped."
In 2015, Sturgeon stripped Trump of his status as a business ambassador following remarks he made about Muslims. Six months later, he visited Turnberry, landing the day after Britain voted to leave the EU. He declared Brexit a "great thing," just as Sturgeon was preparing to call the election democratically unacceptable after a majority of Scots voted to stay in the EU.
"Scotland has deep and longstanding ties of family, friendship and business with the U.S., which will continue to endure," the Scottish government said in a statement. "At the same time, we will not compromise our fundamental values of equality, diversity and human rights and we expect these values to be made clear during the presidential visit to the U.K."
In addition to Turnberry in Ayrshire, western Scotland, which has hosted four Open Championships, Trump owns another course near Aberdeen. They haven't been the most lucrative of his investments: losses at Trump Turnberry more than doubled to 17.6 million pounds ($23 million) in 2016 and widened to 1.4 million pounds at the Menie course in Aberdeenshire, according to filings.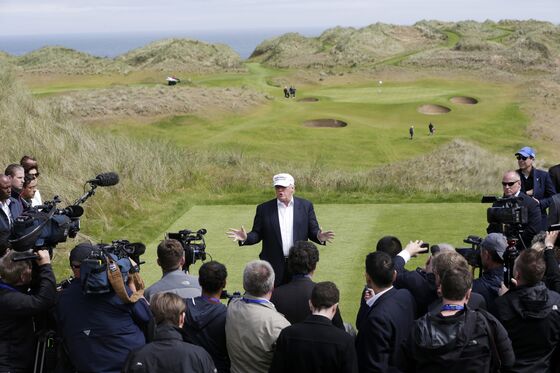 Trump said at a press conference on Thursday that despite the expected protests against his presence, people in the U.K liked him because of his support for immigration restrictions, a key issue behind the Brexit vote.
"There might be protests, but I believe that the people in the U.K. -- Scotland, Ireland -- that those people, they like me a lot," he said. "And they agree with me on immigration."
As Air Force One landed at Prestwick, hundreds of people lined the fence around the airport and gathered on a hill overlooking the runway.
Prestwick has a history when it comes to hosting famous Americans. It's the only place in the U.K. where Elvis Presley is known to have set foot when his military plane stopped to refuel in 1960. There's a bar named after Presley that's available for people departing from the airport, though Trump doesn't drink.
Surveillance and satellite vehicles on Friday were parked on standby at the airport, while security agents were on call in case protests became heated, the Daily Record newspaper reported.
The U.K. government agreed to set aside as much as 5 million pounds to cover costs incurred by Police Scotland after a request by Scottish Justice Secretary Humza Yousaf. He complained that there "should never have been the assumption that the Scottish government would pick up the tab."