Weinstein Judge Warns Jurors: Trial Isn't a Referendum on Me Too
(Bloomberg) -- Harvey Weinstein came closer to learning who will decide his fate as prosecutors and defense attorneys in his rape case settled on seven of the jurors for a trial that will be seen as a capstone of the #MeToo movement -- even as the judge warned that's not what it's about.
Three African-American women, three white men and an African-American man were selected after questioning on Thursday.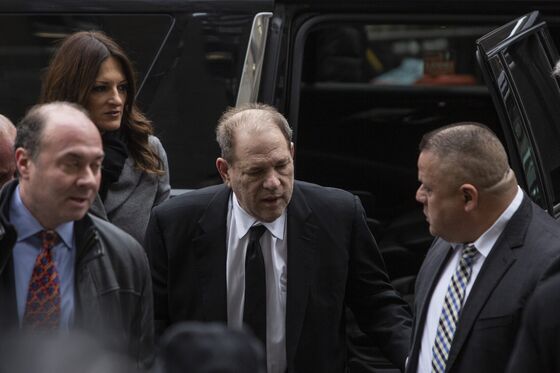 "This trial is not a referendum on the Me Too movement," New York State Supreme Court Justice James Burke told a panel of more than 140 people in the prospective-jury pool after they were summoned to the courtroom in lower Manhattan for the selection process. "It is not a referendum on sexual harassment. It is not a referendum on women's rights."
Burke said it was fine to "feel strongly about those subjects" but not "if those beliefs would prevent you from deciding the facts on the case."
Prosecutors and defense lawyers, together with Burke, have spent days narrowing the field from about 500 Manhattanites summoned last week. By Thursday they were down to fewer than 150 and began questioning them individually to settle on 12 jurors plus six alternates.
The judge reminded the potential jurors that they were there only to determine whether the fallen movie mogul, who has been accused of harassment or abuse by more than 80 women, was guilty of the charges against him involving just two.
"The sole issue is for you to decide whether or not the defendant committed certain acts which constitute a particular crime, and decide whether or not the facts have been proven," Burke told the jury prospects.
He said they should ask themselves, "Would you want you as a juror? If you doubt your ability to be fair, please let us know."
Weinstein, 67, is charged with rape and predatory sexual assault. He is alleged to have raped a woman in a Manhattan hotel room in 2013 and performed a forcible sex act on another in 2006 in his apartment in the city.
The court's Appellate Division on Thursday declined to delay the trial immediately and ordered the prosecutors to file papers on the defense's request by noon on Friday. Weinstein filed the last-minute request on Wednesday after scores of prospective jurors said they couldn't be impartial. Weinstein's lawyer Arthur Aidala said Thursday afternoon that the appeals court has told lawyers it would render a decision by next Wednesday, before opening arguments.
Aidala had said the allegations against his client had created a "carnival-like atmosphere" that made it impossible to get a fair jury in Manhattan. He'd noted the protest of a chanting flash mob outside court on Jan. 10 while jury selection was underway, whose cries could be heard in the 15th-floor courtroom.
Aidala called the hundreds of news stories the case has generated a "media frenzy" and said more than 91% of potential jurors had said they'd heard or read about the case. He cited the dozens of press reports about the jury selection process itself, noting that an editor for Yahoo Lifestyle had been called as a potential juror and then written a first-person article in which she said she heard another jury candidate call Weinstein a "monster."
The defense was further hampered, he said, after the Los Angeles District Attorney's office announced its own rape indictment against Weinstein on Jan. 6, the first day of his trial.
Burke has twice denied Aidala's request for a delay or "cooling-off period." Aidala has also unsuccessfully sought the dismissal of some of the dozens of potential jurors who heard others make negative comments about Weinstein. Weinstein lost an earlier change-of-venue bid, made shortly after the case was filed.
The case is People v. Weinstein, 450293/2018, New York State Supreme Court (Manhattan).