Weinstein Lawyer Asks the Jury to Show 'Courage' In Rape Trial
(Bloomberg) -- A lawyer for Harvey Weinstein slammed prosecutors at his rape trial, saying they failed to prove he sexually assaulted any of his accusers and urging the jury to have the "courage" to clear her client.
"We're asking you to do the right thing," defense attorney Donna Rotunno told the jurors in her closing argument in New York state court on Thursday. "You promised during jury selection that you would have the courage to make the right decision even though it wasn't the most popular."
Prosecutors "have failed to prove their case beyond a reasonable doubt," Rotunno said. "On behalf of Mr. Weinstein, we are imploring you to do that, to have the courage to say not guilty."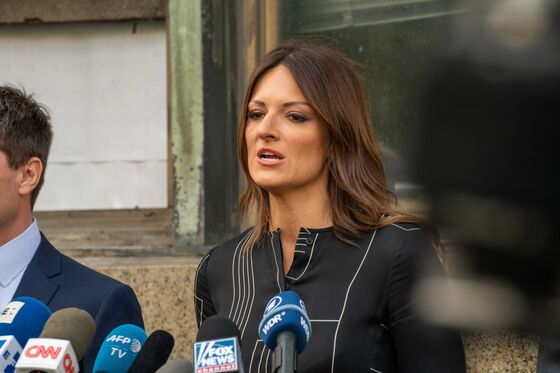 Weinstein, 67, is accused of raping Jessica Mann, an aspiring actor, in a Manhattan hotel room in March 2013 and performing a forcible sex act on "Project Runway" assistant Miriam Haley in his Crosby Street loft in July 2006. Four other women, including the actor Annabella Sciorra, testified against Weinstein as well. The charges against him include rape and predatory sexual assault. If convicted of the latter charge, he could spend the rest of his life in prison.
Weinstein has maintained that the sexual encounters were consensual and mutually beneficial.
Prosecutors will give their closing argument on Friday. Jurors are scheduled to begin deliberating Feb. 18.
In her hours-long summation, Rotunno reminded the panel of seven men and five women that Weinstein is presumed innocent and she argued that prosecutors had manipulated the narrative to paint Weinstein's accusers as victims and to demonize the disgraced movie producer.
"An unpopular person needs you the most," Rotunno said of Weinstein, whom dozens of women have accused of sexual assault.
Rotunno said the six women accusers who testified at the trial had failed to take responsibility for their actions, arguing they sought to have romantic relationships with Weinstein to advance their careers. Assistant District Attorneys Joan Illuzzi and Meghan Hast had tried to gloss over deep flaws and glaring inconsistencies in their testimony, she said.
"The irony here is that the ADAs are the producers, and they are writing the script," Rotunno said. "In their universe, the women are not responsible for the parties they attend, the men they flirt with, the hotel rooms they go to. In this one, the powerful Mr. Weinstein is the villain, and he's so unattractive and large that no one would sleep with him."
Rotunno said that after Weinstein allegedly asked Haley for a massage in a Cannes hotel in May 2006, which she rejected, she nevertheless continued seeing him. And when the lawyer turned her focus to Sciorra, Rotunno suggested that Sciorra may have been drunk the night she claims Weinstein raped her and said their encounter was likely consensual.
Sciorra came forward with a false story to advance her "failed career," Rotunno charged. "She's now more relevant than she was ever before."