'I Think I Was Raped': Weinstein Jury Hears Perez on Sciorra
(Bloomberg) -- The actor Rosie Perez testified on Friday that her friend and colleague Annabella Sciorra confided in her in 1994 that she had been raped by Harvey Weinstein and feared that the Hollywood power broker would "destroy" her if she ever spoke out.
Lawyers for Weinstein have suggested in their questioning at his New York sexual assault trial that Sciorra had only recently concocted her claim that he attacked her in the winter of '93-'94. On Friday, Perez said Sciorra had told her shortly after the alleged attack that she'd been raped in her Gramercy Park apartment, and some months later named Weinstein as the assailant.
Taking the stand dressed in black, Perez told Assistant District Attorney Joan Illuzzi that she was upbeat at the beginning of the first conversation. Both actors were working in New York and would meet up.
"I was in a pretty good mood. I said, 'Hey, Annabella, what's up? Wondering if you wanted to hang out,'" Perez told the jury of seven men and five women. Then she realized something was off.
"She was talking in this pretty strange whisper of a voice, as if she was hiding from someone. I said, 'What's wrong with you?' She said, 'I think something bad happened,'" Perez told the jurors, lowering her own voice.
When Perez asked what she meant, she testified, Sciorra responded, still whispering: "I think I was raped."
"You think, or did it happen?" Perez said. "She started crying, and I said, 'Do you know who did it?' She said, 'I can't, I can't, I can't.'" Perez testified that Sciorra told her, "I woke up on the floor and my nightgown was up, and it was a family heirloom."
She called Sciorra throughout the night, she told the court, but her friend wouldn't pick up, and ultimately she felt she had to respect her privacy.
In late 1994, when Sciorra was working in London, Perez heard Weinstein was stalking her there and asked her if it was Weinstein who raped her, Perez testified. Sciorra said it was, Perez told the court.
"She told me that he showed up at her door and she was confused why he was standing there, and that he pushed his way through," Perez said. "She was crying and saying, 'I tried to fight back.' She said, 'I tried and tried and tried.' She said she ended up in the bedroom with her hands over her head and that he raped her."
Perez said Sciorra swore her to secrecy.
"I told her, 'You should go to the police.' She said, 'I can't. He will destroy me. He will destroy my career."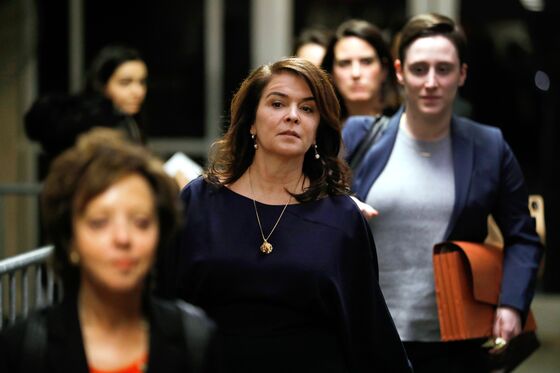 Perez's testimony comes one day after Sciorra's, in which the "Sopranos" star told the jury that Weinstein had begun by menacing her with a series of creepy gifts delivered to her home.
Weinstein, who is charged with rape and predatory sexual assault, is accused of raping a woman in a Manhattan hotel room in 2013 and performing a forcible sex act on another in 2006 in his SoHo apartment. If convicted, he could get life in prison.
Sciorra, 59, was the first of at least four other women the prosecution plans to call as witnesses to show a pattern of predatory behavior. Her alleged assault occurred too long ago for the state to bring criminal charges. Instead, prosecutors are using her testimony to show that Weinstein, 67, engaged in a series of "prior bad acts."
Weinstein maintains that his sexual encounters were consensual. His lawyers stress that some of his accusers even sent him affectionate messages afterward and only in recent years accused him of assault.
In cross-examining Perez on Friday, defense attorney Damon Cheronis asked her about Sciorra's statement that she "may" have been raped.
"I didn't say she 'may have been raped.' She said she WAS raped," Perez responded.
Pressed on why she didn't call the police or rush to Sciorra's home when she couldn't get through by phone, Perez maintained she was respecting her friend's wishes.
Blaming the alleged victim is a longstanding strategy for defense attorneys, and it may still work. But it's trickier amid the #MeToo movement, which Weinstein himself -- accused by more than 80 women of abuse or assault -- has the dubious distinction of galvanizing.
Sciorra spent more than five hours on the witness stand Thursday, questioned by the prosecution and defense in a series of alternating rounds.
"So, Ms. Sciorra, you're a professional actress?" defense lawyer Donna Rotunno asked.

"I am a professional actress, yes," Sciorra responded.

"So you're trained, you've had many acting teachers, you're trained, and as part of that job you pretend to be someone you're not?" Rotunno continued.

"No," Sciorra said.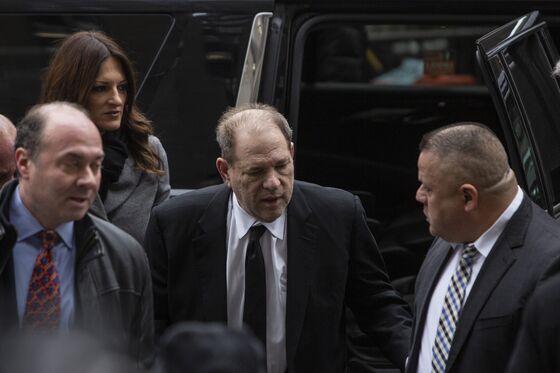 Testifying before Perez on Friday was Barbara Ziv, a forensic psychiatrist who played a central role as an expert witness in the sexual assault trial that ended in Bill Cosby's conviction.
Ziv, of Temple University, would help the jury understand what rape victims experience and would dispel myths about how they behave during and after the assault, as well as how memory works in a traumatic event, Assistant District Attorney Meghan Hast said in her opening argument Wednesday. She said Ziv had found that victims typically don't fight off their attackers or immediately report the assault.
On cross-examination Friday, Weinstein's lawyer Cheronis asked Ziv, "Have you heard about consensual unwanted sex?"
"I've heard of it, but I think it's the most ridiculous concept," Ziv said.
"Regarding consensual sex, can a person say, years later, how could I have had a sexual relationship with such a person?" Cheronis asked.
Ziv said that consent means "you have to agree before the event that you want to have sex" and that "people can have a regret about anything."
Cheronis had told jurors in his opening statement that Ziv didn't examine any of Weinstein's accusers.
She said she answered a 5 a.m. knock at the door, thinking it was the makeup artist arriving to prepare her for a media appearance. It was Weinstein in his underwear, holding a bottle of baby oil and a video, pushing his way in, she said.

Sciorra told the jury she frantically hit all the service buttons, hotel staff arrived and Weinstein left.
The case is People v. Weinstein, 450293/2018, New York State Supreme Court (Manhattan).