Weinstein Jury Stuck on Gravest Charge, Told to Keep Trying
(Bloomberg) -- The jury in Harvey Weinstein's rape trial told the judge it may be deadlocked on one or both of the most serious charges facing the movie producer.
The jurors, on their fourth day of deliberations, asked New York State Supreme Court Justice James Burke if they could be hung on those two counts of predatory sexual assault -- which could send Weinstein to prison for life if he is convicted -- while being unanimous on the counts of rape and a criminal sexual act. Their note to Burke on Friday afternoon, the first indication of a possible deadlock, didn't indicate whether those unanimous decisions would be guilty or not guilty.
"We the jury request to understand if we can be hung on one and or three and unanimous on the other charges. Thank you," the panel of seven men and five women told the judge, referring to the count numbers.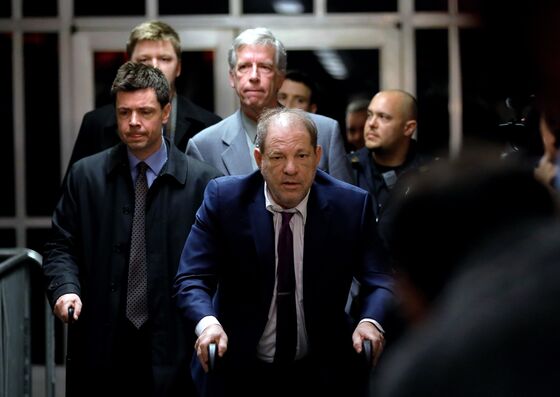 Weinstein's lead lawyer, Donna Rotunno, stood and said "the defense is requesting to accept a partial verdict."
"We are not willing to accept that at this juncture, judge," prosecutor Joan Illuzzi said.
The jurors filed into the courtroom shortly after 2:30 p.m.
"All right, jurors, I have your note," Burke told them, reading it out loud. "As I told you in my initial instructions, any verdict you return on any count, whether guilty or not guilty, must be unanimous. If you cannot reach a unanimous agreement on a particular count, you cannot return a verdict on that count."
He then assured them that it isn't uncommon "for a jury to have difficulty initially in reaching a unanimous verdict, and it is not uncommon for a jury to believe that they will never be able to reach a unanimous verdict." But after further discussion, he said, "most jurors are able to reach a unanimous verdict. And so I will ask you to continue your deliberations."
If the jury can't reach a unanimous verdict on any count, the judge will declare a mistrial on that count, and prosecutors will decide whether to retry Weinstein on it.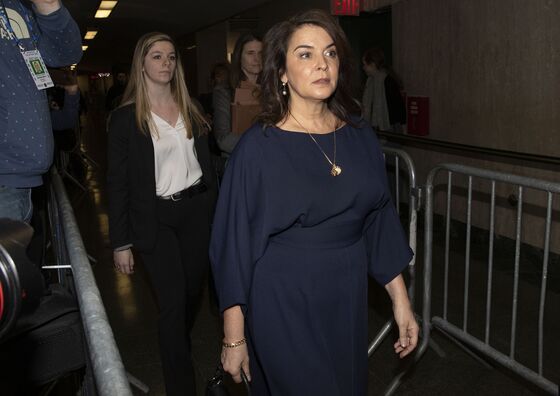 Whatever the outcome, the trial marks an extraordinary moment in a national reckoning over the abuse and assault of women in the workplace. Weinstein, who never took the witness stand himself, was charged with forcing oral sex on "Project Runway" assistant Miriam Haley in his SoHo loft in 2006 and raping aspiring actor Jessica Mann in a midtown Manhattan hotel in 2013. Prosecutors for Manhattan District Attorney Cyrus Vance Jr. called several additional witnesses to establish a pattern of predation.
In a category by herself was the actor Annabella Sciorra, whose searing account of an assault in her Gramercy Park apartment a quarter century ago was among the trial's unforgettable moments.
Sciorra's testimony is crucial to the predatory sexual assault charges. In order to find Weinstein guilty of count one, for example, the jury would need to be persuaded by the evidence for the alleged attacks on both Haley and Sciorra. To convict him on count three, the panel would need to find that he assaulted both Mann and Sciorra.
The case against Weinstein hinged on whether the panel believed Mann and Haley, who went years without reporting the alleged attacks. Weinstein's lawyers suggested through questioning that the women had "re-labeled" consensual encounters as assaults long after the fact, in the wake of the news reports that set off the #MeToo movement Weinstein galvanized.
They pointed to evidence that Mann may have continued to have sexual encounters with Weinstein into late 2016, more than three years after the alleged rape -- a behavior typical of victims, according to a forensic psychiatrist who testified for the prosecution.
Friday started out with Rotunno confronting Gloria Allred, who represents at least three Weinstein accusers and has been attending the trial. Rotunno said Allred had violated her privacy by telling the press the reason court was adjourning early, at 3 p.m., was a funeral Rotunno said she needed to attend.
In the afternoon, before calling the jury into the courtroom, Burke addressed the lawyers.
"I assume if the jury sent out a note saying they want 20 or 30 or 40 more minutes, would that be acceptable?" he said.
"Judge, I have, Mr. Cheronis and I both have to go to the airport," Rotunno replied, referring to her defense colleague Damon Cheronis.
The jury was dismissed for the weekend.
The case is People v. Weinstein, 450293/2018, New York State Supreme Court (Manhattan).