Harvey Weinstein Is Covid-Free But Advisers Say His Health Declines
(Bloomberg) -- Harvey Weinstein has tested negative for Covid-19 but his representatives say he's in "critical" condition.
Weinstein, the former Hollywood titan who's serving a 23-year sentence for sexual assault, is being "closely monitored" by medical staff at Wende Correctional Facility in upstate New York, his spokesman, Juda Engelmayer, and Craig Rothfeld, a prison consultant representing him, said in a statement Thursday.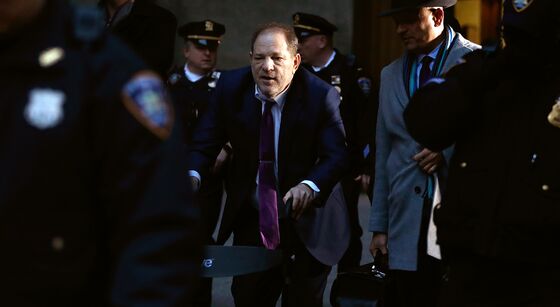 Weinstein, 68, has a "plethora of underlying health issues which are continuing to decline, get worse, and need treatment," according to the statement. Later in the day, his lawyers said in a court filing that he has exhibited "symptoms of the coronavirus including a 101-degree fever" and has been quarantined.
Weinstein became an emblem of the #MeToo movement after several women accused him of harassing or sexually assaulting them. He was convicted in February of a first-degree criminal sexual act and third-degree rape and sentenced to a near-maximum prison term.
Weinstein's lawyers previously cited his health problems in seeking a lesser sentence. On Thursday, they argued that he's too sick to participate in a virtual deposition in a lawsuit pending in New York brought by a group of women who accused him of assault or abuse.
The ex-producer faces multiple sexual assault charges in Los Angeles but his extradition across the country has been delayed because of the pandemic. His attorneys argued in Thursday's filing that he's entitled to have the deposition in the New York civil case put on hold until the conclusion of the criminal case to protect his rights against self-incrimination.
A call to New York's Corrections Department wasn't immediately returned.