Weakened Freedom Caucus Hustles for Relevance in the Pelosi Era
(Bloomberg) -- The 2018 election transformed the far-right House Freedom Caucus from an influential renegade bloc within a majority into a rump caucus in the minority.
But that hasn't diminished the aspirations of the group's 30 or so Republican members. Nor does it shrink their influence in one important corner of Washington. Freedom Caucus members remain some of President Donald Trump's staunchest and noisiest allies in a Democratic-controlled House under Speaker Nancy Pelosi.
"Truth of the matter is, you're going to see a branding of the Freedom Caucus that is taking it to the next level, in this Congress," said Representative Mark Meadows of North Carolina, the Freedom Caucus chairman who frequently engages directly with the president, including in late-night telephone calls.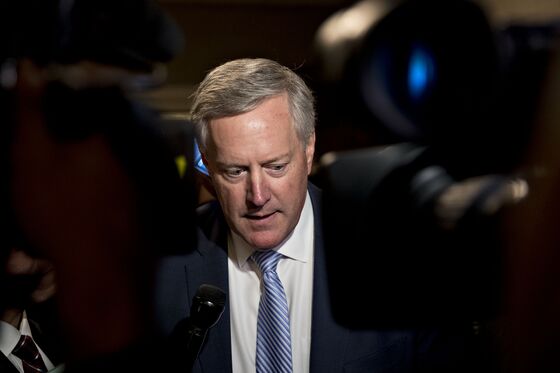 That kind of talk leaves some other Republicans, who blame the group's uncompromising hard line and obstruction for playing a role in the GOP's midterm losses in swing-district House seats, cringing.
"Yeah, build your brand and shrink the party," Representative Peter King of New York responded sarcastically. "We lost almost every major suburb in the country. And we're on our way to doing it again."
Republicans are down to 199 members in the 435-seat House. Meadows said that with the expected addition of several members the Freedom Caucus will be "a slightly bigger slice of a smaller pie."
And unlike most of their Republican colleagues, now left to be mostly spectators in the legislative process, Meadows and several other Freedom Caucus members can play their wild card: direct and close relationships with Trump.
"They have access to him equivalent to or -- in some cases --- greater to that of Minority Leader Kevin McCarthy and Minority Whip Steve Scalise," said Rutgers University political scientist Ross Baker.
Meadows and his Freedom Caucus co-founder, Jim Jordan of Ohio, and others, also continue to be dogged defenders of Trump amid Special Counsel Robert Mueller's Russia probe -- even countering with scrutiny and criticism of the FBI and Justice Department.
They are "aggressive attack dogs, who can be unleashed whenever the occasion arises," Baker said. The group is ubiquitous with tweets and appearances on Fox News and other TV outlets. They've used that to encourage Trump to hold firm on demanding money for a border wall in the standoff with Pelosi and Senate Democratic leader Chuck Schumer.
"Now, they're having a real impact on the government shutdown, with their disproportionate influence on the president," King said. "They don't speak for the Congress. They speak for one segment. And the president should not be relying on them."
Meadows dismisses such complaints. He argues that had the Freedom Caucus been even more aggressive in pushing for conservative positions, "we would not have lost the seats we lost in the midterms."
Meadows does acknowledge there were times when quiet diplomacy by the caucus might have been a better strategy than public opposition. But he adds that he can't travel anywhere that "Americans -- moderates and conservatives -- don't think we are fighting for them."
Meadows said he's studied the history of how smaller groups have maximized their relevance in coalition-type governments and that was behind the hatching of the Freedom Caucus. In late 2014, he and Jordan said they realized voting strategies by like-minded, contrarian conservatives needed better coordination.
By early in the next year, the invitation-only Freedom Caucus was established with bylaws and about nine members, and enjoyed a swift rise to prominence with Democrat Barack Obama in the White House. The group's roster ultimately would grow to more than 40 members who cajoled and pressured Republican leaders further to the right on spending bills and other legislation.
The group mattered because, as a unified bloc, members' votes were needed to maintain a Republican numerical edge versus the House Democratic opposition; their threats to hold out -- even if that meant letting government shutter -- had to be taken seriously.
Party leaders also learned the price of compromise with Democrats. The Freedom Caucus played a role in pushing former House Speaker John Boehner, an Ohio Republican, into retirement in 2015. Wisconsin Republican Paul Ryan made a point of seeking the group's support before agreeing to succeed Boehner as speaker that same year.
"My feeling is I wish they were in more of a position of getting to yes, than always saying no. That would have helped us keep the majority," said Republican Dennis Ross of Florida, who retired this month after eight years in the House.
Ross considers himself to be a conservative and called Freedom Caucus members "good people." But, he said, "This process requires give and take, and sometimes you have to give up some ground to take greater ground later."
Despite occasional differences, the personal relationship Meadows developed with Trump during the 2016 campaign helped solidify the Freedom Caucus as among Trump's closest allies and advisers on Capitol Hill.
Trump picked former member Mick Mulvaney as Office of Management and Budget director, and has elevated him to acting White House chief of staff. Meadows' name also has been floated as a potential chief of staff. Jordan, meanwhile, is the top Republican on the Committee on Oversight and Reform, set to lead the GOP's responses to an expected wave of Democratic-led investigations of Trump and his administrations.
But the Freedom Caucus may be in for a rough patch. Relations with McCarthy are frosty, at best. The group in 2015 played a role in blocking McCarthy from succeeding as speaker. Jordan then ran against McCarthy for the GOP leader's job in November, carrying 43 votes against McCarthy's 159.
McCarthy declined a request to comment on how the Freedom Caucus fits into the GOP conference.
Caucus members also will have to contend with the reality of being out of power in the House. Unlike in the Senate, the Democratic majority can push through legislation without impediment from a vocal minority. And Pelosi's firm grip on her caucus means it's unlikely she'll have much need to peel off GOP votes.
But Meadows and other Freedom Caucus members, such as Matt Gaetz of Florida, continue to underscore their relationships with Trump. Meadows said Democrats should realize they need the president's buy-in for legislation.
Meadows argues that being relegated to minority status will make it easier for more Republicans to hold on to hardline conservative positions, "because the Democrats will be pushing everything further to the left."
The Freedom Caucus maintains its political arm and fundraising in separate Washington D.C. offices away from the Capitol. The group will soon elect a new chairman. This month, the House Freedom Fund announced a launching of 30-second national television ads supporting Trump's border-wall fight. It aims to invest over $1 million in this campaign.
Meadows also mentioned that, in just four years, there are Freedom Caucuses now popping up in state legislatures.
"Ideally, I'd love to see 50 Freedom Caucuses in state legislatures that actually feed people to Congress coming out of that," said Meadows, 59.
But friends and foes question the group's long-term durability.
Representative Glenn Thompson of Pennsylvania said he's a conservative and a friend, but questions the group's uncompromising approaches. "I was always taught that when you eat an apple, you eat it one bite at a time. If you try to eat it all at once, you're probably going to choke to death," he said.
"They are still relevant because they are noisy -- and they have the president's ear," said Democratic Representative Raul Grijalva of Arizona. "But as Trump devolves, so will they."