Boris Johnson Offers Congratulations to Biden: Inaugural Update
(Bloomberg) -- The U.K. prime minister offered congratulations ahead of Wednesday's inauguration. The president-elect's morning stop Wednesday will have echoes of the last Catholic president. And some U.S. Capitol Police officers have contracted the coronavirus since the Jan. 6 riot.
There is one day until President-elect Joe Biden's swearing-in.
U.K. Prime Minister Johnson Congratulates Biden (5:56 p.m.)
U.K. Prime Minister Boris Johnson congratulated Biden on his inauguration and said he looked forward to "working closely" with him to "defeat Covid and build back better from the pandemic."

In a statement released Tuesday, Johnson said the U.K. shared U.S. goals on "climate change, defense, security and in promoting and defending democracy" and the nations would work "hand in hand" to achieve them.
Both Biden and Johnson have used the phrase "build back better" to describe their pandemic recovery efforts, a phrase long used by disaster recovery specialists.

He said he looked forward to welcoming Biden to Cornwall, in the southwest of England, for the G7 summit and to Glasgow, Scotland, for the United Nations climate talks later this year. -- Emily Ashton
Biden Church Stop Will Have JFK Link (5:39 p.m.)
Joe Biden's decision to start his Inauguration Day with a prayer service at St. Matthew's Cathedral is a clear nod from the nation's second Catholic president to its first and recalls an iconic moment marking the end of John F. Kennedy's Camelot saga.
After his assassination on Nov. 22, 1963, Kennedy's funeral was at St. Matthews, and a famous photo of three-year-old John F. Kennedy Jr. saluting his father's casket was taken just outside the cathedral about a half-mile north of the White House.
It's an image and a place that seared into the memory of a generation of Americans, especially Catholics and Irish Catholics, an ethnic and religious background that Biden and Kennedy share. The setting connects Biden to the sense of hope and progress Kennedy aroused in his time as well as evoking a storied moment of loss and tragedy, likely intentional given the toll the nation has faced from coronavirus, economic decline and the storming of the Capitol.
It is also inherently a cautionary note on the cost of political division and violence. -- Mike Dorning
Nineteen Capitol Police Officers Have Coronavirus (4:41 p.m.)
As Washington prepares for the highest-security inauguration in years, some Capitol Police officers won't be able to help.
As of Tuesday, at least 19 officers were quarantining at home after testing positive for Covid-19, while still others were being sent home as a result of contact tracing, according to an official familiar with staffing issues.
The cases come two weeks after groups of rioters, few of whom were wearing masks, stormed the Capitol. It's unknown if the cases are related. -- Billy House
Mnuchin Wishes Biden, Yellen Good Luck (3:42 p.m.)
Steven Mnuchin, the outgoing Treasury secretary, on Tuesday sent his staff a farewell message that didn't mention President Donald Trump.
In the memo, Mnuchin wished "President-Elect Biden and Treasury Secretary-Designate Yellen great success," referring to former Federal Reserve Chair Janet Yellen.
Mnuchin also called the Jan. 6 riots on Capitol Hill a "completely unacceptable attack on our democratic institutions, and I believe those responsible should be held accountable."
A former hedge fund manager, Mnuchin was one of Trump's earliest supporters and remained in his Cabinet for the entirety of his presidency. -- Saleha Mohsin
Few VIPs RSVP to Trump Send-Off Ceremony (3:05 p.m.)
The White House is having trouble finding guests for President Donald Trump's send-off ceremony on Wednesday.
Several prominent Republicans who were invited to the event at Joint Base Andrews early Wednesday don't plan to attend, including the Senate and House GOP leaders, Mitch McConnell and Kevin McCarthy, according to people familiar with the matter.
The White House has made some curious choices for its invitation list. Several former Trump aides who became outspoken critics of the president received invitations, including financier Anthony Scaramucci, who was the White House communications director for 11 days in 2017, but by 2019 was publicly advocating for Trump's impeachment.
Former Chief of Staff John Kelly and former National Security Adviser John Bolton and his deputy, Charlie Kupperman, also were invited. None of them will attend. Nor is Vice President Mike Pence.
Aides said they anticipate a mixture of junior staff and some of Trump's most loyal supporters.
One former aide does plan to be there: Boris Epshteyn, who worked on Trump's campaigns. -- Alex Wayne and Jennifer Jacobs
Biden Considering Airline Recovery Commission (1:50 p.m.)
The incoming Biden administration's transportation team is considering creating an Aviation Recovery Commission to help guide its work assisting the airline industry rebound from the pandemic's sharp downturn, a trade group says.
Such a commission should be made up of officials from government, airlines, other travel industries and labor unions, along with advisers from science and health groups, Airlines for America saidin a letter to Pete Buttigieg, Biden's nominee to become Transportation secretary.
The trade group for large U.S. carriers said it supports creation of a commission, "which we understand is under consideration." Airlines are losing billions of dollars and have required government assistance to avoid mass job losses because Covid-19 has sharply cut passengers.
The 12-page letter lays out a broad wish list that carriers are seeking from the federal government, from a more efficient air traffic control system to standardized federal policies on the virus.

The Biden transition didn't immediately respond to a request for comment. -- Alan Levin
Alleged Pelosi Laptop Thief Arrested (12:13 p.m.)
A woman who allegedly stole a laptop computer from Pelosi's office during last week's assault on the U.S. Capitol intended to sell it to Russian agents and has been arrested, according to the U.S. Department of Justice.
A "former romantic partner" called the FBI tip line to identify Riley June Williams of Harrisburg, Pennsylvania as a person seen on a video of the event taking the laptop, according to a criminal complaint filed Sunday in federal court in Washington. The tipster alleged that Williams intended to send the device to a friend in Russia, who then intended to sell it to Russian intelligence agencies, according to the complaint.
The complaint accuses Williams of knowingly entering or remaining in a restricted building or grounds without lawful authority and of violent entry and disorderly conduct on Capitol grounds. The alleged theft of the laptop remains under investigation.
In videos of the assault, a woman identified as Williams appears to be directing intruders up a staircase, according to the complaint.
Her mother told police that Williams had taken an interest in the politics of President Donald Trump and "far-right message boards" and had traveled to the Jan. 6 protest with her father. Afterward, she left home telling her mother she'd be gone for several weeks, according to the complaint. -- Alyza Sebenius
Guardsmen With Militia Ties Removed From Duties (11:14 a.m.)
Two members of the National Guard were removed from security at the inauguration over ties to fringe militia groups, though no threat to Biden was uncovered, the Associated Press reports.
The Federal Bureau of Investigation has been vetting the nearly 25,000 members of the National Guard assigned to the nation's capital after the ransacking of the Capitol on Jan. 6.
A number of law enforcement officers and several National Guard members participated in the riot, and officials said it is routine to vet people assigned to security details. It wasn't immediately clear which state or territory the two Guard members came from.
Texas Governor Greg Abbott, who authorized 1,000 National Guard members to come to D.C., tweeted Monday that it was "the most offensive thing I've ever heard" that they were being vetted.
Blunt Says Security Preparations Look Good (10:57 a.m.)
The Republican chair of the congressional inauguration ceremony says it's always a stressful event but that he feels good about the status of security preparations.
Missouri Senator Roy Blunt said that he is staying "totally focused" on ensuring the ceremony goes off without a hitch, noting his response to a question ahead of Trump's 2017 inauguration.
"Somebody asked me what was your best moment of the inauguration, I said when everybody got back inside," he told reporters. "I mean it's clearly always a moment of where our governments is at its most vulnerable, but also an important moment where we project our strength as a democracy."
Blunt, who is chair of the Joint Congressional Committee on Inaugural Ceremonies, previously said he was disappointed that Trump will not be attending. -- Erik Wasson
Top Lawmakers to Go to Church With Biden (10:17 a.m.)
Senate Majority Leader Mitch McConnell and Minority Leader Chuck Schumer -- who will soon switch jobs -- will go to church with Biden on the morning of inauguration along with Speaker Nancy Pelosi and House Minority Leader Kevin McCarthy.
In a sign of unity, the top lawmakers will pray together at St. Matthew's Cathedral in Washington before Biden's swearing-in, according to two people familiar with the schedule. Biden will be only the second Catholic to serve as U.S. president.
Trump and his wife Melania have refused to do the traditional get-togethers with the incoming president and will not attend inauguration.
But other Republicans have stepped forward in their place. Vice President Mike Pence will be at inauguration and former President George W. Bush and his wife Laura will go to Arlington National Cemetery with the Bidens in the afternoon. -- Jennifer Jacobs
Traditional Inaugural Prayer Service Goes Online (9:40 a.m.)
A traditional inaugural prayer service -- which dates back to the start of the republic -- will be entirely virtual this year because of concerns about the coronavirus.
Josh Groban, Patti LaBelle and the Clark Sisters are among the musical performers who will participate in the virtual prayer service at Washington National Cathedral on Wednesday morning ahead of Biden's swearing in.
Bishop William J. Barber II, who came to national prominence in part for leading "Moral Mondays" civil-rights protests in North Carolina, will deliver the homily, the Presidential Inaugural Committee announced.
The interfaith service was first held at the inauguration of President George Washington. This year it will be livestreamed here, starting at 10 a.m. Wednesday morning.
Biden is poised to become the second Roman Catholic and non-Protestant U.S. president. -- Kathleen Hunter
Acting Attorney General Warns Against Inauguration Violence (8:13 a.m.)
Acting U.S. Attorney General Jeffrey Rosen issued a stern warning Tuesday that attempts to disrupt Joe Biden's inauguration would be met with the full force of the Justice Department, calling the Jan. 6 deadly attack on the U.S. Capitol an "intolerable travesty."
"The Justice Department will have no tolerance for anyone who attempts to mar the day with violence or other criminal conduct," Rosen said in a statement. "Anyone who does that will be caught, and they will be prosecuted."
The remarks from Rosen, who stepped into the top federal law enforcement role only last month after Attorney General William Barr stepped aside, come barely 24 hours before Biden is set to take the oath of office on the Capitol steps and amid an unprecedented security crackdown in Washington.
Since Jan. 6, he said the DOJ has brought charges against more than 100 people in connection with the attack and that the FBI had received nearly 200,000 digital tips from the public. -- Kathleen Hunter
Three Democratic Senators to take office on Wednesday (7:49 a.m.)
Three new Democratic senators will all be sworn in on Wednesday, after Biden and Vice President-elect Kamala Harris take office, giving Democrats control of the chamber, two people familiar with the plans said.
Jon Ossoff and Raphael Warnock were elected in Jan. 5 run-off elections in Georgia, defeating the two Republican incumbents.
California Secretary of State Alex Padilla has been named to replace Harris in the Senate.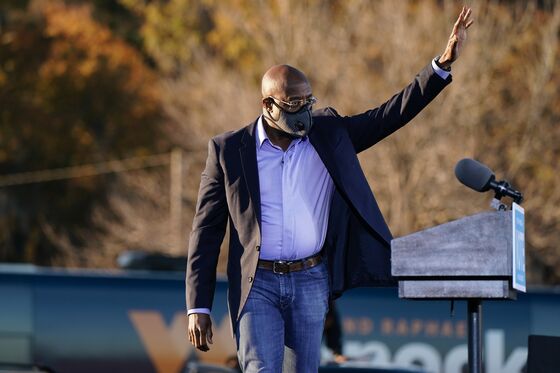 The three new Democrats leave the Senate split 50-50 between Republicans and the Democratic caucus. Harris would cast any tie-breaking votes, meaning Democrats control the chamber agenda.
Current Majority Leader Mitch McConnell and Minority Leader Chuck Schumer will meet later Tuesday to lay out plans for the evenly split Senate as well as the process for an impeachment trial of President Donald Trump. -- Laura Litvan
Five Biden Cabinet Picks Have Confirmation Hearings (6:47 a.m.)
The day before his inauguration, five of Biden's cabinet nominees have their confirmation hearings before Senate committees.
Janet Yellen, the former Fed chair who was picked to lead the Treasury Department, will face questioning from the Finance Committee at 10 a.m. EST. At the same time, Biden's pick to be director of national intelligence, Avril Haines, will appear before the Intelligence Committee, and Alejandro Mayorkas, tapped for the Department of Homeland Security, will testify to the Homeland Security and Governmental Affairs panel.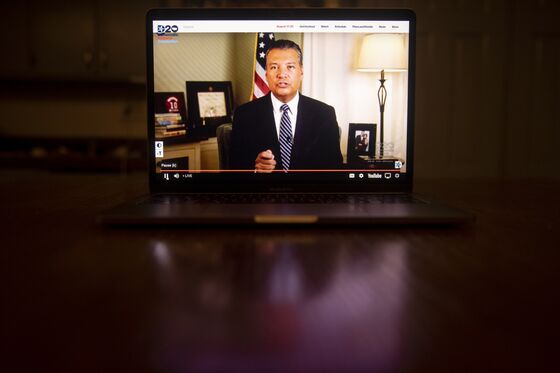 Afternoon hearings on Tuesday include retired General Lloyd Austin, Biden's choice to lead the Defense Department, and Antony Blinken, his nominee for secretary of state.
Despite hearings beginning before Wednesday's inauguration, Biden is expected to take office with a cabinet made up largely, if not entirely, of acting secretaries. The confirmation hearings have to be followed by committee votes before the nominations go to the floor of the Senate.
Working to Biden's advantage: the Senate will shift to Democratic control after Biden becomes president and new senators from Georgia and California are sworn in. At that point, tie breakers in the Senate, which will be divided equally between Republicans and Democrats, will be cast by Harris. --Bill Faries