Washington's Inslee Says a 2020 Decision Could Come This Week
(Bloomberg) -- Washington Governor Jay Inslee said Sunday his decision about whether to join the growing field of Democrats vying to challenge President Donald Trump in 2020 could come "as soon as" this week.
"I've been pleased by what I've been hearing across the country," Inslee, a proponent of dramatic action to address climate change, said on CBS's "Face the Nation." He said he's been hearing "that people do want a president that will act on a real emergency, which is climate change."
In December, the second-term governor proposed a package of climate proposals that sought to eliminate the state's use of fossil fuels by 2045. A month earlier, voters defeated a proposed fee on carbon emissions that he backed.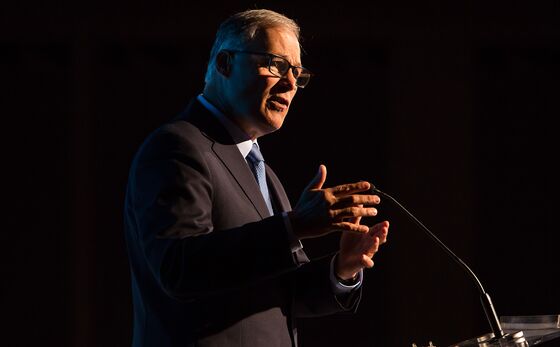 While less prominent nationally than some of the declared Democratic candidates and potential contenders, Inslee, 68, built a profile in part through his opposition in court to Trump's ban on travel to the U.S. from a group of mostly Muslim countries.
Washington hasn't joined the 16 states suing Trump to block his emergency declaration to divert military funds to pay for his promised wall on the U.S.-Mexico border, but Inslee said the state would go to court "the moment that the administration jeopardizes any federal expenditure in our state."
"We feel good about our chances to succeed," Inslee added, calling the move "illegal and unconstitutional."