Polish Leaders Feud Over How to Mark Independence Day
(Bloomberg) -- Polish politicians squabbled over how to mark the 100th anniversary of the country's independence amid fears the event will be hijacked by far-right groups who drew international condemnation for racism at a similar rally last year.
At the vanguard of populist movements challenging the European Union's liberal and multi-cultural values, Poland has attracted scrutiny under the leadership of the nationalist Law & Justice party. It has clashed with allies over issues including the rule of law and its policy toward migrants, while critics claim the government is cuddling the far-right.
Warsaw Mayor Hanna Gronkiewicz-Waltz, whose party is in opposition to the national government, on Wednesday outlawed a march planned by nationalist groups for Nov. 11, saying it would jeopardize security. Hours later, President Andrzej Duda's office announced he would lead a new march, which will take place at the same time and place as the banned rally, inviting "all Poles" to join him under the country's red-and-white colored banners.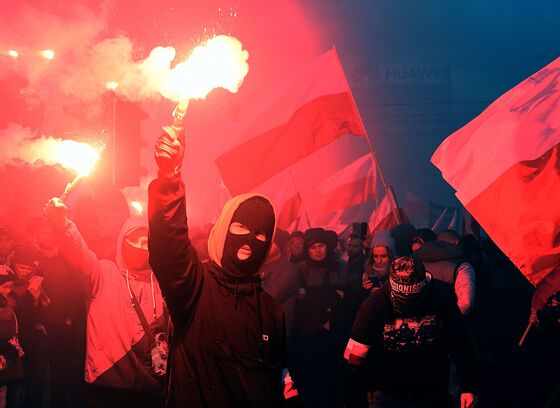 In 2017, masked protesters in a crowd of 60,000 people shouted xenophobic slogans and carried banners saying "Pure Blood" and "Europe will be white or uninhabited." Government officials didn't attend that rally, but Defense Minister Mariusz Blaszczak called it "a beautiful sight" at the time. After the march become global news, the government complained of the country's "image problem" and accused the media of focusing on "fringe incidents."
A year later, still no arrests have been made for racist behavior at the rally. The mayor's ban follows a dispute between the government and the police, with as many as 20 percent of the country's officers currently on medical leave in a dispute over pay.
"Security comes first and, given the recent problems with the police, it's hard to believe it's capable of ensuring security," Gronkiewicz-Waltz said. "Poland and Warsaw have suffered enough from aggressive nationalism. This is not how the centenary of our independence should look."
Last year's gathering saw some protesters waving the green-and-white flags of Falanga, a Polish nationalist group from the 1920s and 1930s that advocated "Catholic totalitarianism" and stripping Jews of their rights. No arrests were made for the racist behavior, which is illegal in Poland, while 45 anti-fascists were detained.
Organizers from nationalist groups said they would defy the ban. "We're meeting at 2 p.m. in Warsaw," they said on Facebook.
While Duda, a Law & Justice ally, joined officials from Israel and other countries condemning racist banners last year, he initially invited other politicians to join him at this year's march. Last week, he pulled out after negotiations with organizers failed.