Warren Makes Pitch for More Women to Be Elected: Campaign Update
(Bloomberg) -- Elizabeth Warren said Thursday the time had come to "change the face of power" by electing more women to all levels of government, as she made a pitch to become the first female U.S. president.

"Let's elect more women so we can create the America of our highest ideals," Warren said during the Democratic National Committee's Women Will Vote Gala in Washington. "We are the fighters who know better than anyone that we must change the face of power, not just in our economy, not just in our government, but in our democracy."
Warren said women were "sick of seeing photos of congressional meetings where everyone's a white guy, except Nancy," a reference to a photo tweeted by President Donald Trump on Thursday that showed House Speaker Nancy Pelosi standing at a table full of men in the West Wing.
Her remarks came a few days after her Democratic rival Joe Biden was criticized for appearing to condescend to Warren by saying "I got you the votes" needed to create the Consumer Financial Protection Bureau during a heated exchange at the Ohio debate. Instead of giving Biden credit, Warren responded by thanking Barack Obama.
On Thursday, Warren made an impassioned appeal for her plan for universal child care, which would be financed by a wealth tax. "We're the richest country in the history of the planet," she said. "Access to high-quality care and education during the first five years of a child's life shouldn't be a privilege reserved for the rich. It should be a right for every child."
Trump Raises $5.5 Million in Fort Worth (8:28 p.m.)
President Donald Trump raised $5.5 million at a fundraiser for deep-pocketed donors in an afternoon stopover before his rally Thursday night at the American Airlines Center in Dallas, a GOP official said.
Trump met with supporters at the tony City Club of Fort Worth, holding a round-table meeting with bigger contributors and addressing a larger group of donors during a luncheon. The money raised will go to Trump Victory, a joint fundraising committee that supports his campaign and the Republican National Committee.
Trump Victory, which can accept contributions in amounts of as much as $360,600, has raised $65.2 million in 2019. Overall, Trump and the RNC have raised more than $300 million this year. When Trump holds his rallies, he also raises funds from small-dollar donors through his other joint fundraising committee, Trump Make America Great Again, by selling hats, t-shirts and other campaign memorabilia.
In between the fundraiser and the rally, Trump made a stop in Alvarado, Texas, to take part in a ribbon-cutting ceremony at a factory manufacturing Louis Vuitton products. The French luxury conglomerate LVMH opened the plant to follow through on a pledge by its chairman Bernard Arnault to create more U.S. manufacturing jobs. -- Bill Allison
Biden and Warren Tied in Iowa, Buttigieg Third (1:55 p.m.)
Joe Biden and Elizabeth Warren are in a dead heat for the top spot in Iowa, with Pete Buttigieg making a credible claim for third place in the first Democratic nomination battle of the 2020, according to a new survey.
Biden and Warren each have 23% support, according to a landline phone poll and internet survey by Emerson Research released on Thursday. Buttigieg has 16%, surpassing Bernie Sanders's 13% but within the poll's 3.2 percentage-point margin of error.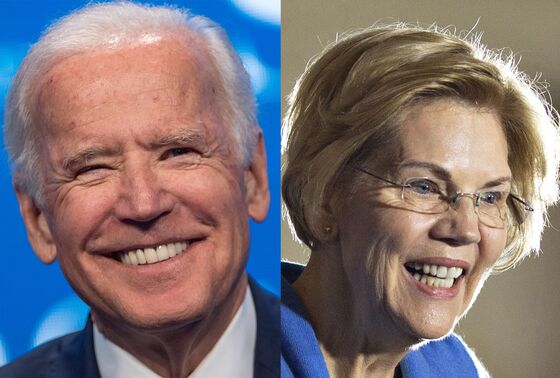 Warren's steady rise in Iowa has come largely at the expense of Sanders. Among Iowa caucus-goers who supported Sanders in 2016, 19% still support the Vermont senator and 26% now support Warren. Biden has the support of 42% of Iowa caucus-goers who backed Hillary Clinton in 2016. -- Gregory Korte
Warren Picks Up Endorsements of 24 Iowa Leaders (12:54 p.m.)
Elizabeth Warren received the endorsements of 24 Democratic leaders in Iowa, the state that holds the critical first-in-the-nation presidential nominating contest.
The endorsers include former Iowa Lieutenant Governor Sally Pederson, former Iowa Secretary of State Elaine Baxter, and Mary Wolfe, a state representative.
"Elizabeth is the candidate for change," Pederson wrote in an op-ed published Wednesday by the Gazette in Cedar Rapids. "She understands that to rescue our democracy and our economy we must end the corruption that enriches the few while leaving everyone else behind."
Warren has a narrow lead in several Iowa polls and is in a statistical tie with longtime front-runner Joe Biden in many national surveys. -- Emma Kinery
Joe Biden will attend the Women's Leadership Forum Conference organized by the Democratic National Committee in Washington on Thursday. Warren will deliver remarks at the Women Will Vote gala in Washington Thursday evening.