Warren Called Herself 'American Indian' on 1986 Bar Registration
(Bloomberg) -- Democratic presidential candidate Elizabeth Warren is facing fresh scrutiny over her heritage claims after a report that she once listed "American Indian" as her race on a registration card for the State Bar of Texas.
The April 1986 registration card, handwritten in blue ink, was obtained through a public records request by the Washington Post. The newspaper reported its existence late Tuesday and said Warren's office didn't dispute its authenticity. The Post also said the U.S. senator from Massachusetts apologized in an interview for identifying as a Native American in the past.
The report revives a controversy over Warren's past assertions of Native American Indian heritage that threatens to be a drag on her nascent run for her party's nomination to challenge President Donald Trump next year.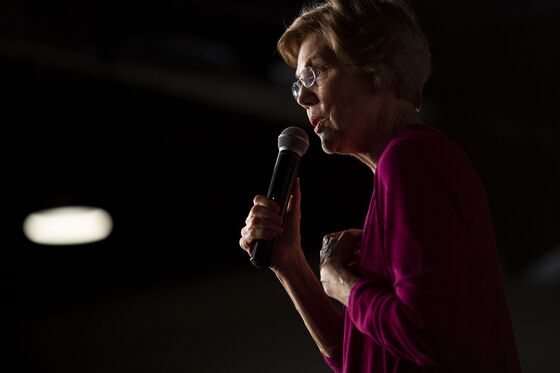 Warren in October reignited the debate over her claims when she released the results of a DNA test that suggested she does have a distant Native American ancestor in her lineage dating back six to 10 generations. She later apologized to the Cherokee Nation for her decision to take the DNA test after they criticized it as useless in determining citizenship.
Representatives for Warren did not immediately respond to a request for comment Wednesday.
"I can't go back," Warren was quoted as telling The Post Tuesday. "But I am sorry for furthering confusion on tribal sovereignty and tribal citizenship and harm that resulted."
Warren's sharp criticisms of Wall Street and efforts to regulate large corporations that she depicts as preying on ordinary Americans have made her a polarizing figure.
A former Harvard University law professor, she recently unveiled a plan to impose a 2 percent wealth tax on household assets in excess of $50 million and a 3 percent tax on fortunes above $1 billion. At the time, she said "capitalism without rules is theft."
In a recent interview with Bloomberg News, Warren said her focus in running for president will be on "reducing the student loan debt burden, increasing our Social Security payments for those who depend most on it, and the overarching piece, reducing corruption in government." She said she wants to defend Obamacare and "find a system of Medicare available to all."
Senate Democratic Leader Chuck Schumer told CNN pm Wednesday of Warren, "I think she's apologized. I think she's handled it well. I think people ought to be debating the many interesting ideas that she's putting out."