'Bloodshed' Warning as Protests Swell in Sri Lanka's Capital
(Bloomberg) -- The speaker of Sri Lanka's parliament has warned his country could descend into political violence if the legislature remains suspended and has asked President Maithripala Sirisena to reconvene parliament and bring an end to the unfolding constitutional crisis.
With a growing number of demonstrators gathering in the capital, Colombo, to call for the resumption of parliament, the fate of deposed Prime Minister Ranil Wickremesinghe and the stability of the country's government hangs in the balance. While chaos reigns domestically, the appointment of former strongman Mahinda Rajapaksa -- who ruled between 2005 and 2015 -- as the new prime minister is good news for China, which enjoyed close ties with Sri Lanka during his 10-year rule that saw the island nation rack up large debts to fund infrastructure projects.
More than 125 members of the 225-seat parliament asked the speaker Karu Jayasuriya to summon parliament immediately and hand over the government to the party with the majority.
"Failure to do so shall amount to a deprivation of democratic right," he wrote in a letter to the president on Tuesday. "The prevailing political instability has already resulted in the loss of two innocent lives and public life is in chaos in many places." He earlier warned the standoff should be settled in parliament. "If we take it out to the streets, there will be bloodshed," Jayasuriya said.
Colombo has been gripped by political intrigue ever since Sirisena said he had to fire Wickremesinghe late on Friday because of an assassination plot. On Monday evening Sirisena added finance and economic affairs to Rajapaksa's responsibilities, according to an official government Twitter account. Wickremesinghe responded by describing his ousting as "blatantly illegal, unconstitutional, and opportunistic."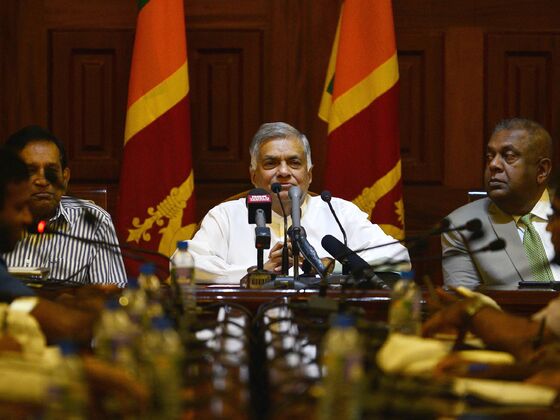 Fitch Ratings said on Tuesday prolonged political upheaval, accompanied by the deterioration of policy continuity could undermine investor confidence and make it more challenging for the government to meet its large external financing needs in 2019-2022.
Rajapaksa --- whose administration was criticized by human rights groups for extrajudicial killings, enforced disappearances and jailing journalists -- said he accepted the premiership in order to steer the country out of "deep crisis," the state-run Daily News reported.
"A decision to bring Rajapaksa back into the mainstream is likely intended to open the flow of Chinese funds, given the close relationship he cultivated with the Chinese leadership," said Shailesh Kumar, Asia director with political risk firm Eurasia Group in a note. "While Wickremesinghe sought to balance relations with India and China, Rajapaksa has been very clear regarding his willingness to accept Chinese money, even when the terms are not in Sri Lanka's interests, and alienate India," Kumar said.
Wickremesinghe said he still commanded the majority backing in parliament and called for a special session of the legislature to prove it. For that, the suspension needs to be lifted. "Parliament is supreme," Wickremesinghe told reporters in the capital on Monday.
Relations between Wickremesinghe and Sirisena have been strained this year, especially after their coalition was defeated in local government elections by a Rajapaksa-backed party.
Sri Lanka's rupee briefly halted a three-day decline but was back down, dropping 0.1 percent to a record 174.25 per dollar.
"Foreign selling has intensified and will continue with the political risk factor of the country shooting up," said Kavinda Perera, head of research at Asia Securities in Colombo.
Overseas investors cut holdings of local stocks by $17.6 million on Monday, the heaviest one-day sell-off since September 2017, taking outflows this month to $38.8 million. The Colombo All-Share Index was up 0.5 percent at 5,973.60 after rallying 1.9 percent Monday, the biggest gain since September 2013.
The upheaval ushers in a new period of political uncertainty in Sri Lanka, which saw economic growth last year hit the slowest pace since 2001. Moody's Investors Service has warned social tensions over the next few weeks could damage the economy and investor sentiment, even as the U.S. called on Sirisena to reconvene parliament and other foreign embassies warned they were closely monitoring the situation.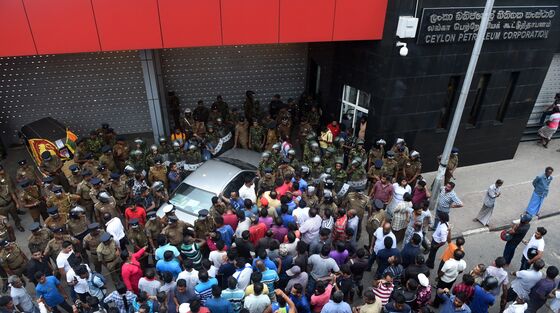 "The current political crisis in Sri Lanka is credit negative for the sovereign," said Matthew Circosta, an analyst for Moody's sovereign risk group. "The president's sudden appointment of Mr Rajapaksa as Prime Minister significantly heightens policy uncertainty. Additionally, the possible social tensions that may unfold in the next few weeks would have a negative impact on the economy, which is already growing slowly."