Brexit Is a Worrying Lesson for Poland
(Bloomberg) -- The blue European Union flags with their circles of gold stars were conspicuous by their absence in the room used to brief the media at the prime minister's office in Warsaw.
It was 2015, just weeks after the nationalist Law & Justice party triumphed in Polish elections. The new government said it was time to give more prominence to Poland's red-and-white colors. It spent the next three years transforming the country into one of the EU's most rebellious members from one of its most loyal. The flags have since been put back, though a new word has entered the political lexicon: "Polexit."
Poland receives more money on a net basis from Brussels than anywhere else in the EU and the very notion of leaving remains unthinkable. Indeed, with more than 90 percent of the population supporting membership, the probability of a Brexit-style political accident remains slim.
But the fact it's even talked about is remarkable for a place that was once the darling of the European expansion project and is now a key battleground in the wider clash over the continent's future.
The argument in Poland before this month's European Parliamentary elections is over the country's role – if not its status – in Europe. Opposition parties have united as the European Coalition and are casting Poland under Law & Justice as the EU's bete noire. Crucially, a mid-November general election will follow where the government will seek a second term.
"Poland's sovereignty hinges on the existence of the European Union," Timothy Snyder, professor of history at Yale University and author of the books "On Tyranny" and "The Road to Unfreedom," told Bloomberg last week in Warsaw. "If I'm right, every Polish patriot should be concerned by a prospect of the EU falling apart or even being weakened."
Law & Justice head Jaroslaw Kaczynski considers his party the defender of conservative Christian values in a "sick" Europe that's been hijacked by liberal, pro-immigration forces backed by the LGBT lobby.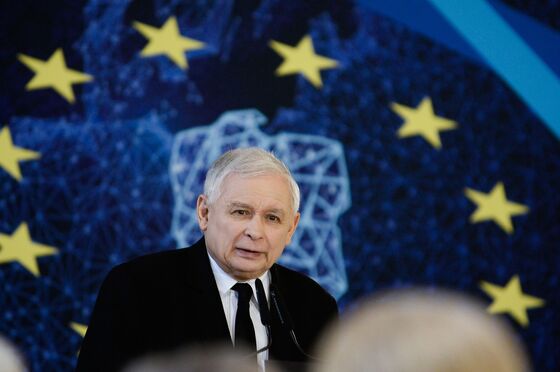 Scrapping over everything from his government's influence over the courts to accepting refugee quotas, Kaczynski is part of an eastern axis of leaders the EU deems detrimental to its democratic values. Hungary's anti-migrant "illiberal" prime minister, Viktor Orban, is another member, while the EU this week broached the idea of sanctions against Romania over reforms it says would damage judicial independence.
The core of Poland's European Coalition is Civic Platform, the party founded by former premier Donald Tusk, now president of the European Council and a vocal Law & Justice critic. Poland was the only one of 28 EU members to vote against Tusk's reappointment in 2017.
The campaign message is that the government's antagonism of Brussels risks undermining the country's hard-won accession to the bloc.
Poland joined in 2004 along with other ex-communist states and has received more than 100 billion euros ($112 billion) in aid. That revitalized its infrastructure and economy, though income disparities widened and disillusioned voters turned to Law & Justice.
On a visit to Poland in November, Tusk warned that Brexit also wasn't meant to happen. British voters defied Prime Minister David Cameron in 2016 after he called a referendum on membership. The U.K. is still trying to figure out how to leave the EU.
"It's not important for me whether Jaroslaw Kaczynski is planning for Poland to leave the EU or is he only initiating some processes, which can end in this happening," Tusk said. "Polexit is possible not because Kaczynski has such a plan. The problem is that Cameron also didn't plan to have the U.K. exit."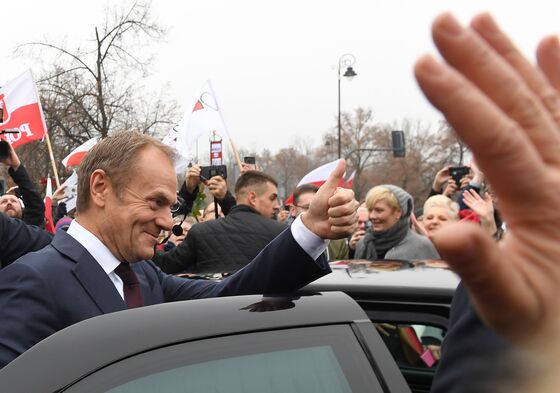 His comments came after Poland's new relationship with the EU spooked voters in local elections and dented Law & Justice's support. With the bloc now considering cuts to development cash, no Law & Justice mayoral candidate won any large city.
While the party dismisses "Polexit" as scaremongering, it's also responded. Its slogan has switched from "Poland First" to "Poland, the Heart of Europe." It's "euro-realist" rather than "euro-enthusiast," according to the leadership.
In 2015, Kaczynski portrayed Sweden as a country with dozens of Sharia law zones outside state control, while today Prime Minister Mateusz Morawiecki lists Sweden as a country Poland aspires to emulate.
In a speech in September, President Andrzej Duda, a party loyalist, alluded to the EU as being an "imaginary community from which Poles derive few benefits" and Poland should be left alone to govern itself. In the past few weeks, Duda said he was misunderstood and wants membership enshrined in the constitution.
Former Foreign Minister Witold Waszczykowski said "Polexit" is just a rhetorical trick aimed at framing Law & Justice as an enemy of the EU, which he calls absurd. His party wants an EU more beholden to sovereign states rather than just serving Europe's "elites."
"It's an institution that in recent years has been overpowered by ideological madness, which has to be corrected," he said in an interview last week. "Ideological madness is embracing certain left wing and liberal ideology, which supersede traditional values like family and Christianity and create some kind of a myth that we need to support those that are excluded."
Opinion polls before the May 26 vote show Law & Justice neck-and-neck with the European Coalition. The government has suddenly become pro-European, while "Polexit" is a tool of the opposition to sow political division, said Marcin Zaborowski, a senior associate at think-tank Visegrad Insight. 
That doesn't wash for Hanna Zdanowska, the Civic Platform mayor of Lodz, one of Poland's largest cities. The turning point for her was the disappearance of the EU flags in 2015. The danger is that Poland sleepwalks into a political catastrophe, she said.
"We're not making this an issue – it's Law & Justice that started wearing non-European clothes," she said. "They give us reasons to fear that our presence in Europe is under question. I can imagine that we can wake up one day and realize that we're not in Europe."