The Silver Lining of an Exodus: Bosnia Cashes In on Exit Fees
(Bloomberg) -- Bosnia-Herzegovina, whose population has shrunk by a quarter in less than three decades, is using the exodus of its citizens to boost coffers.
While countries including the U.S. have a renunciation fee, the share of people leaving this Balkan nation is much greater. Since 2000, more than 82,000 have handed back their passports.
The government gets as much as 800 marka ($462) from everyone who does so. With only three bilateral deals on dual citizenship with other states, Bosnia gets between 1.2 million marka and 1.5 million marka a year from the fee, Ministry of Civil Affairs data show.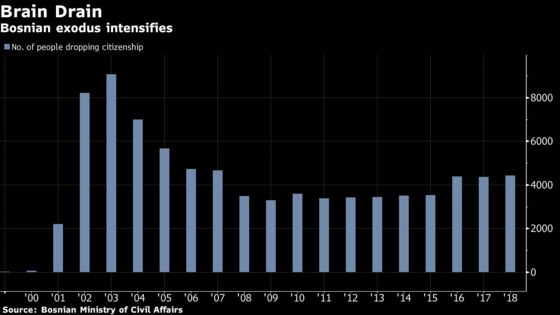 Among the former Yugoslav republics, Bosnia was hurt the most during the bloody Balkan wars. The death toll exceeded 100,000. The latest census showed that 3.5 million live in Bosnia, down from about 4.4 million before the war. Yet more people have left since the census, bringing down the population to 3.3 million now, according to the Union for Sustainable Return and Integrations, a Sarajevo-based organization that tracks the outflow.
"The worst part is that those leaving in recent years for a better life are the most employable, younger generations," said Mirhunisa Zukic, the Union's president. "That's devastating for a small country like ours."