Sanders, Buttigieg Lead in New Hampshire Poll: Campaign Update
(Bloomberg) -- Bernie Sanders and Pete Buttigieg are statistically tied for the lead in New Hampshire in a poll just days before the primary.
In an NBC News/Marist poll of likely Democratic voters, the Vermont senator received 25% of support, while the former South Bend, Indiana, mayor received 21%.
That's within the poll's margin of error of 4.7 percentage points. The poll was conducted Feb. 4 though 6.
In third place was Massachusetts Senator Elizabeth Warren at 14%, essentially tied with former Vice President Joe Biden at 13%.
But Lee Miringoff, director of the Marist College Institute for Public Opinion, said a significant number of voters said they might change their minds. "It's a close race which still has more than one-in-five persuadable voters, a notable proportion," he said.
Trump Sends Surrogates to New Hampshire (5:12 p.m.)
Never one to cede the spotlight, President Donald Trump is sending top surrogates to New Hampshire ahead of the contentious Democratic primary.
The list of surrogates campaigning across the Granite State on Tuesday includes his sons, Donald Jr. and Eric; campaign manager Brad Parscale; Senators Lindsey Graham, Rand Paul and Rick Scott; and Representatives Steve Scalise, Mark Meadows and Matt Gaetz.
It also includes Corey Lewandowski, one of the Trump's 2016 campaign managers.
In 2019, Lewandowski considered running for a Senate seat in New Hampshire. He decided against it after a contentious House hearing in September in which he was pressed about an untrue statement he'd made in an interview with MSNBC.
"I have no obligation to be honest to the media because they're just as dishonest as anybody else," he said.
Democrats Prefer Meteor Crash to Trump (2:30 p.m.)
New Hampshire Democrats can't stand President Donald Trump so much that they would rather see a meteor hit the Earth than see him get re-elected.
The results: 62% of Democrats and Democratic leaners prefer the meteor. That includes 69% of those making below $50,000, 68% of women and 69% of moderates.
The poll is good news for the popular internet meme the Sweet Meteor of Death.
Created by frustrated conservatives during the 2012 election and popularized during the 2016 campaign, the SMOD, as it's sometimes called, refers to the idea that it might be preferable to see the end of civilization than endure.
Top New Hampshire Democrat Sees Tight Race (12:13 p.m.)
The head of the New Hampshire Democratic Party said the state's primary next week is going to be extremely close.
"I think this is going to be very close," state party chair Ray Buckley told reporters Friday morning. "I think the numbers are going to be perhaps among the closest that we've had."
He said that the Friday debate at Saint Anselm College will probably have a big effect on the primary.
"I think it's so fluid. I mean, I think there were polling results that said 50% of those likely to vote on Tuesday haven't made a definitive decision," he said. "So anything could have an impact."
In the Real Clear Politics average of New Hampshire polls, Vermont Senator Bernie Sanders is 4.7 percentage points ahead of former South Bend, Indiana, Mayor Pete Buttigieg. -- Jennifer Epstein
Trump Targets Iowa and New Hampshire Voters (12:13 p.m.)
President Donald Trump is using the primary calendar to make a pitch to Iowa and New Hampshire voters in the general election.
With some Democrats wondering aloud about whether the two states should be first in the presidential selection process, Trump tweeted out his support Friday morning.
"Iowa and New Hampshire will not be moved from the Primary Schedule as long as I am President," he wrote. "Great tradition!"
The president, of course, doesn't play a role in the primary calendar, which is set by the states in loose coordination with the national parties.
Sanders Ties Buttigieg to Billionaires (11:28 a.m.)
Bernie Sanders went after Pete Buttigieg's ties to billionaires Friday, in what was likely a preview of the night's debate.
During a Politics and Eggs Breakfast at Saint Anselm College in Manchester, New Hampshire, the Vermont senator read off a list of headlines about Buttigieg's "billionaire backers."
"I like Pete Buttigieg. Nice guy," he said. "But we are in a moment where the billionaires control not only our economy but our political ideas."
The event was the final Politics and Eggs breakfast in a series hosted by the college before the New Hampshire primary. The breakfast, where Sanders also spoke in the 2016 cycle, is a traditional rite for politicians looking to garner favor in the state.
Sanders and Buttigieg will join former Vice President Joe Biden, Massachusetts Senator Elizabeth Warren, Minnesota Senator Amy Klobuchar, Venture for America founder Andrew Yang and hedge fund manager Tom Steyer at a debate Friday night. -- Emma Kinery
Sanders Discusses Faith at CNN Town Hall (10:49 a.m.)
Bernie Sanders said that his Jewish faith made him more aware of the problems of racism and ethnic nationalism.
Asked about his religion at a CNN town hall at Saint Anselm College in Manchester, New Hampshire Thursday, the Vermont senator said that growing up Jewish affected him "very profoundly."
"I remember as a kid looking at these big picture books of World War II and tears would roll down my cheeks when I saw what happened to the Jewish people -- 6 million people were killed by Hitler," he said. "I think at a very early age, even before my political thoughts were developed, I was aware of the horrible things that human beings can do to other people in the name of racism or white nationalism or in this case Nazism."
He recalled seeing Holocaust survivors at the store in his neighborhood, recognizing them by the numbers tattooed on their arms at concentration camps, and visiting the town where his father was born in Poland, where he was shown the spot of a Nazi massacre.
"How horrible people can be to other people in the names of racial superiority has been with me for my entire life," he said. "And that is why I will do everything I can do end the kind of divisiveness that Trump is fomenting in this country." -- Emma Kinery
Buttigieg Gets Boost in New Hampshire Poll (10:25 a.m.)
The Iowa caucus results may have been muddled, but they appear to be giving Pete Buttigieg a bounce.
The former South Bend, Indiana mayor, who was ahead by a razor-thin margin over Vermont Senator Bernie Sanders with all the precincts reporting, has surged to a statistical tie in a New Hampshire tracking poll.
The Boston Globe/WBZ-TV/Suffolk University poll showed Sanders at 24% and Buttigieg at 23%, while Massachusetts Senator Elizabeth Warren was at 13% and former Vice President Joe Biden and undecided at 11%.
David Paleologos, director of Suffolk's Political Research Center, attributed Buttigieg's better results to his strength among older voters.
The survey was conducted Wednesday and Thursday of 500 likely voters in New Hampshire and has a margin of error of 4.4 percentage points.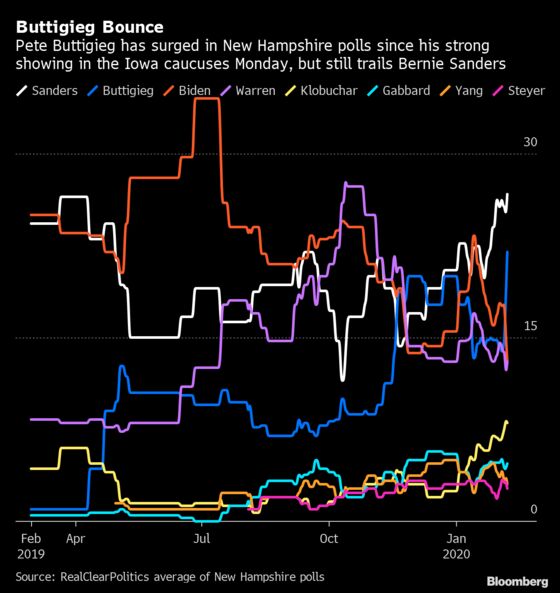 Bloomberg Backed by Trump's Former Navy Chief (9:19 a.m.)
The former U.S. Navy secretary ousted after angering President Donald Trump is endorsing Democrat Michael Bloomberg for president, saying the former New York mayor would seek to restore America's standing in the world and "respect the advice of military advisers."
Richard Spencer was asked for his resignation in November after Trump said he was not pleased with the Navy's handling of the case of Navy SEAL Edward Gallagher, who was accused of war crimes in Iraq and later promoted by the president.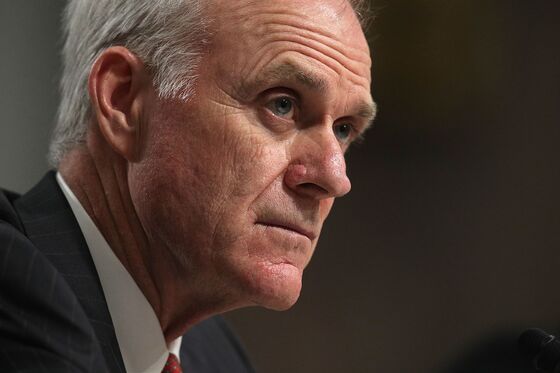 "Mike will honor the service and ensure the equal treatment of all women and men in uniform," Spencer said in a statement provided by the campaign. "He also will respect the advice of military advisers. Restoring America's standing in the world and repairing relationships with our allies will be a top priority in Mike's administration."
Spencer was expected to appear today with Bloomberg at a campaign event in Norfolk, Virginia, home to the largest naval base in the world and the North American headquarters for NATO, to discuss Bloomberg's policy to help veterans and military families.
Bloomberg has criticized Trump's role in Spencer's resignation and his handling of the military, saying in a statement ahead of his event in Norfolk that "we need steady, dependable, disciplined leadership in the White House – not chaos, recklessness, and lawlessness."
The plan the former New York mayor released Friday seeks to ensure that military deployments don't limit the ability of service members to have a family by providing resources to cover fertility services and expand childcare options for service members. It would also increase mental health services for veterans to address the high rate of suicide, eliminate co-payments for preventative care and require training in handling sexual assault and harassment while allowing victims to use independent military prosecutors.
Bloomberg is the founder and majority owner of Bloomberg LP, the parent company of Bloomberg News. -- Mark Niquette
Walsh Backs 'Any Democrat' After Ending GOP Bid (8:19 a.m.)
Joe Walsh, the former Tea Party congressman from Illinois, has ended his long-shot Republican primary challenge to President Donald Trump, saying he will work to support "any Democrat" -- even Bernie Sanders.
"Any Democrat would be better than Trump in the White House," Walsh told CNN on Friday morning. "I would rather have a socialist in the White House than a dictator or a king."
Walsh, who hosted a conservative radio program, formerly supported Trump but decided to challenge him for the Republican nomination last summer calling the president "unfit." After Trump received 97% of the vote in the Iowa caucuses this week, and Walsh was unable to get any attention on Fox News and other conservative media outlets, Walsh decided to end his campaign -- but not his attempt to replace Trump.
Walsh called Trump "the greatest threat to this country right now."
"He can't be stopped within the Republican party," he said, adding, "It's not a party. It's a cult."
Walsh said many Republicans have left the party because of Trump, and he urged them to pay attention to the field of Democrats, particularly the moderate candidates, but said he would support any nominee Democrats choose. -- Elizabeth Wasserman
Seven Democratic presidential candidates -- Joe Biden, Pete Buttigieg Amy Klobuchar, Bernie Sanders, Tom Steyer, Elizabeth Warren and Andrew Yang -- are scheduled to take part in a debate Friday night at St. Anselm College in Manchester, New Hampshire. The debate begins at 8 p.m. Eastern Time and will be broadcast on ABC.
The New Hampshire primary is Feb. 11.
Nevada holds its caucuses on Feb. 22, and South Carolina has a primary on Feb. 29.
(Disclaimer: Michael Bloomberg is also seeking the Democratic presidential nomination. He is the founder and majority owner of Bloomberg LP, the parent company of Bloomberg News.)