Wall Street Is Expecting a Drop in Treasury Issuance. It Won't Last Long
(Bloomberg) -- At some point in 2019, Wall Street dealers expect the U.S. Treasury to announce something the bond market hasn't seen in years: Lower debt issuance.
It won't come as quickly as Wednesday morning's quarterly refunding in Washington. This time around, the consensus is that Treasury will say it plans to keep auction sizes of 3-, 10- and 30-year debt unchanged -- at a record total of $84 billion for the round of sales set for May 7-9.
But this week may bring guidance on how the end of the Federal Reserve's balance-sheet runoff in September will affect the trajectory of U.S. issuance. Some strategists expect a reduction in coupon-bearing debt sales as soon as August, while others project declines only in bill issuance. Either way, they anticipate hints from the Treasury on its plans for dealing with what is likely to be a temporary respite from swelling auctions as the nation's fiscal outlook remains grim.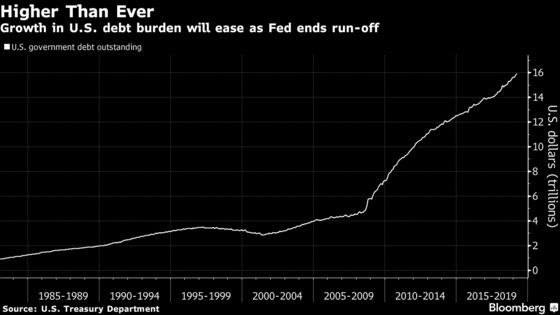 "We see this meeting as more of a set-up for likely future cuts," said Priya Misra, global head of rates strategy at TD Securities. "But any reductions that do come will in no way offset the amount of increases they have done over the last year, because the deficit picture is still awful."
The Fed said last month that it would start slowing its debt roll-off in May before halting it at the end of September, more than a year earlier than many bond dealers had expected. The move offers Treasury Secretary Steven Mnuchin some relief, after he ramped up annual sales above $1 trillion -- levels last seen in the wake of the recession-- to plug growing budget shortfalls.
Any drop in issuance will probably be shallow and short-lived. The deficit has continued to rise under President Donald Trump as the GOP's tax cuts, bipartisan spending increases and entitlements weigh on the budget outlook. There's also the 2020 presidential election to consider, as more candidates try to lure voters with proposals that would only widen the shortfall.
"The Fed's actions can only cover up part of the structural imbalances our country has, and even with that it's clear we are not nearly bringing in enough revenue to pay for all the spending," said Maya MacGuineas, president of the bipartisan Committee for a Responsible Federal Budget. "It's problematic for our economy and for fighting the next recession."
The Treasury will unveil its quarterly borrowing projections at 3 p.m. New York time Monday.
A lull in issuance would barely make a dent in the nation's marketable debt, which has ballooned to almost $16 trillion as Treasury auctions reached historic amounts partly thanks to the Fed's balance-sheet roll-off.
The Fed's Treasury holdings fell by $230 billion in 2018, and were about $2.2 trillion as of February. The reduction will slow to $168 billion this year, Wells Fargo Securities predicts. Primary dealers estimated in January that the central bank's Treasury holdings would decline by $286 billion in the fiscal year through September, and by $73 billion next fiscal year.
So with the Fed's course change, the Treasury may adjust accordingly. The catch is that it's still awaiting more clarity from the central bank: The key is the Fed's goal for the composition of its balance sheet, which will dictate how it skews its Treasury purchases. Previous Fed communication suggested it may shift toward shorter maturities. More details may come Wednesday afternoon when the Fed announces its latest policy decision.
"For now, Treasury will need to give an educated guess on what their funding needs are going to be based on what the Fed has told them so far," said Subadra Rajappa, head of U.S. rates strategy at Societe Generale SA.
As well as rolling over its maturing Treasuries, beginning in October the Fed will also reinvest funds from maturing mortgage-backed securities into Treasuries through secondary-market purchases, using a cap of $20 billion per month.
Jon Hill at BMO Capital Markets, Zachary Griffiths at Wells Fargo Securities and Chirag Mirani at UBS Group AG say Treasury is likely to cut bill sales, not coupon-auction sizes. For these analysts, reducing coupon sales would be short-sighted given the trajectory of the deficit and the amount of Treasuries maturing in the next two years. Anshul Pradhan of Barclays sees the Fed's change as simply giving Treasury more time to keep issuance stable.
But dealers including Bank of America Corp., Deutsche Bank AG, Jefferies LLC and TD Securities say small cuts to coupon-bearing debt auctions are probable in the second half of the year. That's because Treasury has had an objective of boosting bills as a share of total debt.
Previously announced plans to boost inflation-linked debt are expected to continue, dealers say.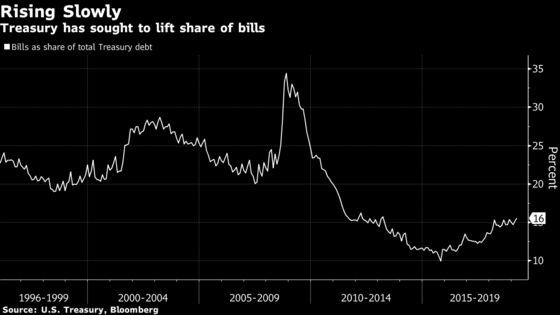 There is consensus about one thing, though: A return to bigger debt sales is a matter of time. The budget deficit will hit the $1 trillion mark in 2022, the non-partisan Congressional Budget Office forecast in January. The shortfall was $779 billion in fiscal 2018.
Net Treasury issuance to the private sector this year will still amount to $1.107 trillion, according to UBS. That follows a net $1.34 trillion sold in 2018, more than double the 2017 level.
Investors are likely going to hear this week about "the trade-offs Treasury faces ahead and how willing they might be to reduce coupon auctions for a short period of time -- like a year or so -- before likely needing to increase them to offset higher deficits in the future," said Mark Cabana, head of U.S. interest rates strategy at Bank of America.