Wales Is Heading Into a Two-Week 'Fire-Break' Lockdown on Friday
(Bloomberg) -- The government of Wales announced a two-week lockdown aimed at curbing the spread of coronavirus, as Prime Minister Boris Johnson insisted he doesn't want similar measures across the border in England.
Everyone in Wales will be required to stay at home between Oct. 23 and Nov. 9, and all pubs, restaurants and non-essential retail outlets will be closed, First Minister Mark Drakeford said in a televised statement on Monday.
Meanwhile ministers failed to reach agreement with local leaders in Greater Manchester, northwest England, over plans for tighter restrictions -- raising the prospect that the highest Covid alert level will be imposed on the region.
Projections by government scientists show that without action, surge intensive care capacity in Greater Manchester hospitals would be overwhelmed by Nov. 12, according to James Slack, the prime minister's official spokesman.
The action in Wales and arguments over Manchester demonstrate how the political unity that marked the first phase of the pandemic in March and April has disintegrated. Arguments over cash and strategy are deepening divisions between regional leaders and ministers in London.
Northern Ireland has already ordered schools to close for the next two weeks, with most businesses facing tough restrictions for a month.
But Slack said Johnson still prefers a "balanced regional approach" for England.
"We keep all our measures under review, but the prime minister has made it very clear that he doesn't want to see a return to something like a national lockdown," he told reporters.
The opposition Labour Party repeated its call for the government to bring in a national lockdown lasting between two and three weeks to bring the virus under control. Jon Ashworth, the party's health spokesman, warned lawmakers the cost of delay could be a "deeper, longer, fuller lockdown".
Patrick Vallance, the government's chief scientific adviser, told a House of Lords committee on Monday that he believed a Covid-19 vaccine would not be widely available until spring 2021.
Andy Burnham, the Labour mayor of Greater Manchester, is pushing for extra financial support for businesses and low-paid employees affected by enhanced curbs on his region, but a meeting between local leaders and ministers failed to reach agreement on Monday afternoon.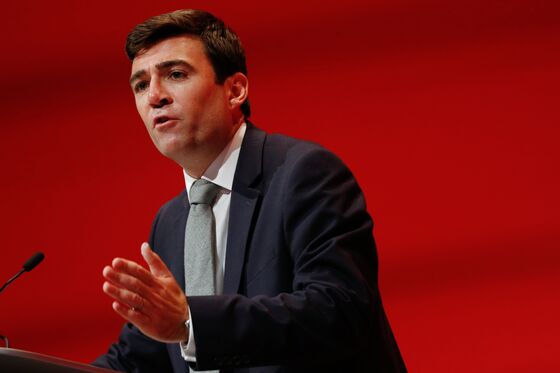 "This is particularly concerning against the backdrop of rising cases and hospitalizations in Greater Manchester," Johnson's office said in a statement. "We are carefully considering next steps."
It isn't just Labour raising concerns about the government's strategy. Graham Brady, an influential Conservative MP based in the region, said in Parliament that pubs, bingo halls and gyms are being punished unnecessarily.
Sara Britcliffe, a neighboring Conservative MP, warned that "morale is low, mental health is suffering as people can't see their family."
In Wales, people will be banned from gathering indoors and outdoors with those from other households as part of the "fire-break" lockdown. Drakeford said it will be "a short, sharp, shock to turn back the clock, slow down the virus and buy us more time."
Primary schools will reopen after the half-term break and secondary schools will open again only for children in years seven and eight, Drakeford said.