Policy-Oriented Vice Presidential Debate Muddles Some Key Facts
(Bloomberg) -- Vice President Mike Pence and Senator Kamala Harris engaged in more substantive policy debate than their running mates did last week, sometimes resulting in a dizzying array of policies, positions, facts and figures — often taken out of context.
The role of the vice presidential nominee is to support candidates at the top of the ticket and both did their part. Here's a rundown of the most hotly contested statements from Wednesday's one and only vice presidential debate in Salt Lake City: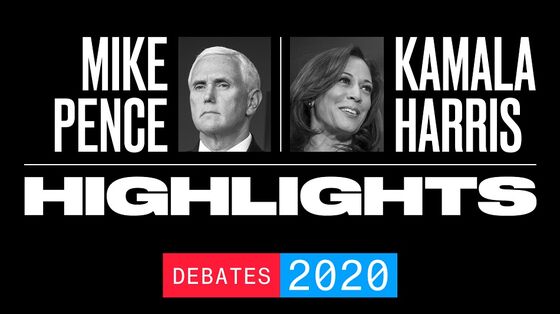 PENCE: "Under President Trump's leadership, Operation Warp speed, we believe we'll have literally tens of millions of doses of the vaccine before the end of this year."
HARRIS: "If the public health professionals — if Dr. Fauci, if the doctors tell us that we should take it, I'll be the first in line to take it. Absolutely. But if Donald Trump tells us that we should take it, I'm not taking it."
THE FACTS: Top health officials in the Trump administration have said the general public can expect a vaccine sometime between the end of March to the end of 2021. Trump has called those estimates a mistake, contradicting Robert Redfield, the director of the U.S. Centers for Disease Control and Prevention, who said it could be next summer.
Trump himself altered his optimistic timeline Wednesday, saying in a video from the White House that he expected one shortly after the election instead of before the Nov. 3 vote.
In the debate, Pence suggested that Harris's reluctance to take a Trump-endorsed vaccine "continues to undermine public confidence in a vaccine."
But a Pew Research Center survey in September found that Republicans were 14 percentage points less likely to say they would get a coronavirus vaccine than Democrats, 44% to 58%. And a majority of both Democrats and Republicans were more concerned about moving too fast in approving a vaccine than moving too slowly.
HARRIS: "You have Donald Trump, who measures the strength of the economy based on how rich people are doing. Which is why he passed a tax bill benefiting the top 1%. ... On day one, Joe Biden will repeal that tax bill, he'll get rid of it."
PENCE: "The average household income for a family of four increased by $4,000 following President Trump's tax cuts. But America, you just heard Senator Harris tell you on day one, Joe Biden's gonna raise your taxes."
THE FACTS: It's true that Biden, the Democratic nominee, and Harris have both said they want to repeal the Tax Cuts and Jobs Act, but their official campaign plan only repeals portions of the law. Harris said no one earning less than $400,000 would see their tax bills increase. Economists have said that is technically accurate, but because of the indirect effects of higher taxes on businesses, workers could experience slightly higher taxes. And Biden cannot undo Trump's tax overhaul without the approval of Congress.
Pence is also overstating the benefit of the tax cuts to the typical family. The $4,000 estimate, which came from the White House itself, estimated that incomes would increase by $4,000 over eight years — less than 1% a year. In the first year, they typical household income grew by $553.
PENCE: "They want to abolish fossil fuels and ban fracking which would cost hundreds of thousands of American jobs all across the heartland."
HARRIS: "Joe Biden will not end fracking, he has been very clear about that."
THE FACTS: Biden has given contradictory and confusing responses on the use of hydraulic fracturing — commonly known as fracking — to release natural gas deposits. "We would make sure it's eliminated," he said in one debate last year.
Biden has since said he would call for prohibiting new oil and gas projects on federal land but does not support a blanket ban on fracking, which is largely regulated by states.
"I am not banning fracking," Biden said during a recent speech in Pittsburgh. "Let me say that again. I am not banning fracking. No matter how many times Donald Trump lies about me."
PENCE: "You were the first Senate co-sponsor of the Green New Deal. ... We don't need a massive $2 trillion Green New Deal that would impose all new mandates on American businesses and American families."
HARRIS: "Joe is about saying we're going to invest that in renewable energy. We're going to be about the creation of millions of jobs. We will achieve net zero emissions by 2050, carbon neutral by 2035. Joe has a plan."
THE FACTS: Harris co-sponsored legislation rooted in the far-reaching progressive climate plan known as the Green New Deal. And while Biden has said he does not support the Green New Deal, he has released a plan that aligns with some of its goals.
A $2 trillion climate plan Biden outlined in July calls for achieving "a carbon pollution-free power sector by 2035," as well as spending on renewable energy infrastructure, getting cleaner cars on the road and creating zero-emission mass transit systems. The spending would also bolster sustainable home building, clean energy innovation and conservation.
PENCE: "Joe Biden wants to go back to the economic surrender to China that when we took office, half of our international trade deficit with China alone. And Joe Biden wants to repeal all of the tariffs, that President Trump put into effect to fight for American jobs and American workers."
HARRIS: "You lost that trade war, you lost it. What ended up happening is because of a so called trade war with China. America lost 300,000 manufacturing jobs."
THE FACTS: Biden has given ambiguous responses on the question of Chinese tariffs, saying that Trump is "going after China in the wrong way" and that he would re-evaluate the tariffs upon taking office.
While the tariffs did hurt some manufacturers and spur job cuts, employment at factories still grew by a net 140,000 from mid-2018 to the start of 2020. The figure that Harris cites includes the jobs lost during the pandemic.
Under the Trump administration, China still accounts for more than half the trade deficit.
PENCE: "With four more years of President Trump, 2021 is going to be the biggest economic year in the history of this country."
HARRIS: "The Trump-Pence administration wants to take credit, when they rode the coattails of Joe Biden's success for the economy."
THE FACTS: Federal Reserve policy makers last month penciled in growth of 4%, which they had marked down from a 5% median estimate in June. The last time the U.S. saw 4% growth was 2003, under President George W. Bush, and it happened several times in the 1990s. Also, a majority of business economists in a recent survey said they don't expect the economy to return to its pre-pandemic level until 2022.
While the stock market was at an all-time high and unemployment was at a decades-low before the coronavirus outbreak, some areas of the economy were weakening. And the hit from Covid-19 has been devastating.
Weekly continuing unemployment claims remain almost double the high from the last recession. One-third of adults surveyed by the Pew Research Center in early August said either they or someone in their household had to reduce their hours or accept a pay cut because of the coronavirus outbreak, and a third of low-income Americans say they have no or only slight confidence in paying next month's rent bill, according to a Census Bureau survey. At the same time, the status of a new fiscal stimulus package is unclear after Trump said he was ending negotiations but also floated piecemeal plans on Twitter.