Theresa May Faces Confidence Vote Within Hours on Her Leadership
Theresa May will face a vote of confidence in her leadership of the Conservative Party as the embattled U.K. prime minister warned the rebels who want her out that they will be putting Brexit at risk.
Tory members of Parliament will vote on Wednesday evening on whether they have confidence in May. If she loses, a leadership contest is launched. There are 317 MPs eligible to vote and she needs a simple majority of them to back her in order to stay on.
"I will contest that vote with everything I've got," May said outside her Downing Street office. The pound rose as much as 1.4 percent as traders bet she would win.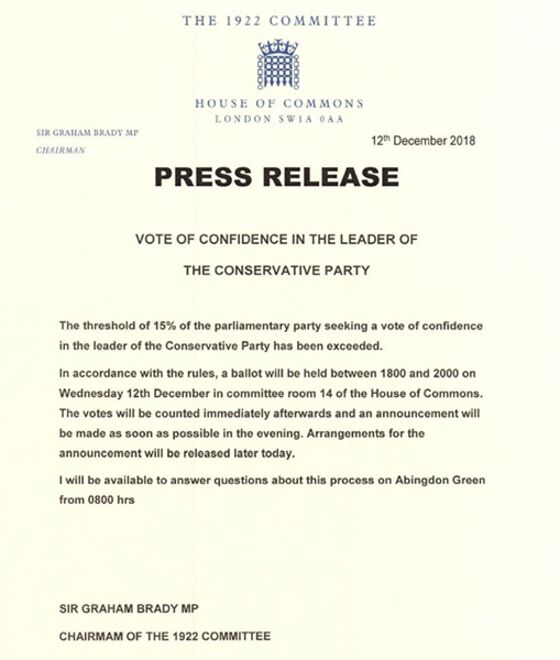 A Bloomberg count says 158 Tory lawmakers have expressed their support publicly -- that is very close to threshold she needs to win. A word of caution: It's a secret ballot so what people say in public isn't always what they wind up doing in private.
May said a leadership challenge would delay Brexit, or even risk it being canceled altogether. She put in a strong performance during the question-and-answer session in Parliament, coming out swinging against Labour Party leader Jeremy Corbyn with Tory MPs kicking the benches in front of them in a show of noisy support.
Cabinet ministers -- including some potential rivals -- and moderate Tories came out in numbers to support May, accusing those trying to oust her of being mad or selfish. At least 15 Cabinet ministers say they back May. Still, the ballot is private so they don't need to vote as they say they will.
It also threatens to eat into the time available to get a Brexit deal through Parliament before exit day on March 29. If May goes, the agreement she spent 18 months negotiating with Brussels will probably be discarded.
It increases the chances of a pro-Brexit Tory taking over and pursuing a more dramatic split from the bloc than the one May was pursuing. If a hardliner takes over, then the risk of a no-deal split -- the scenario most feared by business -- also rises.
A new leader could ask for an extension to the negotiating timetable, but it would require approval from all 27 EU leaders. But a new leader won't change the parliamentary math -- there's no clear majority for any kind of Brexit in parliament.
The leadership crisis was triggered after May took the dramatic decision on Monday to postpone a crunch vote in Parliament on whether to approve or reject the deal she struck with the European Union.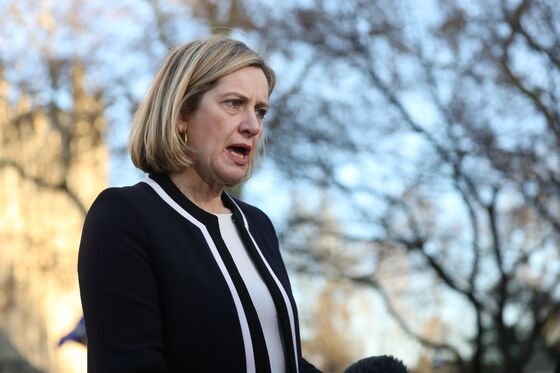 She said at the time that she would have lost that vote and has launched a drive to secure fresh concessions on the terms of the divorce from EU leaders, so far without success.
Bloomberg Economics: An Unlikely Loss for May Could Soften Brexit
May won support from potential leadership rivals such as Foreign Secretary Jeremy Hunt and Pensions Secretary Amber Rudd.
But the party's euroskeptic European Research Group issued a statement saying May must be ousted -- because her Brexit deal fails to deliver what the country needs.
"Theresa May's plan would bring down the government if carried forward," the group's chairman Jacob Rees-Mogg and deputy chairman Steve Baker said in a statement. "Our party will rightly not tolerate it. Conservatives must now answer whether they wish to draw ever closer to an election under Mrs May's leadership. In the national interest, she must go."