Pound Slides as Politics Disturbs Currency's Summer Snooze
(Bloomberg) -- The pound slid to lead losses among major currencies on Tuesday as U.K. Prime Minister Theresa May's fate hung on the line over her Brexit plans.
Sterling headed for a two-week low as May risked a defeat in Parliament later Tuesday over customs arrangements and Bank of England Governor Mark Carney warned of economic pain if the U.K. failed to secure a trade deal with the European Union. While lawmaker tensions over Brexit have been simmering for months, traders are focused on the possibility of a leadership challenge for May, which some strategists say could drive the currency down 5 percent.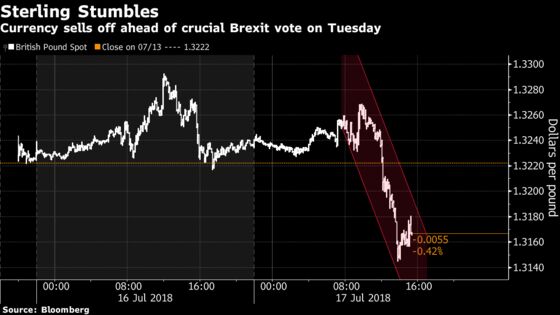 Pound traders have been caught in recent months between two competing forces, with positive noises on an interest-rate hike from the BOE drowned out by concerns over Brexit. May narrowly avoided a defeat in Parliament Monday by making concessions to those in her party pushing for a clean break with the EU, infuriating pro-EU rebels and provoking another rebellion.
"If Theresa May does lose this vote then it seriously weakens her position as Prime Minister," said Kathleen Brooks, research director at Gain Capital Group in London. "We all know that the hardcore Brexiteers want her removed, but now the Remain MPs also seem to be turning on her, which increases the political uncertainty and makes the pound a less attractive option for FX traders."
The pound slid 0.6 percent to $1.3160 by 3:40 p.m. in London. Gauges of volatility in the currency, which have been subdued in recent months, climbed on Tuesday.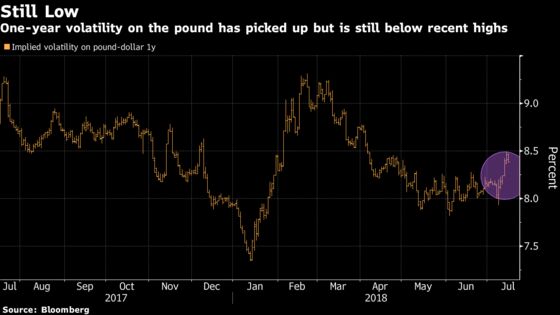 "The political backdrop in the U.K. could well be a source of disruption to market equanimity over the summer months," wrote Bank of New York Mellon Corp.'s senior currency strategist Neil Mellor in a research note. With the U.K. government facing tough choices on whether to extend the Brexit process or even hold a fresh referendum, "the mood music on the economy might therefore prove to be important."
With politics becoming increasingly hard to predict, investors may be opting to focus on the central bank to guide their bets on the U.K. currency. The market currently prices a more than 80 percent chance that the BOE will raise rates when it meets next month.
"Given the backdrop of heightened political uncertainty in the U.K., it is a relief that at least there is a fairly strong consensus with respect to the central bank outlook," wrote Rabobank head of G-10 currency strategy Jane Foley in a research note Tuesday. "Expectations that the Bank is set to raise rates is likely to afford the pound some downside protection."
While labor data on Tuesday supported the case for a rate increase, the Brexit outcome is a swing factor for the BOE's outlook. If the U.K. fails to get a deal with the EU and instead trades with it under World Trade Organization rules, that potentially presents a "financial stability event" for both Britain and the bloc, the BOE's Carney told lawmakers on Tuesday.
BNY Mellon's Mellor sees the continued threat of a parliamentary stalemate into the autumn making it difficult for BOE hawks to recruit the extra voters they need to lock down an August hike. Carney's caution on Brexit was another factor for trader selling, said Neil Jones, head of hedge fund currency sales at Mizuho Bank Ltd.
"For me this spoke volumes," Jones said. "The pound did not react immediately but I would say it was on the radar and a reason for lower sterling."