Virus Test Shortages Undermine Drive to Restart U.S. Economy
(Bloomberg) -- Maryland was so desperate for Covid-19 testing that Governor Larry Hogan turned to South Korea for help, launching a secret operation to buy half a million diagnostic kits from a company there.
Colorado's governor said finding supplies is so competitive he doesn't publicize orders until they've arrived. Illinois says it has solved its swab problems, while Wisconsin complains it's only received a few thousand from the Federal Emergency Management Agency -- about a third of what it requested.
A tech-industry effort in Utah, meanwhile, has used its business connections to provide Utah, Iowa and Nebraska with thousands of tests.
As President Donald Trump has alternated between leading the outbreak response and saying states should figure it out on their own, scenes of fierce competition and uneven access to coronavirus testing and supplies are playing out across America. With more states pushed toward reopening on Monday, experts warn that U.S. testing capacity, while improved, remains a fraction of what it should be.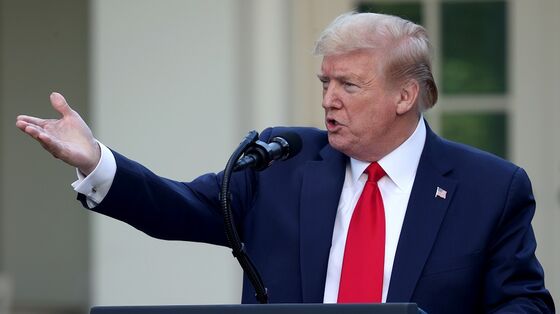 Adding to the uncertainty, the Trump administration has batted to the states the responsibility for a testing crisis that was months in the making. The White House maintained that stance on Monday even as it advanced a plan to ramp up testing, with a goal to provide enough tests to all 50 states for at least 2% of their residents.
The announcement was welcome evidence that the administration is "taking testing seriously," though it should have been doing so in February, said Ashish Jha, a physician who's director of the Harvard Global Health Institute. "I see this as the first step in the White House finally recognizing what every public health official has known for months. But I worry it's too little too late."
The consequence of the lack of federal leadership on U.S. testing strategy to date is a free-for-all among states that drives up prices, eats up time, and ultimately dictates how many tests a state can do and how prepared it will be, experts say.
There are "50-plus groups of people thinking about testing strategy when we probably should all be thinking about the same things," said Melissa Miller, who directs the clinical and molecular microbiology labs at UNC Medical Center in Chapel Hill, North Carolina, and is involved in efforts focused on local, state and federal testing.
The federal government sees the effort as a partnership with the states and companies to get testing and supplies taken care of. Brett Giroir, a Health and Human Services Department official who is charged with coordinating testing, said Monday that the government had a responsibility to help steer the supply chain.
"Some of the larger companies, the testing companies, we need to make sure that the states that have a certain machine or a certain test are adequately supplied until we get 10 times the amount that we need," Giroir told reporters. "Other types of supplies like swabs and media, they're such a small, fragile ecosystem right now that for the next couple of months we're going to procure them at the federal level to make sure they're distributed to the states."
Only the White House can intercede to bolster and coordinate the U.S. testing supply chain and invest in follow-up steps to contain the virus once an individual has tested positive, experts say. Manufacturers are working to ramp up production of chemicals called reagents and other supplies but face barriers, including shipping materials around the world during a global pandemic.
"The federal government needs to play a critical role here," said Joshua Sharfstein, a former Food and Drug Administration official and a vice dean at the Johns Hopkins Bloomberg School of Public Health. "It's been extremely disappointing for people who know what the federal government is capable of doing to see the chaos that exists now."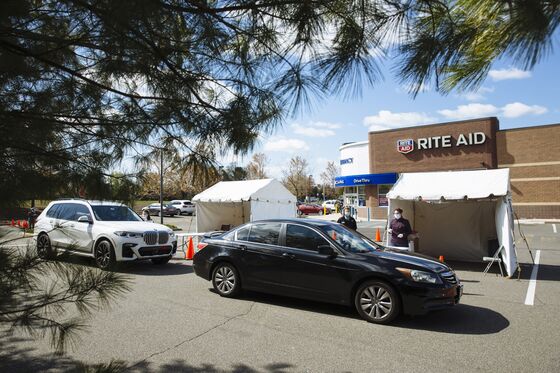 Mass testing will be key to preventing a second wave of infections as states reopen and residents move around more freely. But scarce supplies have plagued U.S. labs for nearly a month, forcing states and labs to vie with each other in the private marketplace and plead with Washington for more.
As of Friday, Colorado had received just 7% of the swabs it had requested from the federal government.
The shortages are likely to remain a bottleneck. Alongside the White House testing announcement Monday, a slew of pharmacy chains, including CVS Health Corp., said they were opening new testing sites across the U.S. CVS aims to process up to 1.5 million tests a month, "subject to availability of supplies and lab capacity," it said in a release.
The District of Columbia alone could more than double the number of coronavirus tests it's completing each day if it had access to crucial supplies, including swabs, transport media that preserve samples, and reagents, officials said in a press briefing Monday. So far, about 4,000 people have tested positive for Covid-19 in the nation's capital, and an estimated 185 people have died.
Companies are pushing to respond. Merck KGaA's MilliporeSigma subsidiary, which produces reagents and other chemicals used in testing for the top coronavirus diagnostics-makers, is working to boost its production capacity in the face of "huge demand," CEO Udit Batra said in an interview. But there are challenges to doing so during a global pandemic, including the need for social-distancing measures at manufacturing sites around the world, Batra said.
To meet that demand, he said, the company is looking to expand capacity in facilities both in the U.S and abroad while delaying existing reagent contracts for clients not working to alleviate the pandemic. Products are now facing geopolitical blocks as countries implement bans or extend layers of scrutiny, and "we've had to call upon a lot of local contacts to get things moving," Batra said.
California received 90,000 swabs from the federal government last week and is expecting an additional 260,000 to arrive this week. But it's now running low on supplies for sending samples to labs.
"Every week we tend to shut one concern down, there's another concern that rears its head," Governor Gavin Newsom, a Democrat, said in a press briefing Monday. "Substantial progress is being made, but by no stretch of the imagination does everyone have ample supplies."
In the face of those shortages, some states have turned to personal connections. As part of a confidential project dubbed "Operation Enduring Friendship," Maryland Governor Hogan and his wife, Yumi Hogan, who was born in South Korea, called South Korea's U.S. ambassador in late March for testing help, including making a "personal plea" in Korean, Hogan has said.
Others have found the fight for testing supplies bedeviled by the same challenges faced weeks earlier to procure protective equipment.
"Why am I competing for private testing capacity and machines with Illinois and California?" New York Governor Andrew Cuomo said in a mid-April press conference, calling for more federal control of testing. "I wanted to get out of the eBay competition business for vital medical equipment, and now vital testing."
The patchwork state approach to testing and reopening may soon be undermined by interstate travel. Illinois Governor J.B. Pritzker, a Democrat, recently stressed the state's testing progress, even as neighboring Wisconsin said it is struggling with insufficient reagent kits and other materials.
Some states with fewer cases are gaining a testing edge by partnering with the private sector. Utah tech group Silicon Slopes leveraged contacts in the state, business community and Washington, D.C. to access testing machines and supplies, which it's now providing to Utah as well as Iowa and Nebraska, according to Josh James, the group's founder and chief executive officer of the software company Domo.
In "the regular course of business, you call a distributor and make an order. That's what states and labs are set up to do," James said in an interview. "Now they're having to scramble and find connections and people that have locked down distribution."
Alan Jones, an emergency medicine physician with the University of Mississippi Medical Center, said the hospital system only just received the first batch of kits for a testing platform it has in house from diagnostics-maker Cepheid -- despite having requested them in March. It has also begun relying on other types of swabs, including 3D-printed ones.
Cepheid said in a statement that it has staff working around the clock to manufacture tests, has shipped more than 1 million test cartridges over the last month, but that "demand is still high and more tests are needed."
Even as Florida sets the stage for reopening, testing supplies remain a limitation there as well, said Leon Haley, CEO of UF Health Jacksonville. Haley is part of a behind-the-scenes effort advising a reopening committee for the state on testing capacity.
"The rate-limiting step for our hospital and probably much of the state is the number of kits that are available and the number of swabs that are available for the kit," Haley said. "We have enough to manage the hospital population right now. As the area begins to open up, we're probably going to need capacity to do more testing."
At times, even top federal officials have appeared to be out of the loop. Some institutions, including UNC Medical Center last week, have had the federal government reroute their testing supplies to harder-hit areas of the country, Miller said. But when lab directors asked about the issue on a mid-April call with Deborah Birx, the U.S. State Department immunologist and one of Trump's top medical advisers, Birx said "the federal government wasn't doing that, and she knew nothing about that" but would look into it, Miller said.
A spokesperson for the White House didn't respond to requests for comment.
"I think we need a unified testing strategy," Miller said. "Whose job is that? I don't know."