Virus Aid Watchdog Will Have Subpoena Clout, Member Says
(Bloomberg) -- The congressional watchdog overseeing a half-trillion dollars in virus-related spending can rely on the subpoena powers of other parts of Congress if it needs to fight for documents from the Trump administration to conduct its work, according to a Republican member of the commission.
Representative French Hill of Arkansas said the $2.2 trillion coronavirus relief act clearly directs the executive branch to provide details needed for oversight, although the five-member congressional commission by itself does not have subpoena authority.
"The House Finance Services Committee and Senate Banking Committee are certainly available to coordinate with if we felt that was something that was warranted," Hill said Tuesday in an interview.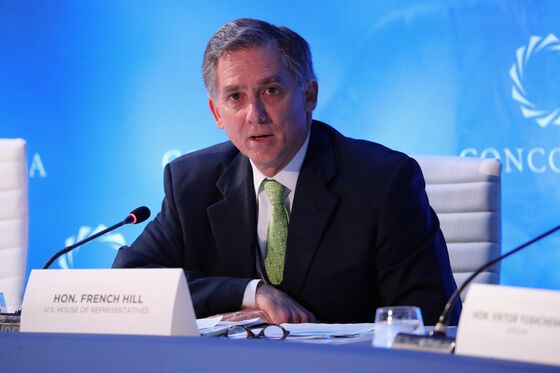 The job that Hill has agreed to take won't be easy to carry out. President Donald Trump has shown hostility toward oversight, sidelining the inspector general named to monitor all pandemic spending, and clashing with Democrats over how much independence to grant the overseers.
Earlier this month, he ousted Glenn Fine who was to be head of the team of U.S. auditors to oversee the virus relief spending. The week before he fired Michael Atkinson, the intelligence community inspector general, who informed Congress of the whistle-blower complaint that ultimately led to Trump's impeachment.
The oversight panel was created at the insistence of congressional Democrats during negotiations with the administration over the $2 trillion coronavirus stimulus legislation, known as the Cares Act.
Three other members for the panel have been named: Bharat Ramamurti, a former top staffer to Democratic Senator Elizabeth Warren of Massachusetts; Senator Pat Toomey, a Pennsylvania Republican; and Representative Donna Shalala, a Florida Democrat.
House Speaker Nancy Pelosi and Senate Majority Leader Mitch McConnell have yet to make their joint pick for a commissioner.
Still, both Hill and Ramamurti have said they intend to fulfill the legislation's requirements and issue its first report within 30 days of the Treasury Department's first distribution of funds. And it's required to make reports every month after that.
That timeline was triggered on April 9 when the Federal Reserve, in coordination with the Treasury, announced the rollout of the "Main Street Lending Facility," a pillar of the government relief effort that will provide loans to companies with as many as 10,000 employees or as much as $2.5 billion in annual revenue.
"Transparency is an important issue, it's always debated -- the conditions and the timing," Hill said. He wants to wait until commissioner is named to determine what kind of information the panel might require from the Treasury and the Fed.
"The Fed has an obligation to collect information, document it very carefully and layout why someone has accessed the facility and how that fits in with the statute," he said.
Ramamurti, who Senate Minority Leader Chuck Schumer appointed to the panel on April 6, has already begun his work. Last week he wrote to Fed Chairman Jerome Powell and Treasury Secretary Steven Mnuchin to urge "detailed and timely information about each individual transaction."