Virginia GOP Sues to Keep McAuliffe Off Governor Race Ballot
(Bloomberg) -- The Republican Party of Virginia asked a judge to vacate former Democratic Governor Terry McAuliffe's June primary victory in the race for his old job, alleging a crucial election document was missing his signature.
The Republicans claim in a lawsuit filed Thursday against Virginia's top election officials that McAuliffe's formal declaration of candidacy was also "infected with misrepresentations" because two witnesses who signed it allegedly falsely claimed to have witnessed McAuliffe sign it too.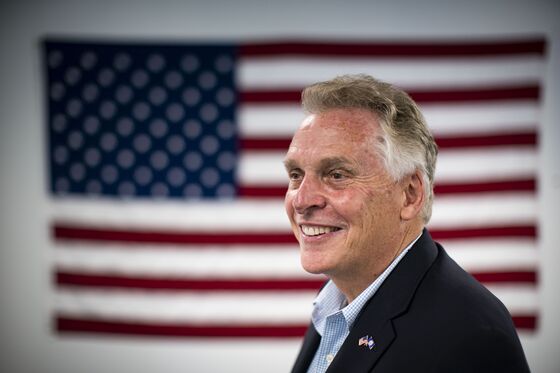 "The omission of McAuliffe's signature from his declaration, compounded by false witness attestations, is fatal to his candidacy under Virginia law," the state Republicans said in the filing in state court in Richmond.
A prolonged court clash could throw a wrench in the high-profile Nov. 2 race between McAuliffe and the Republican candidate, former Carlyle Group co-CEO Glenn Youngkin. The GOP rival has the endorsement of former President Donald Trump, who lost Virginia by 10 percentage points in 2020.
"Our campaign submitted the required paperwork," McAuliffe's spokeswoman Christina Freundlich said in a statement on Twitter. "This is nothing more than a desperate Trumpian move by the Virginia GOP to deprive voters of a choice in this election because Terry is consistently leading in the polls."
McAuliffe has a 5.5% lead over Youngkin, according to the RealClearPolitics average of recent polls. A Christopher Newport University poll conducted from Aug. 15 to Aug. 23 of 800 likely voters had McAuliffe 9 percentage points ahead.
The state board of elections didn't immediately respond to an email seeking comment. 
The Republicans seek a court order declaring that the Virginia State Board of Elections' acceptance of McAuliffe's declaration on June 22 was invalid. They also seek to bar the officials from printing the Democrat's name on ballots.
The suit contains a copy of the disputed March 8 declaration, which has signatures from witnesses including a communications staff member on McAuliffe's campaign.