Vietnam's Leader Pledges a U.S. Buying Spree to Help Placate Trump
(Bloomberg) -- Vietnam is importing more U.S. goods from companies like Boeing Co. and General Electric Co. to narrow the trade gap, Prime Minister Nguyen Xuan Phuc said, a move that may help it continue to avoid punitive measures from the Trump administration.
The Southeast Asian nation is also happy to host a second summit between President Donald Trump and North Korean leader Kim Jong Un on Pyongyang's nuclear program, though Vietnam hasn't yet been chosen as the venue, Phuc said in an interview with Bloomberg TV's Haslinda Amin late Thursday. South Korean media earlier reported that Hanoi was a likely location for the meeting.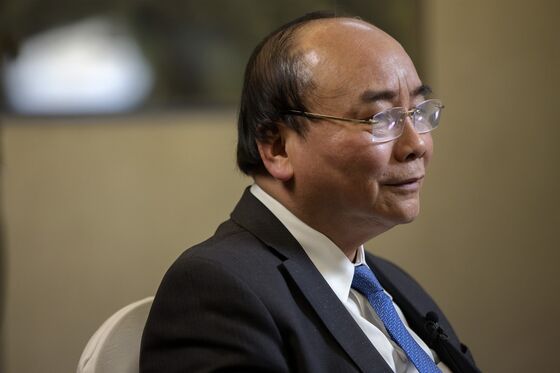 "I actually don't know if the two will decide to have the meeting in Vietnam," Phuc said in Hanoi, when asked if he thought hosting the summit would help U.S.-Vietnam trade relations. "We don't know the final decision. However, if it happens here we will do our best to facilitate the meeting. Vietnam has cooperated well with the U.S. in developing economic and trade relations, as well as in other areas."
Stronger strategic and economic ties with the U.S. would help Vietnam reduce its reliance with China, the nation's top trade partner, and bolster a burgeoning defense relationship as it pushes back against Beijing's territorial claims in the South China Sea.
An American buying spree would also help ease tensions with Trump over the U.S.'s trade deficit of about $33 billion with Vietnam in the first 10 months of 2018 -- its sixth largest in the world behind China, Mexico, Germany, Canada and Japan.
"We have a target to achieve more balanced trade with the U.S.," Phuc said, citing purchases of 150 Boeing planes as well as products from General Electric and unnamed oil firms. "They will help enable more balanced trade and boost the cooperation between the two countries," he said.
When Trump first took office, his administration pulled out of a Pacific trade pact that included Vietnam, and named the country among a group most responsible for the U.S. deficit. Since then, however, ties have improved -- culminating in Trump's 2017 visit to Hanoi, where he pressed Phuc to buy more American goods.
Vietnam would continue seeking strong ties with the world's biggest economies, Phuc said Thursday.
"I believe that we have a good trade relationship with both the U.S. and China," he said. "The two big partners are equally important to Vietnam."
Vietnam's response to the Trump administration has been "practical," former U.S. Ambassador to Vietnam Ted Osius said earlier this week.
"'Don't slap tariffs on us -- the way we can deal with this deficit is to buy more from the U.S.,'" he said. "Now they need to follow through with that process, and I think they will."