Venezuelan Opposition Sends Medical Help to Nation's Slums
(Bloomberg) -- The opposition sent a message to President Nicolas Maduro in the form of hundreds of doctors, medical workers and other volunteers who fanned out into the nation's slums: Even without outside aid, we can take care of the people of Venezuela.
The opposition, led by Juan Guaido, recognized as Venezuela's leader by the world's most powerful nations, had a second message to Maduro: Let in the medicine and food that has begun arriving at the border from the U.S.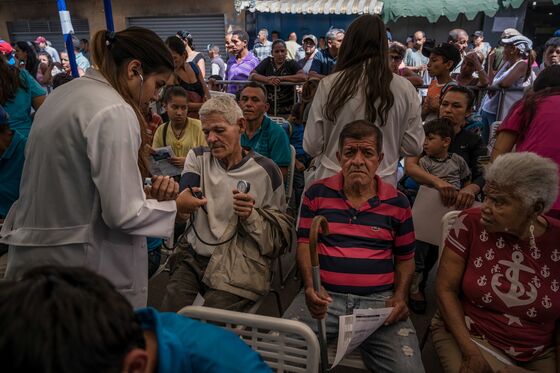 "Maduro, we beg you, allow the humanitarian aid to enter," said Dr. Aidee Garcia, one of scores of doctors dispatched to the slums in 10 states on Sunday. "Here we have the infrastructure, we have the doctors, but we don't have the medicines or the supplies to take care of the people. People don't have medicines, children and the elderly are malnourished."
Guaido, who as head of the National Assembly declared himself president on Jan. 23, is trying to show he is the legitimate leader of Venezuela, though hold no actual power. Maduro continues to control nearly all of the government, especially the military.
And he has blocked humanitarian aid sent by the U.S. to the Columbian border. U.S. Senator Marco Rubio traveled there Sunday to visit aid facilities as cargo with humanitarian resources arrive. The cargo now sits alongside relief supplies that arrived on Feb. 8.
"Thank you Senator Marco Rubio for joining this noble effort," Guaido wrote in Twitter.
Guaido's forces dispatched doctors, nurses, dentists, politicians, students and other volunteers around the country. At a camp in Macarao, a huge slum in west Caracas, the volunteers received some 600 sick people. The few medicines they had -- antibiotics, analgesics or anti-hypertensives -- are available to any volunteers. The point was that so much more is waiting just across the border, but blocked by Maduro, who calls the relief part of an "invasion."
Bony elders walking with canes, young mothers with babies with fever, women with ice pressed on their cheeks to salve a toothache -- all made long lines in the street to be treated. Guaido tweeted about the efforts, but many of the patients there had no idea it was from him, thinking it was instead sent by the government. Some barely know who the 35-year-old opposition leader is.
"I still think that Maduro is good, but he is badly advised." said Jesus Quintero, 82, who received his blood pressure medicine in the camp. "When I saw this, I thought it was from the government. But no, they just give us one little box with food a month. I ask the president to let humanitarian aid in. I don't like the opposition, but this young man has done well."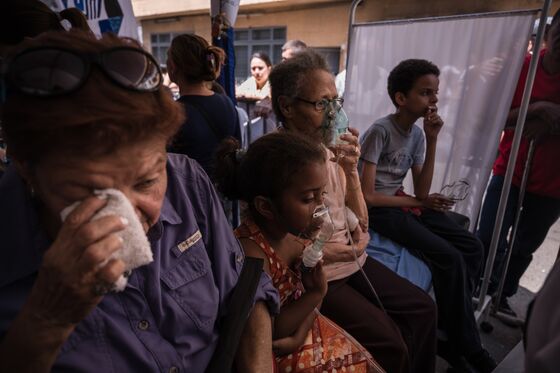 Traditional aid groups have shunned the effort as a political ploy, but Guaido is counting on the U.S.-backed initiative to persuade his country's military to recognize him, and to create an opening for desperately needed relief.
Guaido said the volunteers will escort the aid through barricades constructed on an unused bridge that connects the two nations. Maduro ordered his security forces to block the supplies, saying they're part of an effort by President Donald Trump's administration to provide a pretext for intervention.
Ignoring all that and under a strong sun, people waited hours to be checked in Macarao. Some of them, with a very low blood pressure, almost fainted. They didn't have anything for breakfast.
"My sister almost fainted. She is diabetic and has not been treated for a long time," said Ana Rosa Gonzalez, a housekeeper. "She can't find her medicines, and when she does, she cannot afford it. I came to look for antibiotics. This can't continue, this has to change,"