After Venezuela Aid Is Torched, Guaido Plots Bolder Moves
(Bloomberg) -- There was blood, smoke, smashed glass and tear gas. But a day of violence Saturday left Venezuela where it was before: Nothing changed on the ground. No one seems to be winning. And the nation is still hungry, scared and wondering what comes next.
"Honestly, I'm disappointed," said Luis Antonio Cequera, 52, a water vendor in the border town of Cucuta, where the clashes between supporters of President Nicolas Maduro and his rival Juan Guaido were fierce. "What we need is support and we didn't have support from anyone."
It was billed as a day of change on Saturday in Venezuela. Instead, it left the country in a dangerous stalemate.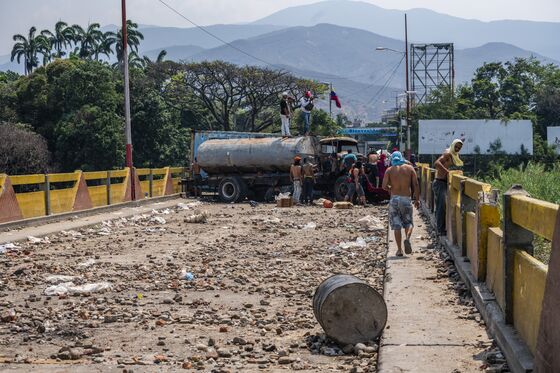 "On the one hand, the Maduro government reiterated that it will not accept humanitarian aid to the point that it ordered repression against protesters, a move that left its government very badly off," said Carlos Romero, an analyst at Central University of Venezuela. "On the other hand, the opposition represented by Guaido did not manage to introduce humanitarian aid, nor did it achieve a weighty military pronouncement repudiating the Maduro government."
On Monday, though, Guaido will represent Venezuela in Bogota in a meeting with the Lima Group of Latin American nations. U.S. Vice President Mike Pence will attend the talks and meet with Guaido to discuss what steps might come next. European Union spokeswoman Maja Kocijancic rejected any talk of military intervention on Monday and called for a solution that is "peaceful and democratic."
Guaido and his supporters -- which includes the U.S. and some 50 outside nations -- had amassed food and medicine at border points into Venezuela from Colombia and Brazil. The aid was meant both to salve a once rich nation brought to poverty under the autocratic Maduro and to show Guaido, 35, proclaimed rival president, as legitimate heir and, in some sense, savior.
But Maduro used his still-loyal military, the nation's most powerful institution, to crush the effort. As many as four people were reported killed and 200 wounded. Meantime, about 100 soldiers defected. Little to no aid crossed the border.
On Sunday, it was largely quiet along restive border towns, with streets covered in glass and stones and shops shuttered. For a second day, though, there were clashes at the crossing point to Brazil, at Pacaraima, and witnesses said pro-Maduro thugs shot at people in a town nearby. Maduro reinforced the towns with more soldiers, armored vehicles and fearsome paramilitary outfits, called "colectivos," while Guaido and his allies pondered their next move.
To some degree, that move depends on the outside world -- which would prove a tricky balance for Guaido and pose much risk for Maduro and his allies.
Senator Marco Rubio, who's helped spearhead the U.S.'s position on Venezuela, posted a tweet showing Panamanian dictator Manuel Noriega under arrest in U.S. He later tweeted photos of Libyan strongman Moammar Qaddafi, killed after U.S. bombing in 2011.
But Latin America has had its fill of American meddling, and U.S. Secretary of State Michael Pompeo, while saying sanctions against Maduro could grow still more burdensome, took a longer view. He recalled his experience as a young soldier on the border of East Germany.
"No one predicted on that day in 1989 that the wall would come crumbling down," he told CNN. "I am confident that the Venezuelan people will ensure that Maduro's days are numbered."
Guaido, who is head of the National Assembly, which named him president after Maduro stole national elections last year, faces problems of his own. He holds virtually no power inside Venezuela, and is now in Colombia and faces a challenge to return after Maduro banned him from travel.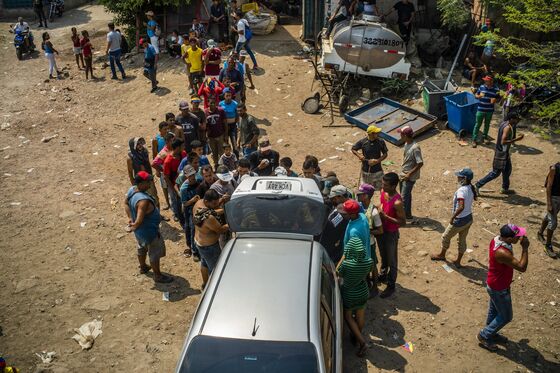 "We are in countdown mode right now," Romero, the analyst from Central University of Venezuela, said.
In Urena, Ivan Valencia, 28, stared at the barricaded border crossing as convoys of police on motorcycles and personnel carriers zoomed out of the town that held so much promise the day before.
"I'm waiting here for someone to light the fuse," he said.