Venezuela Police Raid Offices of Opposition Leader Guaido
(Bloomberg) -- Masked members of Venezuela's intelligence police raided Juan Guaido's offices in Eastern Caracas on Tuesday as the opposition leader continues his international tour to rally international backing for his campaign to oust President Nicolas Maduro.
"This is an aggressive attack, they're showing us they're going to come at us with all they have," opposition lawmaker Adriana Pichardo said outside the building that houses Guaido's offices. "They want to intimidate and persecute us so we lower our flags. We won't let that happen."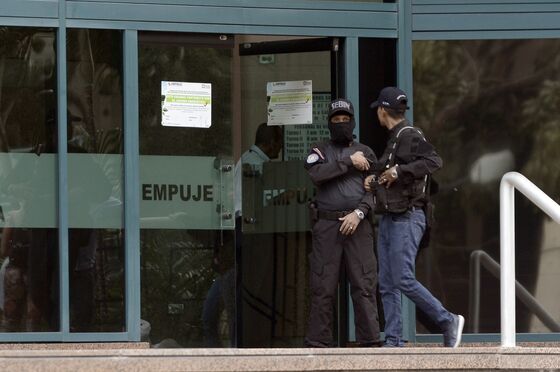 Earlier in the day, opposition lawmaker Ismael Leon was detained by members of a special police unit, known as FAES, on his way to an off-site assembly meeting. Leon's lawyer, Joel Garcia, said he was taken to intelligence police headquarters in Western Caracas known as El Helicoide. They haven't been informed of the cause for his arrest.
The latest developments underscore how Maduro's regime is widening its crackdown on opponents as Guaido defies a travel ban to leave Venezuela for a second time since last March. The opposition leader met with U.K. Prime Minister Boris Johnson earlier Tuesday and is planning to attend the World Economic Forum in Davos later this week.
"Cowardly dictatorship! While I am on tour, consolidating support to overcome the tragedy that Venezuelans are experiencing, they show themselves without shame," Guaido said in a post on his Twitter page. "The world receives and supports us! We stand firm, we will achieve Freedom!"