May Invites Ministers to Read Nearly-There Deal: Brexit Update
(Bloomberg) -- Prime Minister Theresa May is preparing to ask her Cabinet to back her Brexit plan, potentially within days, as both sides edge toward a deal.
Ministers Invited In to Read the Draft (2:35 p.m.)
U.K. Cabinet ministers have been invited to read the almost-complete draft of the Brexit withdrawal agreement, according to six people familiar with the situation.
May told ministers on Tuesday to get up to speed on everything that's been agreed so far, according to one of the people. They've now been invited into the Cabinet Office to read the draft text. It doesn't yet include the final clause on the Irish backstop, according to one of the people.
The Cabinet broke up on Tuesday without an agreement as ministers continue to discuss the thorniest issue of all -- how to avoid a hard border on the island of Ireland without binding the U.K. into EU trading rules forever.
Ministers expect another Cabinet meeting to be called within days where May is likely to press them to sign off on her Brexit deal, people familiar with the situation said on Tuesday.
Sipila: November Summit Hinges on Next Few Days (10:45 a.m.)
"The next few days will resolve whether something will happen this month," Finnish Prime Minister Juha Sipila said following a meeting with European Council President Donald Tusk in Helsinki.
"Maybe you could say that the outlook is a bit more positive at the moment than they were are the previous summit," Sipila told reporters. "Things have nudged forward a little bit."
Varadkar Hopes Divorce Talks in Final Weeks (9:30 a.m.)
Irish Prime Minister Leo Varadkar and his Finnish counterpart Juha Sipila struck a relatively upbeat note in Helsinki.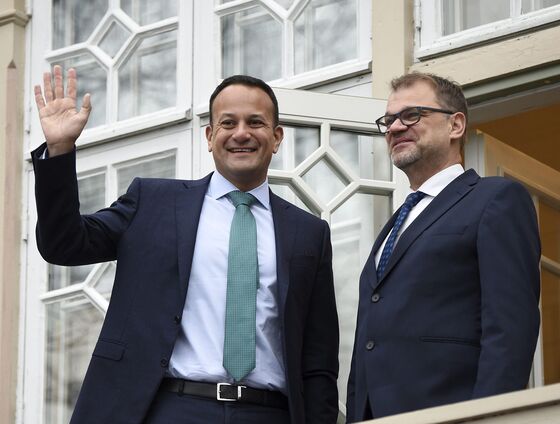 Speaking to reporters, Sipila said all the key Brexit issues "are in the landing zone," a phrase beloved of officials as they try to find common ground to break the impasse.
Varadkar said a deal this month is possible, and that he hoped talks on the divorce agreement were entering their final weeks. If no deal is finalized in November, then an accord in the first two weeks of December is possible, he indicated. "Beyond that, you're into the New Year, which wouldn't be a good thing," he said.