U.K. to Free Vaccinated Travelers From Isolation on Return
(Bloomberg) -- British travelers who have received a full dosage of coronavirus vaccine will no longer need to isolate when they return home from moderate-risk countries, starting this month.
Instead of quaranting at home for 10 days, passengers returning to England from destinations on the government's "amber list" will be told to take a Covid test two days after arrival, Transport Secretary Grant Shapps said Thursday in a statement to the U.K. Parliament. The new rules take effect on July 19.
Those under 18 who are not currently vaccinated will also be exempted from the restrictions on movement once they've returned, making it easier for British families to go on holiday, Shapps said.
"Many people have not been able to travel for the last year and a half," said Shapps. The move is aimed at "reuniting families who have been apart through this pandemic, helping businesses to trade and grow, and supporting aviation, a sector which hundreds of thousands of jobs rely on."
For now, the measures apply only to returning U.K. residents. The government plans to extend the approach to visitors from major markets including the U.S. and European Union later this summer, he said.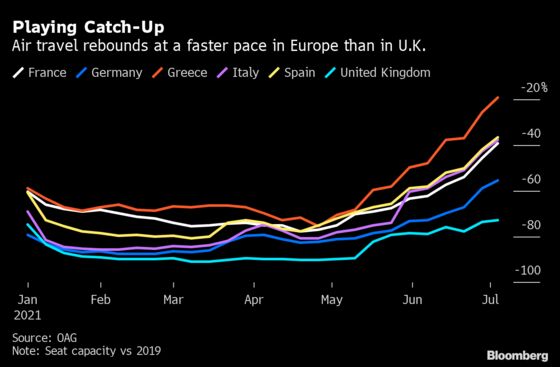 The relaxing of the rules will come into force in time for England's school holidays, offering a boost to the ailing travel industry which has struggled with lockdowns and closed borders for more than a year.
"It will make a hell of a difference," Jozsef Varadi, chief executive officer of discount carrier Wizz Air Holdings Plc, said in a Bloomberg TV interview. "The moment these restrictions are relaxed there is a boost and people take advantage of every opportunity arising."
Shares of airline companies rose off of earlier lows, with U.K. discounter EasyJet Plc and British Airways owner IAG SA turning positive. Ryanair Holdings Plc, Europe's biggest low-cost carrier, slipped amid mounting concern about an increase in Covid cases across Europe.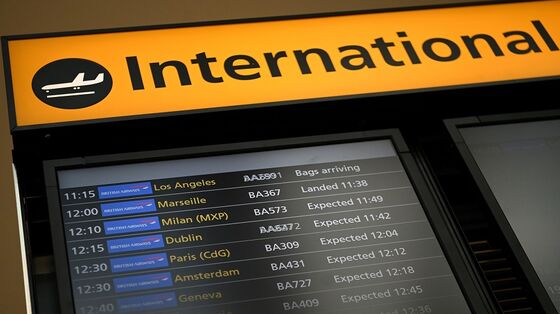 Under existing rules on foreign travel, visitors to more than 100 destinations, including the vital U.S. market and some of the most popular European destinations, are required to isolate for 10 days on their return to the U.K.
In the hours following the announcement, traffic from U.K. travelers to Skyscanner Ltd. increased by 53%, according to the travel-booking website.
Many of these destinations are on the government's "amber list," rated as medium risk for coronavirus. Travelers to these places who have had their second coronavirus shot more than 14 days earlier will be able to avoid isolation.
The changes don't apply to returnees from high-risk red listed countries. The government currently advises Britons not to travel to both categories of destination, but this guidance will be removed for amber-list locations, Shapps said.
Only a handful of countries are judged to be safe enough to be put on the green list.
Prime Minister Boris Johnson and his team are grappling with how best to reopen the economy now that 65% of U.K. adults have received both doses of Covid vaccines. Yet even as the rollout of shots continues, a surge in infections from the delta variant is complicating the government's efforts to lift restrictions.
On Wednesday, 32,548 people tested positive for Covid-19, and another 33 deaths were recorded. Officials have suggested that infections could be running as high as 100,000 new cases a day later this summer.
While most pandemic restrictions within England will end July 19, the requirement to isolate if a person has been in contact with a positive case will continue until Aug. 16.
That delay to ending the isolation requirement for "close contacts" has fueled concern that millions of people will be forced to stay at home, damaging efforts to reopen businesses.
On Wednesday, Johnson defended his policy on self-isolation, saying the government needed to "balance" the risks. "This is a highly contagious disease. We have to do what we can to stop its spread," he said.
Travel groups cautioned that despite the progress on external trips, expensive tests and other requirements could still act as a damper on demand.
"As always, the devil is in the detail," said Virginia Messina, senior vice president of the World Travel and Tourism Council. "There could well be some people who get caught out by the myriad of complicated rules and regulations which could scupper their much-needed summer holidays."
Despite the quibbles, the change is a step toward the "genuine reopening" for the airline sector, said Tim Alderslade, CEO of industry body Airlines U.K.
"We now urge the Government to continue this momentum by adding many more countries to the green list next week," he said, "'and removing onerous testing requirements at its next review on 31 July."