Quebec Nationalist Win Is Latest Loss for Canadian Liberals
(Bloomberg) -- A Quebec nationalist party seeking curbs on immigration won power in Canada's second-largest province, the latest in a string of defeats for regional Liberal governments nationwide.
Coalition Avenir Quebec, founded in 2011 by millionaire businessman Francois Legault, won the vote in the French-speaking province with 74 of 125 seats in the provincial legislature, defeating the incumbent Liberal Party, which had been in power almost uninterrupted for 15 years. The Parti Quebecois, the political force behind two referendums on separating from Canada, was dealt one of the worst results in its history.
"It's a landslide, and a surprise," said Hugo Cyr, dean of the school of political science and law at Universite du Quebec a Montreal. "In a fight between the CAQ and the Liberals, those who were looking for a change went to the CAQ."
Quebec becomes the second major province in recent months to turf a Liberal government -- Doug Ford's Progressive Conservatives won the Ontario vote in June -- in what is shaping up to be a growing front of opposition to Prime Minister Justin Trudeau's vision of the country at the regional level. Of the last five incumbent Liberal governments to face the electorate, four have lost -- or failed to conclusively win as was the case in New Brunswick last week.
"This looks and feels like a continuation of a conservative movement at the provincial level," Warren Lovely, head of public sector research at National Bank Financial in Toronto, said Tuesday in a note to investors. "We would as such expect this so-called breath of fresh air not to be so drastic."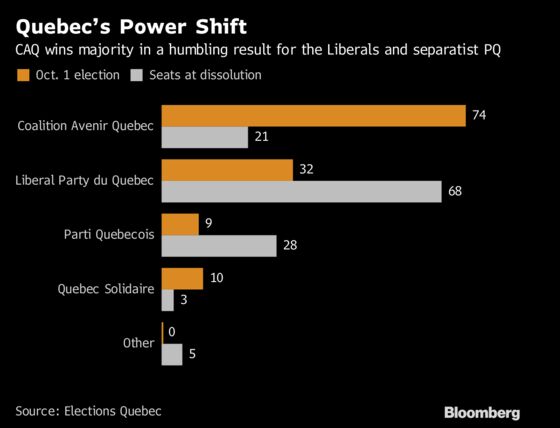 While not necessarily a threat to Trudeau's own election prospects next year -- Canadian voters often elect alternate governments at different levels, and Trudeau's polling level remains strong -- the trend threatens to put a check on the Canadian leader's agenda. The new Ontario government is already at odds with the prime minister over climate change and refugee policy, while Legault may act as a counterweight on some of Trudeau's trademark issues centered on diversity and immigration.
"This is not about ideology. Mr. Legault is a nationalist," Cyr said.
Most provincial Liberal parties are independent organizations and often differ on key issues from their federal cousins, but are typically the centrist voice for voters at both levels of government. The losses include a defeat last year in British Columbia where power went to the left-leaning New Democrats.
To be sure, Liberals may be victims of their own success, with many of the regional governments long in power at the provincial level. Legault, like Ford, tapped into voter desire for change.
"Today Quebeckers chose hope -- hope of a government that will bring about a positive change," Legault said in his victory speech Monday night.
While the 61-year-old doesn't describe himself as a conservative, he did run as a largely pro-business politician who will keep the province's budget balanced, reduce government waste and cut taxes. One twist will be an activist role when it comes to industrial policy such as continued subsidies to major sectors and looking unfavorably on foreign takeovers of large businesses.
Markets don't appear to be too bothered, with the spread between Quebec and Ontario being little changed after the elections results. Quebec's C$4.5 billion of 2.75 percent bonds due 2028 are trading to yield about 2 basis points less than comparable debt issue by Ontario.
A CAQ win will be "market-friendly," said Brian Calder, a fund manager at Franklin Templeton Investments in Calgary, who oversees about C$6 billion ($4.7 billion) in fixed income and holds Quebec bonds. "Fiscally the CAQ and the Liberals are on the same page so we're not expecting too much disruption."
A CAQ majority is positive for Quebec bonds, "with past minority governments in the province having historically brought about their fair share of marginal uncertainty to credit spreads," National Bank Financial's Lovely said.
Yet, Legault's victory does represent a power shift away from the multicultural and typically more federalist districts the Liberals tend to do well in, with the CAQ's support concentrated among French speakers, primarily in suburbs outside of Montreal and small towns.
While Trudeau has called Canada the world's first post-national state, Quebec identity and nationhood will be at the center of a Legault government that has proposed to cut the number of immigrants allowed into the province each year to 40,000 from 50,000, while forcing newcomers to learn French or face the risk of being expelled.
A booming economy, three years of budget surpluses and some recent tax cuts weren't enough to keep the incumbent Liberal premier in power. Philippe Couillard, who was re-elected in his district, told supporters after the results that he will take a few days to reflect on his future.
The election also marks the first time in decades that sovereignty hasn't featured prominently, with the end result being a historic defeat for the separatist Parti Quebecois. It won just 9 seats and Jean-Francois Lisee announced Monday night he was stepping down as leader. The left-leaning Quebec Solidaire, which campaigned on higher taxes on the rich and a social justice agenda, beat out the PQ for third place with 10 seats.
While Legault has renounced separatism as a political goal, he has capitalized on voter fatigue with the separatist PQ by courting its supporters with a nationalist message.
In the end, despite bouts of nationalism, the new Quebec leader's campaign focused largely on everyday pocketbook issues that remain the priorities of most Quebeckers such as support for the old, daycare and better health policies.
"We will have an efficient government -- a human government, a government with its heart in the right place and both feet on the ground," Legault told his cheering supporters in the provincial capital, Quebec City. "We will build a stronger Quebec, a prouder Quebec."