Ultra-Rich on Edge as Brexit Chaos Boosts Odds of Corbyn's Rise
(Bloomberg) -- Theresa May spent three hours on her feet in Parliament Thursday exhaustively defending her Brexit blueprint. Some wealthy families were paying more attention to the man sitting on the opposite bench, Jeremy Corbyn.
"What keeps families inside and outside the U.K. awake at night is the risk of a Labour government," said Dominic Samuelson, chief executive officer of Campden Wealth, which helps affluent families network. "All bets are off if that comes to fruition."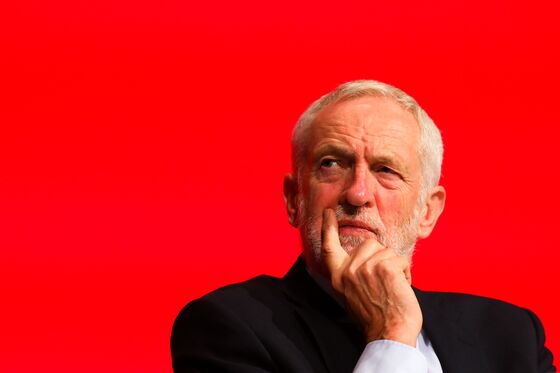 A Labour government could impose higher income and corporate taxes and introduce a wealth tax. Corbyn's rise would directly impact family decision-making, including investment strategies and the locations of their businesses and family offices, according to Samuelson. By contrast, the prospect of a U.K. withdrawal from the European Union has had a more muted impact on the investment strategies of the world's richest families.
British billionaire Peter Hargreaves, one of Brexit's biggest financial backers, said he expects an exodus of entrepreneurs if Corbyn takes power.
"I'm too old to leave, but there will be people who will not be able to tolerate extreme socialism," said Hargreaves, 72. "Everyone's talking about the fear of the extreme right. The extreme left's worse. He's far more dangerous."
May's deal was savaged Thursday, with ministers resigning within hours of one another, including her secretary in charge of negotiations with the EU.
Stocks and the pound dropped Thursday, erasing $846 million from the collective net worth of the 15 Britons on the Bloomberg Billionaires Index as the rest of the world's richest people added $22 billion. British fortunes have dropped 4.6 percent on the ranking this year.
May's agreement needs to be ratified by lawmakers. If Parliament rejects it, then an early general election is possible. That could open the door for Corbyn, who confounded his critics and the polls in last year's election to help Labour take its biggest share of the ballot since 2001.
"Ultra-high net worth individuals need to be focused on the political risk of a change in government," said Harinder Hundle, London managing partner of TwinFocus, a Boston-based multi-family office. The current Brexit deal "is UHNW-friendly and would be positive for a smooth orderly transition."
Even before this week's turbulence, there were indications that the world's wealthiest had started to gird for the possibility of Corbyn moving into 10 Downing St. Some are preparing to leave the country and plenty are taking precautions.
"There are increasing signs that they are making an effort to understand in any detail what it will mean if he wins," said Keith Johnson, CEO of Family Office Council, a U.K. network of about 100 family offices. "A general sense of dread is being replaced by a more detailed understanding of the risks."