Ukrainian Assets Tumble as Crimea Tensions Eclipse IMF Progress
(Bloomberg) -- Ukrainian government bonds fell the most since their issuance as a flare-up in the conflict with Russia overshadowed Kiev's progress in securing an International Monetary Fund bailout.
The incident, in which Russia's navy opened fire on a group of Ukrainian military ships near the Crimean peninsula, took yields on some bonds to the highest since they were sold over the last year. The hryvnia was on track for its biggest drop in more than a month against the dollar.
The headwinds for Ukraine's markets come as the IMF was said to consider unlocking as much as $1.5 billion from the next slice of its loan program. With elections looming in March, President Petro Poroshenko sought lawmaker approval to announce martial law at a hearing scheduled for 4 p.m. in Kiev. Imposing such a regime wouldn't thwart the payment of the loan installment, according to two people familiar with the matter.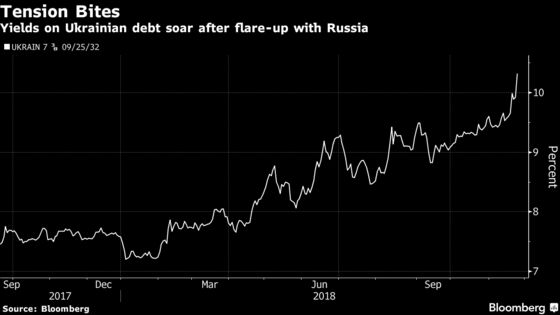 The yield on dollar-denominated bonds due 2032 rose 39 basis points to 10.32 percent as of 3:50 p.m. in Kiev, heading for the biggest increase since a sale last year
The hryvnia slipped as much as 1.6 percent against the dollar; there were no grounds to tighten foreign-currency restrictions, central bank governor Yakiv Smoliy said in a statement
Shares of Kernel Holding SA, a Ukrainian firm listed in Warsaw, fell 6.9 percent to 51.70 zloty, retreating from their highest level in more than a year
READ: Russian Assets Retreat as Ukraine Tension Adds to Sanctions Risk
Even after Monday's declines, the outlook remained unchanged for Ukrainian and Russian assets, according to some investors, many of whom have become accustomed to periodical strain in the four-year-long conflict.
The move is "more of a knee-jerk reaction really," said Regis Chatellier, a credit strategist at Societe Generale SA in London. "The IMF, eventually, will maintain its financial aid to Ukraine, and for Russia, as long as there is no extension on the conflict on land, I don't think there will be meaningful consequences."