Ukraine Seeks Detention of Putin-Friendly Tycoon for Treason
(Bloomberg) -- Ukraine is seeking to detain Kremlin-friendly businessman Viktor Medvedchuk on suspicion of treason, a move that's likely fan already elevated tensions with Russia.
Medvedchuk, an ally of Russian President Vladimir Putin, is also suspected of attempting to embezzle national resources in the Crimean peninsula that Russia annexed in 2014, according to comments on Facebook by Prosecutor General Iryna Venediktova.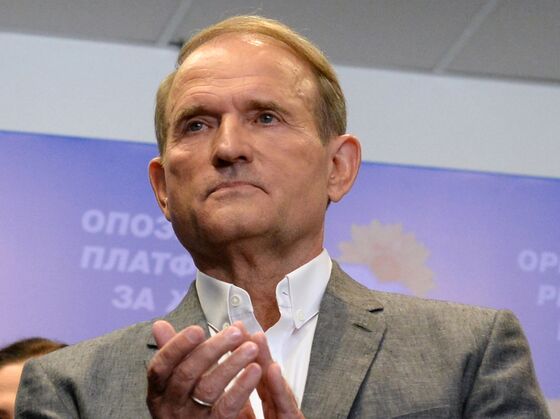 The treason case follows earlier measures by Ukraine to sanction three pro-Kremlin television channels linked to Medvedchuk. He also had access to some of his assets restricted in February.
Tuesday's announcement comes with Ukraine-Russia relations at a fresh low after the Kremlin amassed thousands of troops on its neighbor's border before partially withdrawing. The deployments stirred fears of renewed fighting in the seven-year war on the two countries' border that's already cost more than 13,000 lives.
Secretary of State Antony Blinken visited Kyiv last week to reiterate U.S. support during the recent turbulence.
Medvedchuk, who's already been sanctioned by the U.S. for helping undermine Ukraine's sovereignty, is a leader of the pro-Russian Opposition Platform-For Life, whose ratings have been on the rise of late having plunged when Ukraine's Kremlin-backed leader was toppled following deadly street protests in 2014.
Medvedchuk and his party pledge to resolve the conflict in eastern Ukraine, while also pushing for constitutional changes for the breakaway regions that could grant them the power to block national goals to integrate with the European Union and NATO.
Medvedchuk's party labeled the prosecutors' actions and a search of his house by the State Security Service "political repression" and "revenge" because "the authorities saw that a majority of people back his ideas."
"We speak only about criminal violations," Venediktova said in a televised briefing. "There's no politics in the law-enforcement agencies' actions."
Prosecutors also accuse another Medvedchuk party member, Taras Kozak, of treason, according to Venediktova. Kozak is most likely in Russia, while Medvedchuk is in Ukraine, though his whereabouts are unknown, security service head Ivan Bakanov said.
"One of the Kremlin's red lines was crossed because Medvedchuk is seen in Moscow as one of the politicians who can potentially improve relations between two countries," said Alexei Chesnakov, a former senior Kremlin official and adviser on Ukrainian policy. "Of course, there'll be some tough statements from Moscow but no sanctions or diplomatic actions because Medvedchuk isn't Russia's official representative."