Ukraine's President Fires Chief of Staff Linked to Billionaire
Ukrainian leader Volodymyr Zelenskiy dismissed a top aide whose appointment had drawn criticism over his ties to a powerful billionaire.
In a move that could precede a wider shakeup of the government, chief of staff Andriy Bohdan was replaced Tuesday by Andriy Yermak, a long-time friend of the president who advised him on relations with the U.S.
Zelenskiy gave no reason for the change but in an interview published earlier in the day spoke of "conflicts within his team."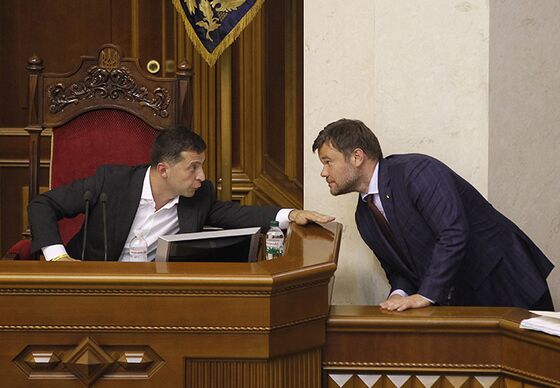 Bohdan's presence had fueled one of the biggest controversies of Zelenskiy's fledgling presidency because of his past role as a lawyer for tycoon Igor Kolomoisky. The businessman is trying to win back ownership of Ukraine's No. 1 bank, whose 2016 nationalization was backed by the International Monetary Fund and remains key as the Washington-based lender mulls a new $5.5 billion loan for the government.
Zelenskiy, a former comedian swept to power on promises to tackle corruption, himself had dealings with Kolomoisky, whose TV channel used to air his shows.
Bohdan's exit "would be welcomed by those concerned about his prior ties with" Kolomoisky, investment bank Dragon Capital said in an emailed note. Other personnel changes could follow "given the role Bohdan played in composing the president's post-election team and the current cabinet."
Bohdan assisted Zelenskiy, a political novice, in crafting a campaign that captured voters' hankering for change. He also introduced him to Oleksiy Honcharuk, who's currently prime minister, the country's youngest ever.
But there was speculation he'd fallen out with Yermak. Without elaborating, Zelenskiy complained about spats that had broken out among his staff.
"I'm always against such conflicts as there are no winners," he told Interfax-Ukraine in remarks published Tuesday. "We're either losing people or time. But one can't live in constant conflict."
Yermak, a former film producer, was instrumental in helping Zelenskiy fulfill a pre-election pledge to return Ukrainian prisoners held by Russia in the almost six years since President Vladimir Putin annexed Crimea and backed a subsequent war on the former allies' border.
Yermak also led diplomacy with representatives of Donald Trump over probes that were at the heart of the U.S. president's impeachment. That included meeting Trump's personal lawyer, Rudy Giuliani, in Madrid in August.
The initiative was of vital importance to Ukraine, which relies on the U.S. for financial and military aid.