Ukraine Leader Renews Plea to West After Muted Response on Russia
(Bloomberg) -- Ukraine's leader renewed appeals to his nation's allies in Europe and the U.S. to punish Russia for a naval clash that's reignited tensions between the two ex-Soviet neighbors.
With initial talk of tighter sanctions now fading and Russia so far paying little cost for firing on Ukrainian ships in the Kerch Strait last month, President Petro Poroshenko reiterated calls for action from the West. That could include support from NATO and a new round of penalties on President Vladimir Putin's government, he said.
"While Western partners make strong statements, Putin acts," Poroshenko told Bloomberg Television on Tuesday in an interview, urging better cooperation among Ukraine's partners. "To act means sanctions against Russia," and "an increased presence of NATO in the Black Sea and probably in the Azov Sea."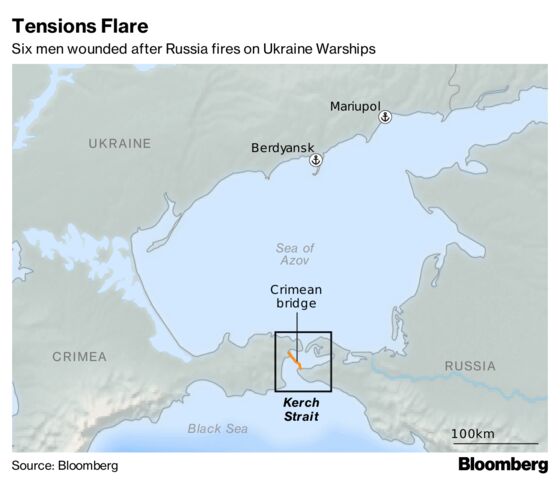 The latest flare-up between Ukraine and Russia occurred off the coast of Crimea, the peninsula Putin swiped in 2014, sending relations with the West to levels not seen since the Cold War. Sanctions rapidly followed the annexation, and were tightened as the Kremlin fueled a conflict in Ukraine's east. With the European Union less united and President Donald Trump not keen to get involved, the response this time has been muted.
Harsh condemnations of Russia from EU leaders and some U.S. officials are yet to translate into meaningful action. While Trump canceled a bilateral meeting with Putin at the G-20 summit in Buenos Aries, there was no group statement on the recent incident, in which Russia seized three Ukrainian boats and 24 crew members, since charged with illegal border crossing. Ukraine says it provided proof its ships were in international waters.
Further sanctions or the tightening of existing measures, as discussed in Europe, "is a worthy thing" and the U.S. "will look at that as well, showing that we're unified in pushing back on Russia," Kurt Volker, the U.S. envoy to the Russia-Ukraine conflict, told Voice of America on Wednesday in an interview. He called on Russia to release the captured sailors and vessels as a goodwill gesture before Christmas.
Ukrainian parliament Speaker Andriy Parubiy urged U.S. Vice President Mike Pence in a letter to "use all available means to stop Russian aggression toward Ukraine and stop its violation of international rules by imposing additional energy and financial sanctions."
Poroshenko said he "hopes and prays" international pressure will help return the Ukrainian sailors. As long as Russian aggression eases and the men are released, a 30-day period of martial law imposed in the wake of the Kerch Strait attack will expire, he said.
Poroshenko repeated a warning he's voiced frequently in recent years, that his country is at risk of imminent invasion from Russia, which he says is massing military assets on the border. The Kremlin has consistently sought to pressure Ukraine since protesters ousted its Russian-backed leader in 2014.
A Ukrainian official said Tuesday that Russian disruptions to shipping traffic via the Kerch Strait into the Azov Sea had partially stopped. They began after Russia completed a bridge connecting its mainland to Crimea this year.
Asked whether the thaw marked the end of tensions with Russia, Poroshenko said "definitely not."