Ukraine Coalition Triggers Its Own Collapse to Thwart Snap Vote
(Bloomberg) -- Ukraine's ruling coalition triggered its own collapse in a tactical move that undermines President-elect Volodymyr Zelenskiy's chance to call early elections that his anti-establishment party would likely win.
The maneuver underscored a new struggle for power in the former Soviet republic, which has taken on global significance as the front-line in the battle for influence between Russia and the West since 2014 protests ousted a Kremlin-backed leader and Russia annexed Crimea.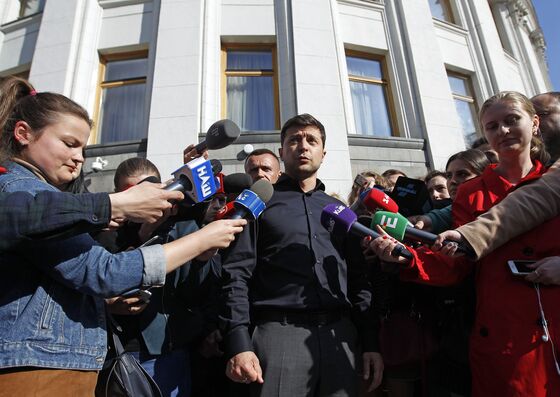 Zelenskiy, a 41-year-old comedian with no previous political experience, tapped into widespread anger over graft to beat incumbent Petro Poroshenko by a landslide last month. Calling to be sworn in "as fast as possible" to avoid a power vacuum, he said he'll consider dissolving parliament and holding a snap parliamentary ballot before the regularly scheduled vote in October. His Servant of the People party currently has no seats in the chamber.
But the ruling-coalition People's Front, which opinion polls show would struggle to make it into the assembly in a new election, effectively dashed the chances of an early vote. Its withdrawal from the government gives parties 30 days to assemble a new ruling majority. That means Zelenskiy will miss the deadline for calling early elections, which can only happen more than six months before parliament's term expires.
"It's obvious that the Ukrainian parliament and the Ukrainian government will work until the next parliamentary elections," Prime Minister Volodymyr Hroisman, appointed by Poroshenko in 2016, told parliament on Friday.
Read more about Ukraine's political struggles:

Poroshenko Scrambles to Salvage Ukraine's Illicit-Wealth Law
Dollar bonds due in November 2028 fell for the first day in four, lifting the yield seven basis points to 9.38%. Meanwhile, the hryvnia was the biggest gainer among emerging-market currencies on Friday, adding 0.4% against the dollar to 26.38 and trimming its weekly retreat to 0.7%.
After announcing the withdrawal of his party's 80 deputies, People's Front parliamentary group chief Maksym Burbak said that talks to form a new coalition should begin immediately and parliamentary elections should be held Oct. 27.
With his inauguration set for May 20, Zelenskiy has promised to "break the system" of Ukrainian politics by cracking down on corruption. An inability to solve the problem has hampered cooperation with the International Monetary Fund after Poroshenko and his allies failed to enact laws demanded by the lender or convict politicians accused of graft.
"This is an attempt to avoid early parliamentary elections," Oleksiy Haran, a professor of comparative politics at the Kyiv-Mohyla Academy, said by phone. "Now the countdown of 30 days begins and it's obvious that even if there is no new coalition within these 30 days, parliament cannot be dismissed."
Zelenskiy has vowed to continue work with the IMF to keep aid flowing from its remaining $3.9 billion bailout program and help bring peace to eastern Ukraine, where a war with Russian-backed forces persists.
He may also challenge the move if he decides to pursue early elections, which a recent poll from Rating Group showed his party would win with almost 30% of the vote. One argument is that, after the withdrawal of two parties in 2016, no majority coalition has existed, although the ambiguity of the constitution would make it a difficult case to press.
"The coalition already hasn't existed for three years," Zelenskiy said on Facebook. "So this game in parliament today is another indication that lawmakers are indifferent to the people who elected them."