Ukraine Frees Jailed Russian Journalist as Signs of Thaw Emerge
(Bloomberg) -- A court in Ukraine ordered the release from pre-trial detention of Russian journalist Kirill Vyshinsky on Wednesday, amid signs the two countries are preparing a wider exchange of detainees.
The Kyiv Court of Appeals freed Vyshinsky, who heads the local office of Russia's state-run RIA Novosti news service, on his personal recognizance, Ukraine's Prosecutor of the Crimean Autonomous Republic, which investigated the case, said on its Facebook page.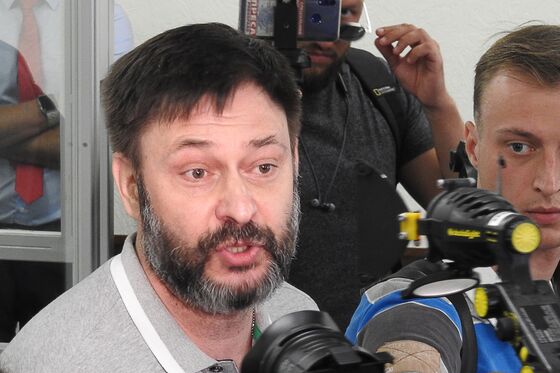 The journalist, who was arrested last year and accused of treason, faces up to 15 years in prison on charges of supporting Russian-backed separatists fighting in eastern Ukraine. His release is the first concrete sign of a possible prisoner swap between Moscow and Kyiv that has been discussed since former comedian Volodymyr Zelenskiy was elected Ukraine's president in a landslide in April.
"We welcome this decision," Kremlin spokesman Dmitry Peskov told reporters on a conference call, declining to comment on whether the two sides plan to free detainees soon.
Zelenskiy has declared his determination to secure the release of 24 sailors seized by Russia after a naval clash near Crimea last year and to end the conflict in eastern Ukraine that's killed more than 13,000 people since 2014.
He and Russian President Vladimir Putin have discussed a possible prisoner swap in phone calls since July, but the talks have yielded no results so far. A surge in expectations about an agreement shortly before last month's Ukrainian parliamentary elections came to nothing.
Negotiations are in their final stages for an exchange as soon as the end of this month, Kommersant reported last week. Russia and Ukraine are nearing a deal to swap 33 prisoners from each side, RBC news website reported last week, citing unidentified people close to the discussions.
Freeing Vyshinsky may be "the beginning of the process," said Vladimir Dzhabarov, first deputy head of the Russian upper house of parliament's international affairs committee. "We've had so few positive steps in relation to each other that we receive even such small ones with enthusiasm."
The decision is "a positive step to improve relations between Russia and Ukraine," Alexey Chesnakov, a former Kremlin official who now consults the authorities on Ukraine policy, said by phone. "However, it's hardly enough to demonstrate that this improvement is guaranteed and serious. More steps are needed."