Army Patrols, Internet Shutdown Cast Pall Over Uganda Vote
(Bloomberg) -- Uganda held its hotly contested election Thursday as authorities stepped up security patrols and shut down the internet.
The vote pits pop star-turned-politician Bobi Wine, 38, against a man twice his age -- Yoweri Museveni, who's been in power for 35 years and for three-quarters of Uganda's youthful population is the only president they've known.
While several prospective observer-missions withdrew, citing run-ins with authorities, the few who monitored balloting said it was largely calm. Results are expected over the weekend.
The victor will oversee the implementation of about $20 billion of projects, including an oil pipeline, a refinery and other infrastructure as the East African nation prepares to become a crude exporter by 2024. A contested outcome that sparks civil unrest could jeopardize those investments and derail efforts to revive the coronavirus-battered economy.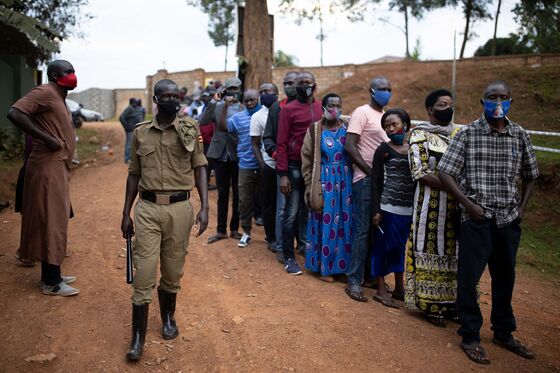 Long queues snaked around polling stations from as early as 6 a.m in the capital, Kampala, and some voters were still in line when balloting officially closed at 4:00 p.m. There are more than 18 million registered voters in the nation of about 45 million people.
"I was at the polling station at 6 a.m. because I anticipated a high turnout," Emma Bagoole, a 50-year-old real-estate broker in Kiwatule, a suburb of Kampala, said after casting his vote. "The mood leading to these elections was charged, and I didn't want to miss out on voting."
Armored-personnel carriers, police and soldiers patrolled the streets of Kampala, in operations they said were aimed at thwarting any unrest.
The lead-up to the poll has been marred by violence. At least 54 people died in protests that erupted in November after the arrest of Wine, whose real name is Robert Kyagulanyi. The government has also clamped down on social-media platforms after Facebook Inc. and Twitter Inc. both announced they've blocked accounts suspected of belonging to state actors.
Monitoring the election was constrained by the internet shutdown, according to the Livingston Sewanyana, executive director at the Uganda Human Rights Initiative and an observer. "People came to vote in large numbers. It was all quite," Sewanyana said. "Ordinarily, we would get information from our contacts" from across the country.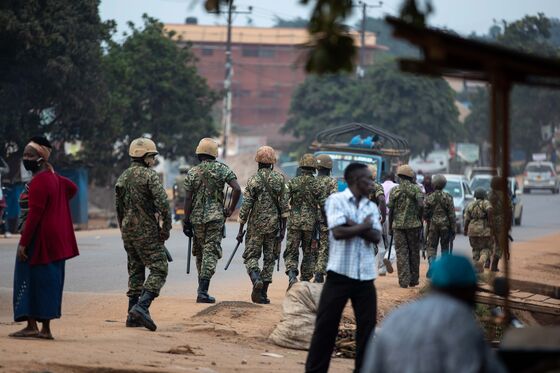 MTN Uganda Ltd. said it received a directive from the Uganda Communications Commission to suspend all internet gateways and associated access points from 7 p.m. on Wednesday.
"MTN Uganda in compliance with its national telecommunication operator license, and in accordance to MTN's group-wide digital human-rights due diligence framework, has implemented the directive," spokeswoman Rhona Arinaitwe said in a statement.
"The internet blackout means there is an absolute lack of transparency," said Godber Tumushabe, an associate director at the Kampala-based Great Lakes Institute of Strategic Studies.
Museveni has been in power since a 1986 coup and lawmakers have changed the nation's constitution twice to enable him to keep running. While his share of the vote dropped to 61% in the last election in 2016, from 74% in 1996, his influence within the state is expected to help him extend his rule.