Mueller Witness George Nader Faces New Child Pornography Charges
(Bloomberg) -- An adviser to the United Arab Emirates who cooperated extensively with Special Counsel Robert Mueller was arrested Monday and charged with having child pornography on a cell phone when he flew into the U.S. more than a year ago.
George Nader, a Lebanese-American businessman, was picked up as he arrived at New York's John F. Kennedy International Airport. He appeared in federal court in Brooklyn, New York, and was ordered held at least until Tuesday. Nader, 60, pleaded guilty to similar charges in Virginia in 1991.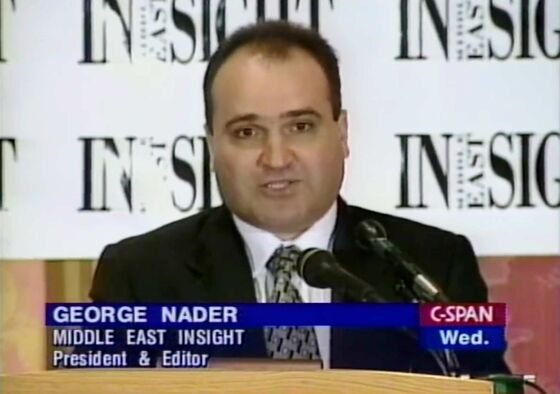 Nader was a senior adviser to UAE Crown Prince Mohammed bin Zayed. After the 2016 election, he introduced Kirill Dmitriev, who heads the Russian sovereign wealth fund, to officials advising incoming President Donald Trump. He helped arrange a January 2017 meeting between Dmitriev, who is closely tied to Russian President Vladimir Putin, and Trump ally Erik Prince, the brother of Education Secretary Betsy DeVos, according to Mueller's report on Russian interference in the 2016 presidential election. The meeting was held in the Seychelles islands in the Indian Ocean.
The new case arises from when FBI agents stopped Nader at Washington-Dulles International Airport on Jan. 17, 2018, after a flight from Dubai, according to an FBI affidavit. Agents had a warrant to search any electronic device stemming from a matter that prosecutors now say was unrelated to child pornography.
Nader had three iPhones, including one with a dozen videos of children engaged in sexually explicit conduct, according to the FBI. After meeting with prosecutors, Nader soon began to cooperate, according to details in Mueller's report.
The child pornography charges, which were filed under seal three months after Nader's phones were seized, were made public Monday after his arrest. A Dubai resident, he was returning to New York to see a cardiologist at Mount Sinai Hospital. Nader had open-heart surgery five weeks ago and developed complications two weeks later, his lawyer, Chris Clark, told U.S. Magistrate Judge Cheryl Pollak in Brooklyn.
"He's a sick man," Clark said. "He needs to be in a medical facility."
Clark asked that Nader be freed on bond to a medical facility in Virginia where he would be cared for under armed, 24-hour guard. He said Nader has assets totaling $3 million. Prosecutors opposed Nader's request for bail, saying he has access to $1 million in cryptocurrency, homes abroad and contacts "at the highest levels" of the UAE and Saudi governments.
Clark also said that Nader worked with Mueller's investigation without being charged by the special counsel. Prosecutors questioned Nader closely about his efforts to put a key Russian government official in contact with the incoming Trump administration, while keeping the UAE leader apprised of his progress.
"Nader considered Dmitriev to be Putin's interlocutor in the Gulf region, and would relay Dmitriev's views directly to Crown Prince Mohammed," the Mueller report said. "Nader developed contacts with both U.S. presidential campaigns during the 2016 election, and kept Dmitriev abreast of his efforts to do so."
Nader told investigators that Dmitriev said that he and the Russian government preferred that Trump win, and he asked Nader to "assist him in meeting members of the Trump campaign."
On Jan. 3, 2017, Nader and Prince met for lunch and dinner in New York, and Nader sent him documents the next day about Dmitriev, according to the report. Several days later, when Dmitriev was "not enthusiastic about the idea of meeting with Prince," Nader assured him that "Prince wielded influence with the incoming administration."
Later, Dmitriev told Nader that he was disappointed in his meeting with Prince because of his lack of actual authority and the insubstantial nature of their discussions.
Nader also had extensive contacts with Elliott Broidy, a top fundraiser for the Republican National Committee. Last year, hackers leaked stolen Broidy emails to various media outlets, which published unflattering accounts of he Broidy tried to profit from his proximity to Trump.