U.S. Will Extend Virus Travel Restrictions to U.K., Ireland
(Bloomberg) -- President Donald Trump said the U.S. will broaden its temporary travel restrictions to include the U.K. and Ireland, two countries left out of an earlier order aimed at slowing the spread of the coronavirus.
Trump confirmed reports that the restrictions are pending during a Saturday news conference at the White House that followed a meeting of his coronavirus task force.
"They've had a little bit of activity, unfortunately," Trump said of the U.K. and Ireland. "We actually already have looked at it. That is going to be announced."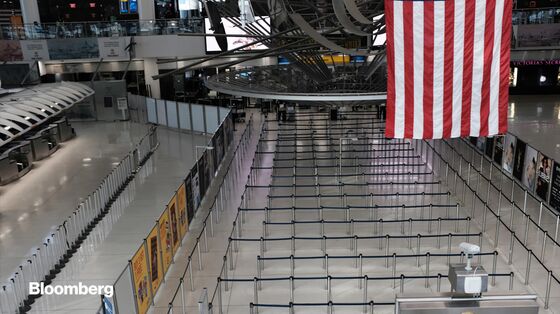 The restrictions will go into effect Monday at midnight, said Vice President Mike Pence. "All our health experts" were unanimous on the advisability of the move, he said.
"These restrictions bar travel for certain foreign nationals who have been present in the UK or Ireland in the past 14 days," said acting Homeland Security Secretary Chad Wolf. The measures "do not apply to US citizens. I want to be very clear about that."
Previously announced travel restrictions to continental Europe -- the countries within the 26-state Schengen area -- went ahead at midnight, Pence said.
Trump said at a meeting on Thursday with Irish Prime Minister Leo Varadkar on Thursday that the U.K. was "doing a very good job" and "don't have very much infection at this point."
Yet confirmed Covid-19 cases in the U.K. are now over 1,100 with 21 deaths. In Ireland 129 cases and two deaths have been reported. Figures from Northern Ireland are rolled into the U.K. total.
Trump said travel restrictions within the U.S. were also possible as the U.S. looks to slow the spread of the highly infectious virus, which has been detected in almost all states. Later, a senior Homeland Security official said that there was no expectation of such a measure at this time.
Still, Trump has suggested that staying home and practicing "social distancing" is the best approach for now. "If you don't have to travel, I wouldn't do it," he said.
Saturday's task force meeting came as many industries went into near-lockdown. Apple Inc. and athletic clothing company Lululemon Athletica Inc. were among those saying they were shuttering or limiting their retail operations for now.
"It's fine if they do and good if they do," said Trump. "We'll keep people away for a little while."